Family Friendly Hotels in London
From a modest room in a small budget hotel to the utter exuberance of the royal suite at the infamous Savoy, there really is a London hotel to suit all budgets, family styles and preferences. There ought to be when you consider the network of well over 4,000 establishments on offer. Well-loved chains and quirky independent rooms can both be found all around the city.
There are many family friendly hotels across the capital, these do range in price and location so you can stick within your funds and ensure you remain close to all the things you need to do the next day, be it more exploring or the train journey home! Visit London, take in the sights, eat some amazing food, do some shopping, spend time with the family and get an excellent night's sleep (if you're really lucky breakfast might be thrown in for good measure).
Voucher Codes Pro have been searching the internet for the best hotels we can find in the hope that it will make your trip a little easier, but you don't have to be restricted by our favourites, have a look around and find one that fits right with your brood.
London Hilton on Park Lane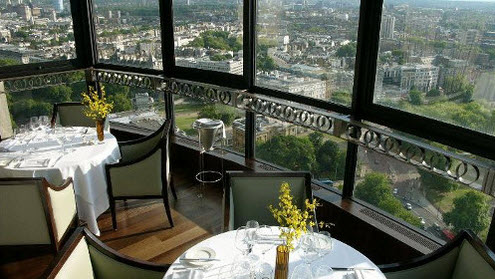 When you envision a Hilton hotel you think of luxury and this is exactly what you get when you book a stay with the London Hilton on Park Lane. Set in a wonderful location, with Hyde Park right next door, this establishment is sure to impress.
This extensive building, which was completed in 1967, houses some 453 room including 56 suites, these are spread across an impressive 27 floors. The 28th floor is a Michelin starred restaurant. The hotel also features a shoe shine stand, laundry service and spa.
Many attractions can be found within easy walking distance, including Hyde Park and Kensington Gardens, Buckingham Palace (can you make a royal guard smile?), Harrods and the West End.
This venue caters to customers from all walks of life, this includes families, people away on business and couples having a romantic break. There are many interconnected rooms for families, a child friendly menu and even popular children's television channels available in the room for when you are having a bit of down time.
Hilton Hotels always strive to ensure they offer customers the lowest rates possible for all their hotel needs. Amazingly a night at the Hilton can be yours for as little as £109. Go on, treat yourself!
Facilities
Babysitting service (surcharge)
Bar/Lounge
Children's play area
Complimentary newspaper
Concierge desk
Free WiFi in public areas
Gym
Hairdryer
Ironing board
Luggage storage
Mini-bar
Mini-market
Nightclub
Parking (surcharge may apply)
Restaurant
Safe at reception
Safe in room
Snack bar/cafe
Spa
Swimming pool
Tennis courts
Check in times
Check-in is at 3pm and check-out is 12pm.
Nearest tube station
Hyde Park Corner is only 500m away from the entrance. This station serves the Piccadilly Line.
Contact
Telephone: +44-207-493-8000
Address
London Hilton on Park Lane
22 Park Lane
London
W1K 1BE
United Kingdom
Click here to take a look for yourself.
The Ampersand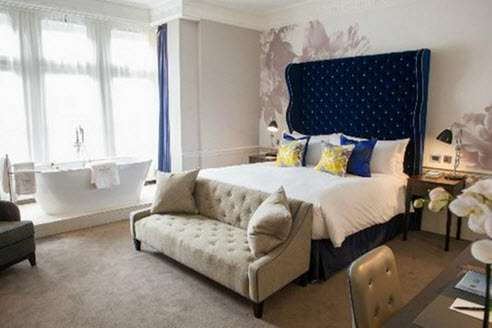 Now this is a hotel with style! When the hotel was first introduced in 1889 no two rooms were the same. Different furniture and decorations were sourced to take the hotel away from the uniformity that plagued many other hotels of the day. As a result the 111 roomed establishment was a hit.
The Ampersand as we know it today sprang into being in 2012. Still privately owned the hotels core philosophies are still in place yet now there is a modern slant added.
There are five themes allocated to each of the types of rooms available. These themes are based on the major museums that are nearby. The Science Museum has inspired a set of astrology themed rooms designed after it and the Royal Albert Hall has some wonderful music inspired spaces.
The kids will love the magical feel of the place and yearn for more knowledge about the trinkets they find about the hotel.
A games room is also available for both young and old to enjoy and (my favourite part) staff actively encourage visitors to borrow from their extensive reading library, the children's section house all the classics.
The perfect place to rest your head if you are a fan of museums, with so many being close. Come back from your trip and spend as much time telling people about your accommodation as you do about the sights.
Facilities
Air conditioning
Bar
Disabled facilities
Fitness centre
Guide dogs permitted
WiFi
Hypoallergenic rooms available
Lounge
Restaurant
Smoking Rooms available
Wheelchair accessible lift
Bathrobe
Free newspaper
Hairdryer
Iron and ironing board
Minibar
Safe
Slippers
Tea and coffee facilities
Telephone
Television
24 hour room service
Childcare service
Concierge
Doctor on call
Multilingual staff
Pet Friendly
Room service
Safety deposti box
Tennis courts
Check in times
The check-in time is at 2pm and the check-out time is at 12pm
Nearest tube station
The closest tube station to the Ampersand is South Kensington underground station. This station serves the Circle and District and Piccadilly lines.
Contact
Telephone: 0800 298 3998
Email: info@ampersandhotel.com
Address
The Ampersand Hotel
10 Harrington Road
London
GB SW7 3ER
United Kingdom
Lastminte.com do some amazing offers and discounts for The Ampersand Hotel, check out the deals today and make your next trip to London with the kids even more amazing.
Park Plaza County Hall Hotel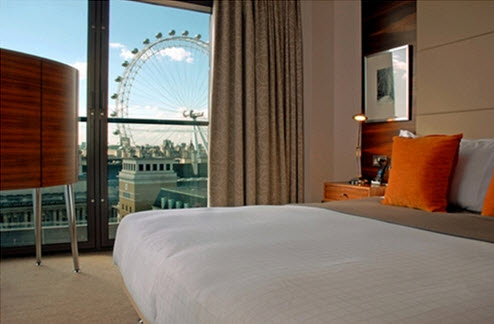 This hotel is situated in the heart of London's sightseeing area, with the London Eye, Big Ben, Westminster Abby and the British Film Institute all within walking distance. Families that enjoy history and culture will find themselves perfectly whelmed by the range of sights to see and the things to explore.
This large hotel has a total of 398 rooms each as carefully designed as the next. What makes this establishment even more exciting is that children under the age of 12 can stay for free if they are sharing a room with their parents and bedding comes as standard. Wonderful!
Stunning views can be seen from some of the rooms and the prices are incredibly reasonable. A family of four would be more than comfortable in one of the family studios.
Facilities
24-hour front desk
Lounge
Express check-out
Wired (high-speed) Internet access – surcharge
Tours/ticket assistance
Luggage storage
Business centre
Express check-in
Concierge services
Health club
Air conditioning
Refrigerator
Minibar
Coffee/tea maker
Microwave
Pay Movie
Restaurant
Spa
Gym
Wheelchair access
Check in times
The check-in times start from 2pm and the check-out time is 12pm
Nearest tube station
The nearest tube is also the busiest and biggest in England. Waterloo tube station. It serves the Bakerloo, Jubilee, Northern and Waterloo and city lines.
Contact
Telephone: 0844 415 6760
Address
Park Plaza Country Hotel London
1 Addington Street
London
SE1 7RY
United Kingdom
Expedia offer nights in The Park Plaza County Hall Hotel at extremely low prices for the quality you encounter.
Fielding Hotel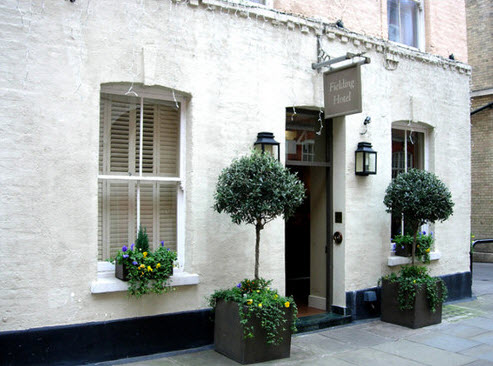 This hotel gives off an air of old English elegance with its vintage designs and antique style furniture. Quirky inside and out, this hidden gem is effortlessly welcoming. The perfect place for any family whose main goal is to get some serious shopping done. That's right, this reasonably priced hotel is a short five minute walk away from London's wonderful Covent Gardens.
This area of London is full to bursting with markets, food stalls and entertaining street performers. As well as the draw of a good bargain, opposite the entrance, is the Royal Opera house. If opera or ballet is your thing then The War Horse is showing nearby on Drury Lane. So why not take in a show while you visit?
Facilities
Free Wifi
24-hour front desk
Luggage storage
Air conditioning
Non-smoking rooms
Access to a local health and fitness centre
Check in times
Check-in times are at 1pm and the check-out is at 11am
Nearest tube station
The neatest station is Covent Garden Station. This grade two listed building serves the Piccadilly line.
Contact
Telephone: +44 (0) 20 7836 8305
Email: reservations@thefieldinghotel.co.uk
Address
Fielding Hotel
4 Broad Court Bow Street
Covent Garden
Westminster, London
WC2B 5QZ
United Kingdom
For the best deals and discounts when you book, check out the Hotels.com. There are some amazing offers on last minute bookings for the whole family.
The Shaftesbury Premier London Piccadilly Hotel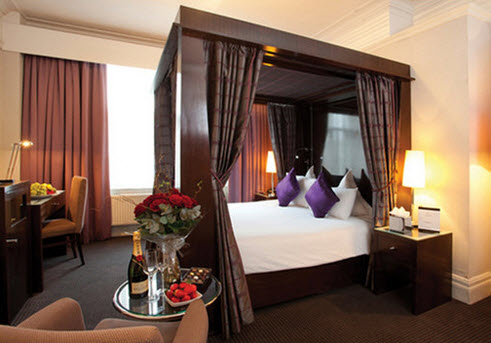 Any aspiring thespians reading this? This hotel is situated right in the heart of London's theatre hub, a short walk from Leicester Square.
The boutique rooms are charming and this four star establishment also features a fully equipped gym. All children under two get to stay with no charge for cots and cribs.
The bathrooms are full of complementary toiletries and fluffy bathrobes are also thrown in for your comfort and enjoyment. If the theatre leaves you wanting more you can take a walk to Piccadilly Circus or even venture to trendy Soho. There is no end of things to do and that's without even braving public transport with kids in tow.
Facilities
Fitness centre
Bar
Restaurant
Free Wifi
Room service
24-hour front desk
Ticket service
Luggage storage
Concierge services
Shared lounge/TV area
Laundry
Dry cleaning
Shoeshine
Daily maid service
Newspaper
Safety deposit box
Check in times
The check-in time is at 2pm and check-out time is at 12pm.
Nearest tube station
The closest tube station to this hotel is the Leicester Square station, this serves the Northern and Piccadilly lines.
Contact
Telephone: 020 7871 6000
Email: reservations@thefieldinghotel.co.uk
Address
Best Western Premier Shaftesbury Piccadilly Hotel
65 - 73 Shaftesbury Avenue
Westminster
London
W1D 6EX
United Kingdom
Ebookers.com are a great choice when it comes to finding a fantastic deal. Have a look today otherwise you might find yourself Les Miserables!
Great Northern Hotel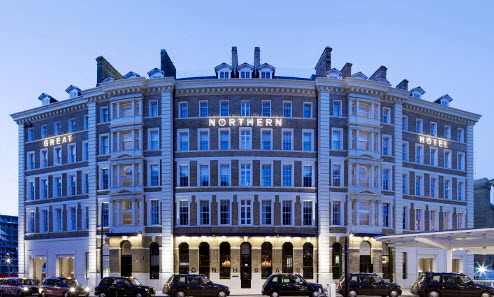 Welcome to the world's first great railway hotel! The Great Northern Hotel is located in the very heart of Kings Cross St Pancras Station (Platform 9 and 3/4 anyone?). This conveniently placed hotel has 93 lavish rooms that are reminiscent of the train carriages which used to travel from the station.
First opened in 1854 and now painstakingly restored, the ambience is wonderfully light and breezy. The rooms bring the place alive and the attention to detail is flawless. This is a perfect hotel for any family of book worms with the British Library close by, as well as the Dickens Museum. Fans of the Boy Who Lived will also be please to know there is a Harry Potter shop is very nearby.
Facilities
Bar/lounge
Breakfast available (surcharge)
Business center
Dry cleaning/laundry service
Elevator/lift
Express check-in
Express check-out
Tours/ticket assistance
Free Wi-Fi
Luggage storage
Safe-deposit box at front desk
Number of restaurants - 3 Snack bar/deli
Soundproofed rooms
Complimentary newspaper
Complimentary bottled water
Daily housekeeping
Bathrobes
Complimentary toiletries
Room service (limited hours)
Individually furnished individually decorated connecting/adjoining rooms available
Check in times
The Check-in time is 2pm and check-out is at 12pm.
Nearest tube station
That's an easy one, since the hotel is attached to King Cross St Pancras. This mammoth station is obviously featured in Harry Potter and serves the Circle, Hammersmith and City, Victoria, Piccadilly, Northern and Metropolitan lines.
Contact
Telephone: +44 (0)20 3388 0800
Address
Great Northern Hotel
King's Cross Station
Pancras Road
London
N1C 4TB
Expedia have some fantastic offers on various nights at this grand establishment. Have a look today and start planning your family trip.
De Vere Venues Hunton Park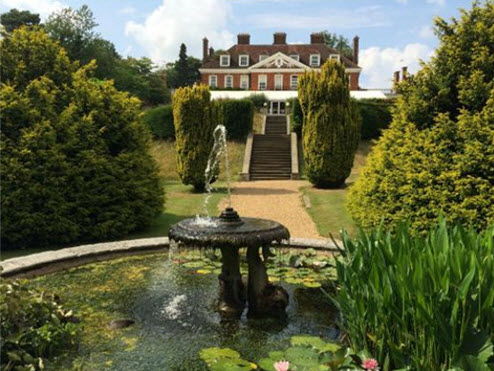 Don't be surprised by the fact that this hotel is a little further away than all the others, which are in Central London. If you have any children that are still hopefully waiting for their letter from Dumbledore to arrive or who are longing to start a chocolate frog card collection this is the spot for you.
Located less than a mile from the Harry Potter walking tour. You can already smell the traces of butterbeer on the air!
The Queen Ann house is warm and inviting with all the modern comforts. The leisure activities are extensive and even include a full sized golf course and 22 acres of garden means a leisurely stroll can be enjoyed when the mood arises. You'll feel so much further away from the hustle and bustle of the capital than you are. A train into the city can be taken and is only 15 minutes away.
Facilities
Free speedy Wi-Fi
Welcoming restaurant
Bar
Private Dining
Verve Deli room service
Marquee
Internet Cafe
Energy Stations
The latest AV technology
Team Building
Swimming Pool
Croquet Lawn
Pitch and Putt
Trails
Check in times
The check-in time is at 2pm with check-out being at 11am.
Nearest tube station
The nearest overground station is Watford Junction this will drop you and your family off at Euston Station.
Contact
Telephone- 0871 222 4808
Email: hunreception@deverevenues.co.uk
Address
Hunton Park
Essex Lane
Hunton Bridge
Hertfordshire
WD4 8PN
You won't believe how reasonable the prices are when you book through Expedia.
Grange City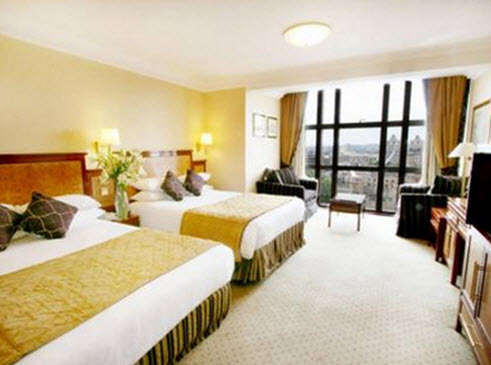 This Hotel is special as it has stunning views over the River Thames as well as Tower Bridge. Set right in the heart of London's old historical centre. The 307 spacious rooms of this establishment are all beautifully decorated and equipped with all the mod cons you could hope for.
After a hard day of sightseeing with the family you can relax and unwind in the cutting edge health and fitness centre, which includes a pool for the little ones and a spa.
Once you have freshened up a bit you can then venture to one of the stunning bars and dining areas and enjoy some top notch grub.
Perfect for anyone with an interest in history, this hotel is second to none, you can spend your days seeing the last remaining Roman wall, the Tower of London and even visit Petticoat Lane market for some bargains.
Facilities
24 hour security
Room Service
Air Conditioning
Banqueting facilities
City tours
Club lounge
Dry cleaning
Elevator/Lift
Express check-out
Free newspaper
Laundry
Luggage room
Night Porter
Porter
Reception (24 hours)
Spa treatments
Tour desk
Free internet in the lobby
Room Service
Air Conditioning
Bathrobe (on request)
CD player
Complimentary toiletries
Connecting Rooms
Daily housekeeping
Coffee/tea facilities
Telephone
Check in times
The check-in times are at 3pm and the check-out time is a 12pm.
Nearest tube station
The nearest tube station is the Tower Hill Underground, this runs on the Circle and District lines
Contact
Telephone: 020 7863 3700
Email: city@grangehotels.com
Address
Grange City Hotel
8-14 Cooper's Row
London
EC3N 2BQ
Lowcostholidays.com have rooms for amazing prices to suit every family's needs (we can't all be nuclear).
Radisson Blu Edwardian Grafton Hotel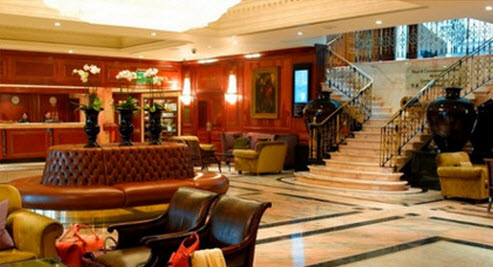 Another stunning hotel and this one situated just a short walk from both the London Zoo where you can become a zookeeper for the day and the stunning shopping metropolis that is Oxford street (calm down ladies, bargains await) is also just round the corner. Selfridges is among the numerous retailer stores that line this street and it is a real cave of wonders even if you just fancy a browse.
The hotel is a little dash of luxury with Egyptian cotton sheets, large rooms and dark wood furniture. You will be delighted by the décor, the charming lobby and the vast amount of services offered. These include the booking of nearby attractions and even a babysitter, so if you fancy a night on the town you can go right ahead.
Facilities
Air conditioning in bedrooms and conference rooms
Luxury bar and lounge
Restaurant
Conference rooms
Business Centre
Spa treatments
Dry cleaning and laundry
Satellite TV
Iron and ironing board
In room fridge
Gym
Complimentary wireless internet connection throughout the hotel
Complimentary newspaper available in the lobby and the restaurant
Express check out on request
24 hour front desk
24 hour room service
Currency exchange
Valet service available for laundry
Cribs available on request
Check in times
The check-in time is 3pm while check-out is 11am.
Nearest tube station
The nearest tube is Warren street station. This line serves the Northern and Victoria lines.
Contact
Telephone: 020 3564 5165
Email: resgraf@radisson.com
Address
130 Tottenham Court Road
London
W1T 5AY
London Central
Camden Town/Bloomsbury
Lowcostholidays have some amazing deals on right now! Book your trip this month and save a massive £20 off your London break!!
Travelodge London Central City Road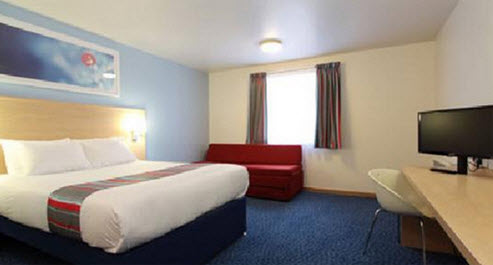 It is a solid bet that most of you reading this have, at some point, spent a night in a Travelodge hotel. There is a reason for this, they offer both exceptional rooms and facilities as well as suburb value for money. Which means you have more spare for all the amazing attractions.
The Queen Elizabeth Olympic Park is very close, so is St Pauls Cathedral. Travel to the West End and take in a show after a day of free and spectacular museums.
This hotel has been refurbished in the new refreshing Travelodge design, which features clean lines and comes complete with the super comfy Dreambeds.
Facilities
Restaurant
Bar
WiFi access
24 hour reception
Bathroom/shower
Coffee maker
Hair dryer
TV
Telephone and internet access
Check in times
Check-in is at 3pm while check-out is at 12pm.
Nearest tube station
The nearest station is Old Street Station. This 1901 station runs on the Northern line.
Contact
Telephone: 0871 984 6333
Address
Travelodge London Central City Road
1-23 City Road
EC1Y 1AG London
United Kingdom
For offers on this Travelodge hotel or any others click here.