Top Ten West End Theatre Shows for Children
The West End has been entertaining people for years and today offers some of the best musicals and productions the world has ever seen. Many of these shows are also child friendly or even aimed at children and are sure to bring smiles to the faces of the whole family. In this list you will find ten of the most popular shows currently exciting people every night in theatres around the West End. Which is your Favourite?
The Lion King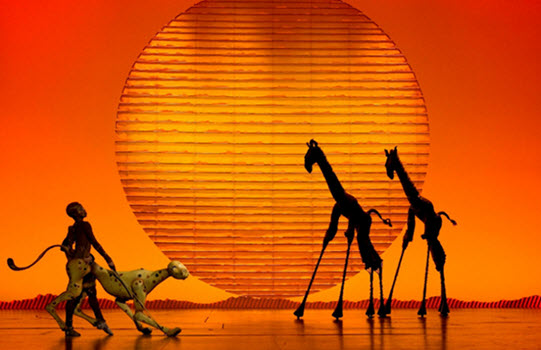 This musical has become a phenomenon with both young and old since its American release in 1997. The show came to London's West End in 1998 and is amazingly still there today. Featuring stunning costumes and puppet work that is incredibly clever, your child will be swept away by the magic of it.
Many children will be familiar with the story as it is based on the 1994 Disney movie of the same name. Many of the amazing songs from the movie have been included in this production as they were too good to be left behind. All the music is written by Elton John while Tim Rice is responsible for the lyrics.
Just last October The Lion King became the top earning theatre show in box office history and it shows no sign of slowing down. The Lyceum Theatre is the place to be this summer, see your little ones dance and laugh and have a great time as the get entranced by the circle of life. Hakuna Matata.
Address
Lyceum Theatre
21 Wellington Street
London,
WC2E 7RQ
Age Restrictions
Children of all ages will love this tale. Unfortunately children under the age of three are not permitted in the theatre
Price
You can get your hands on tickets from just £30. Ticket prices go up as the seats get better, so it may be worth spending a little more to ensure you get the full show in its spectacular glory.
Facilities
Air conditioning
Bar
Snack foods
Toilets
Cloak room
Shop
Production programs
Nearest Tube
The closest tube station to this theatre is Covent Garden.
Matilda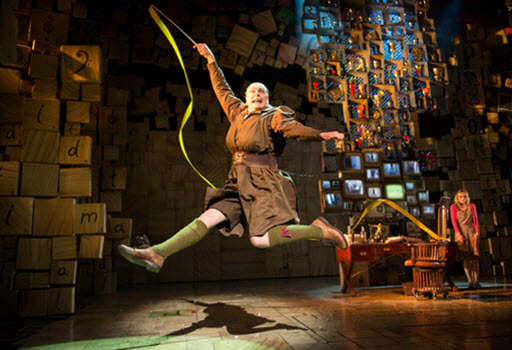 Now this is the first of three West End shows based on books by the genius that is Roald Dahl. I'm sure many of you are already familiar with the fable of this particular little girl. Her name is Matilda.
The 1996 movie was a smash hit, featuring a great cast and an almost flawless script. The musical however is something else entirely. For one thing it is so much truer to the original book, which is a dark masterpiece.
Tim Minchin's involvement, he wrote the lyrics, makes the songs; both full of comic timing as well as being magical, delivering lines that resonate with people of all ages. Any child that has ever had a teacher they didn't like or one that they loved will relate to the story.
Book your tickets now and don't be late for class whatever you do! The stunning stage decoration and costumes (Mrs Trunchbull is a real horror) are well thought out and only add to the wonder. Once you see this production your little ones will be begging you to take them again and most likely asking for library cards.
Address
Cambridge Theatre
Earlham Street
London
WC2H 9HU
Age Restrictions
Due to the dark humour in this production children under the ages of six will not be permitted to enter the theatre.
Prices
Amazingly tickets for this show start a £20 and work their way up to £95 for the very best tickets.
Facilities
Cloak room
Toilets
Food and drinks
Bar
Shop
Booster seats
Nearest Tube
As with The Lion King, the nearest tube is Covent Garden.
Charlie and The Chocolate Factory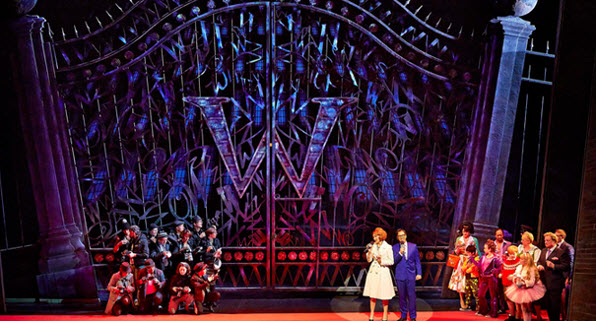 Number two from Roald Dahl, who used to write his books while sat in the shed at the bottom of his garden. This tale is arguably the most well-known and perhaps most reimagined of all his books. A thrilling account about what it means to be a good child, after all you might end up being left a chocolate factory!
Charlie and The Chocolate Factory has been going for around two years now and is becoming more popular each day. This stunning fantasy follows a group of children (most of them rotten) as they tour the factory of the most fantastical confectioner that ever lived, Willy Wonker!
Children of all ages will fall in love with the Umpa Lumpa's and parents will become endeared to Charlie and thanking their lucky starts they are not the parents of any of the other little brats. Willy Wonker's performance is thrilling and just a shade darker than the portrayals on the big screen, a tad more authoritarian.
The music is entertaining and fun. For the pleasure of all adults out there the song "Pure Imagination" from the 1971 movie has been included.
Age Restrictions
The show is recommended as suitable for ages 6 and up, however you can bring younger children if you feel they are mature enough. All children must be old enough to occupy their own seat and babes in arms will not be permitted in to the auditorium.
Address
Theatre Royal Drury Lane
Catherine Street
London WC2B 5JF
Price
Ticket prices start from only £17.50 and go all the way up to over £100 for the top seating areas.
Facilities
Air conditioning
Bar
Food and drink options
Cloak room
Booster seats
Shop
Disabled access
Nearest Tube
You guessed it guys, the nearest tube station to this theatre is Convent Garden again.
The Gruffalo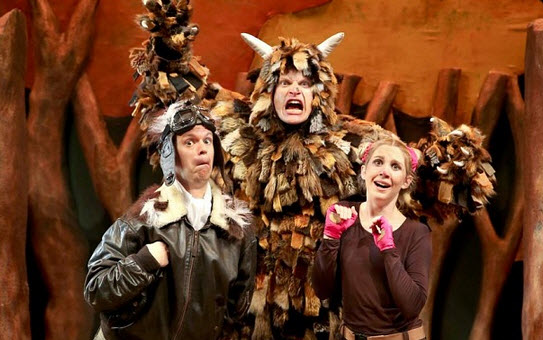 The much loved children's book has now been transformed into a hit stage show by the tall stories production company and it is stunning. Aimed solely at children and full of larger than life characters and amazing songs, all the music is original, this production is fully interactive and never forgets its audience.
Follow the tale of a little mouse, as she outsmarts all of the enemies she encounters, when she takes a walk through the woods. Each time she comes across a creature wanting to make her their lunch she tells them (clever thing) that she is on the way to meet her friend the Gruffalo and his favourite meal just happens to be whatever the threat is. The second half see hers meeting an actual Gruffalo.
This show is one for the younger children, however it is not without its merits when it comes to entertaining adults. This tall tale has been simplified and the message has been amplified in the transition from written to spoken word. Come on down to the Lyric Theatre from the 1st July, you are sure of a big surprise!
Address
The Lyric Theatre
Shaftesbury Avenue
London
W1D 7ES
Age Restrictions
The show is recommended for children between the ages of 3 to 7. However everyone can watch and enjoy the show.
Price
The price of these tickets start at just £14.50 and go up from there.
Facilities
Clock room
Booster seats
Bar
Drinks and food options
Toilets
Disabled access
Nearest Tube
The Nearest tube station to the Lyric Theatre is Piccadilly Circus. This serves the Piccadilly and Bakerloo lines.
The Curious Incident of the Dog in the Night-Time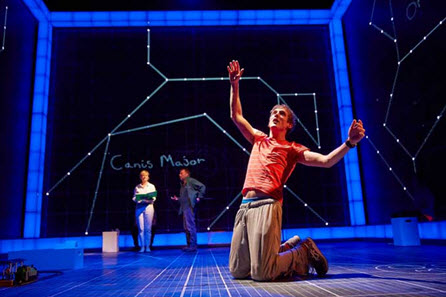 This play has won several awards including the "Best new play" Olivier award since its premier in 2012. It follows a 15 year old maths genius who also happens to have Asperger's syndrome. Based on the book of the same name by Mark Holden.
To adapt to the West End the story's narrative has been changed and is now presented as a play within a play. The staging appears very technical and computerised as if to give you an insight into the mind of the main character. The lighting is fantastical and used symbolically to convey emotions, both for the actors and the audience.
Your children will gain a better understanding of a problem that a lot of children face now and may help them identify with children they know from school. The story is rich so adults will find as much magic in the tale as the children.
Don't miss out on this must see show, book your tickets and get ready for a rollercoaster of a mystery.
Address
Gielgud Theatre
Shaftesbury Avenue,
London
W1D 6AR
Age Restrictions
This show has been recommended for a much older audience then all the previous choices. This is due to the complex nature of the story. It is recommended that children under 13 years of age not attend.
Price
Tickets start from as little as £10 and go up from there.
Facilities
Air conditioning
Bars
Toilets
Disabled access
Cloak room
Food and drinks
Booster seats
Nearest tube
Piccadilly Circus and Leicester Square are both quite close.
Wicked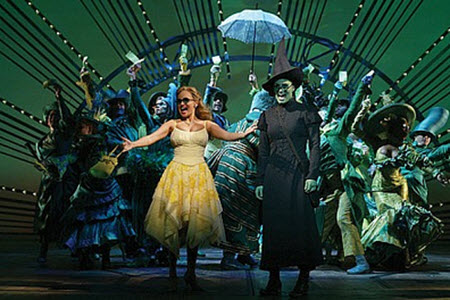 There is something comforting about giving the villains a voice, telling their story. This is just what Wicked does. It focuses on the supposedly evil Wicked Witch of the West and tells her side. A very important lesson about never judging a book by its cover can be found here.
This stage show, based on the book by Gregory Maguire, is a revisionist tale of the children's classic The Wizard of Oz. With a soundtrack that is hard to miss and so many awards under their belt it is hard to keep up.
The song "Deifying gravity" is a masterpiece. Perhaps this is a show for a slightly older audience but children of all ages will thoroughly enjoy every second. Little girls in particular will be left open mouthed when the lead character begins to fly and the dragon appears!
Visit London and end up in Oz with this popular production. You may want grab a copy of the soundtrack on your way out, the kids are going to want to sing along to it all the way home.
Address
Apollo Victoria Theatre
Wilton Road
London
SW1V 1LG
Age
Children under 3 are sadly not admitted into the theatre, all other children are permitted, however the show has been given parents the guide of 7+. Perhaps read some reviews and make up your own mind on if it would be suitable for your child.
Price
Tickets start from only £17.50 and go up from there. Top priced tickets can be found with a massive 50% off if you book for a big group of 10 or more.
Facilities
Cloak room
Two bars
Shop
Disabled access
Booster seats
Snacks
Nearest Tube
The closest tube station to The Apollo Theatre is Piccadilly Circus. This station serves the Bakerloo and Piccadilly lines.
The Twits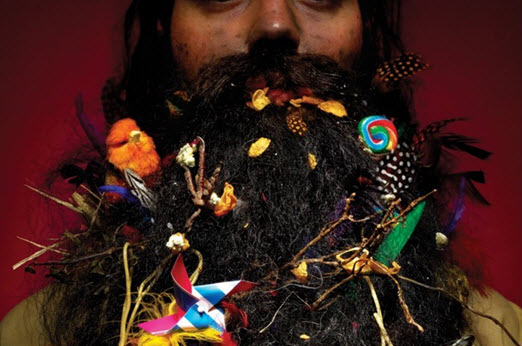 The Twits is a last of the Roald Dahl stories held within this list. The story is lesser known in both written word and musical production yet it is still a gem of a tale, and also one of the most horrid.
The story follows a couple who are really unpleasant, they were once an attractive young pairing but their sour nature has turned them ugly over time, to better match their personalities.
Join them and along the way you will meet the amazing Muggle-Wump, a poor monkey who is being held captive by the disgusting duo and the mysterious Roly Poly Bird, who flies in to save the day.
Teach your children a valuable lesson about how it is what's on the inside that counts and see them light up and fall in love with the characters while at the same time disliking the title characters intensely.
What's really charming about this play is that they also have a more relaxed version that is shown on selected days. This specially designed show was produced with children who suffer from autism in mind and is perfect for children that can't handle the complete in your face nature of most shows.
Address
The Royal Court Theatre
London
SW1W 8AS
Age Restrictions
This show is recommended for those ages 8 and up.
Price
Under 16s watch for half price and on Mondays all tickets are £10. Usually the tickets start at £12 and go up to about £35
Facilities
Book shop
Bar
Food
Toilets
Disabled access
Facilities for those hard of hearing
Nearest tube
Sloane Square is closest.
Cats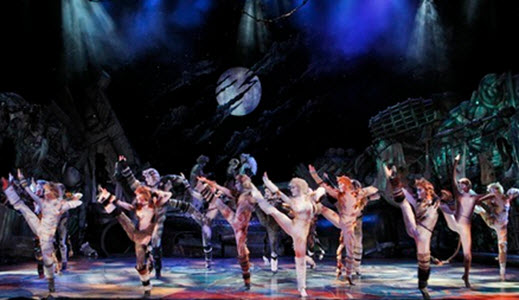 Cats has been around for a long time, since 1981 in fact. During this long run on Broadway and the West End it has become one of the most iconic musicals of all time! Coming from the mind of the great Andrew Lloyd Webber it is the longest running musical on Broadway, with its mammoth run from its premier in the early 80s until 2000. It is also the forth longest running West End show.
Today the show is back in London, as well as in dozens of other countries, translated into several different languages. Children will enjoy this show for its sense of fun! The costumes are both intricate and imaginative, even after all this time.
Based on the E. S. Elliot book named "Old Possums book of Practical cats" most of the songs can be found as verses in the book. Parents will also enjoy revisiting music they may have not heard for decades. Visit the website today and get your tickets for this energetic whirlwind of a show, you won't regret it!
Address
London Palladium
Argyll Street
London
W1F 7TF
Age Restrictions
At some points the show can become a tad dark, due to this children under the age of 5 are not recommended viewers for Cats.
Price
Tickets start from £20 and go up to £75, some shows offer half price tickets for children on certain days.
Facilities
Air conditioning
Binoculars
Food and drink options
Bar
Programs
Disabled toilets
Cloak room
Booster seats
Nearest tube
The closest tube station is Oxford Circus, this station is an interchange for the Victoria and Bakerloo lines.
Billy Elliot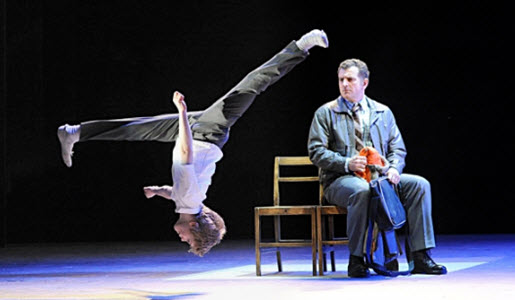 Billy Elliot is the story of a boy from northern England who is a miner's son. One day during his boxing lesson he stumbles across a ballet class and discovers he has a raw talent for the art. This musical follows his heart warming journey and is based on the 2000 film of the same name. Another musical in which Elton John composed the music.
Since its release on the West End this show has shone through, with adaptions moving further afield to Broadway and Australia. Young audiences will get a kick out of the stunning dancing and catchy songs along the way as they are taught lessons about the importance of following their dreams.
The musical found its home in London's Victoria Palace Theatre and over the years has won several awards including some for best new musical. It is billed to continue throughout 2015. Don't miss out on this stunning production, give the kids a treat and make sure you have the number of a good ballet class on speed dial.
Address
Palace Theatre
113 Shaftesbury Ave
London
W1D 5AY
Age Restrictions
It is recommended that children under the age of 8 not attend this production, this is mainly due to the nature of some of the dialogue, that being said it is a parent's personal decision and a mature 6/7 year may enjoy.
Price
The prices for this show start from around £25 and slowly work their way up to the more expensive seats.
Facilities
Air conditioning
Food and drink
Toilets
Binoculars
Cloak room
Shop
Booster seats
Nearest Tube
The nearest tube station is Victoria tube station, this station serves the District, Circle and Victoria lines.
Elf the musical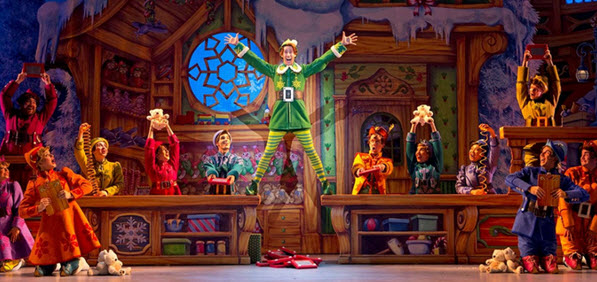 Most people have had the chance to enjoy the 2003 film starring Will Ferrell which provided the inspiration for this musical. It has become an instant seasonal classic since its release and many people feel it is a must watch in order to help them get into the holiday spirit.
This musical is hitting the West End for only 10 weeks so be sure not to miss out. You can book tickets now although opening night is in October and goes through until January. After having some successful runs on Broadway this will be the first time this tale about a wacky human who thinks he is an elf has come to the UK.
The stage is colourfully lit and decorated and the show is full of gags and jokes that will see all ages clutching their sides in joy. With a great soundtrack to complement all the laughs the whole family will be in the mood for some Christmas fun when they walk out of the theatre. Don't miss out on this amazing production, it is much better than all the "oh no she didn't" pantomime shows combined. That being said you still can't go wrong with a good pantomime!
Address
Dominion Theatre
268-269 Tottenham Court Road
London
W1T 7AQ
Age Restrictions
It is recommended that only children over the age of 4 watch this show.
Price
Prices start from £51 and go up from there.
Facilities
Air conditioning
Food and drink options
Cloak room
Toilets
Disabled toilets
Nearest Tube
The nearest station is Tottenham court road station, this station is the interchange between the Central line and the Northern line.
There you have it guys, some of the very best West End shows London has to offer this year. Which one will you be seeing? This was the hardest list to narrow down so far, a top 20 of even 30 list could have been put together as there is just so much choice. Whatever you do choose be sure to catch at least one production on your next visit. London is the world hub for theatre (apart from Broadway perhaps) and puts on a show like no other.