Save £100 On Selected Jet2holidays Package Deals
Happy New Year folks! We hope you've all enjoyed a fun-filled festive period with merriment and times spent with family and friends. It's back to the daily grind now though and with two months of dark winter days left to endure before spring starts to emerge, it can be a bleak time of year. There is nothing left to look forward to and everything is rather cold.
Why not give yourself and your loved ones something else to look forward to? To help you all fast forward through the longest month of the year in no time. We are, of course, referring to booking a holiday. Jet2holidays currently have some fantastic deals available and a cheeky little discount code that saves you £100 on selected bookings. Here is a rundown of our favourite deals. We hope that we've picked something for everybody.
Magic Robin Hood, Benidorm, Costa Blanca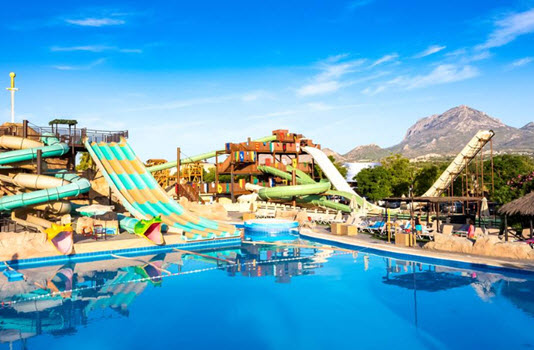 Our first choice is the family favourite Magic Robin Hood located in popular Benidorm. It is unique in that it is Robin Hood themed. The rooms, which are large enough in most cases to fit an entire family, feature woodland-inspired wallpaper and wooden framed beds and are housed in wooden cabins for a little upgrade you can even have a cabin with a Whirlpool on the terrace.
The resort features a huge kid's splash pool and another pool with tons of slides for hours of daytime fun. Working on an all-inclusive basis you have 13 restaurants and bars to choose from including an Italian restaurant, Friar Tuck Grill Inn and Robin's Forrest Care. Drinks will be served at least 12 hours a day. Entertainment is scheduled for both night and day all year round. These include group games, discos, quizzes, comedians and much more.
Book this amazing resort today ad save £100 when you head through the checkout by using the code: SUN2
Cordial Mogan Playa, Puerto Mogan, Gran Canaria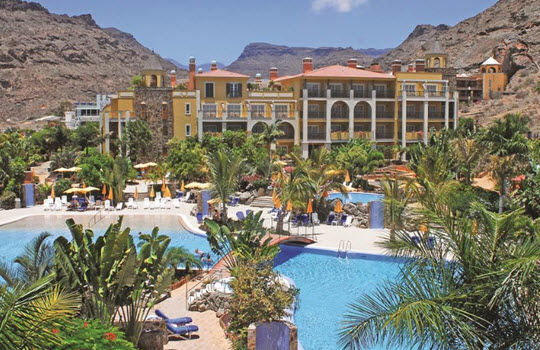 We're heading to Gran Canaria next and the Cordial Mogan Playa resort. When you arrive at this picturesque resort you're greeted immediately with a breathtaking glass doomed reception that leads you into the lush tranquil grounds. Located near a sleepy fishing village you can expect a peaceful stay here.
During your stay, you have the choice of four restaurants and four bars including 2 pool bars and two buffet restaurants. In terms of pools, you have three on-site, all freshwater and all heated to the perfect temperature for most of the year. You'll never be stuck for entertainment when you visit Cordial Mogan Playa, there is a ton to do both day and night from water sports during the daytime to professional entertainment in the bars during the evening.
To save a massive £100 off booking at this resort you simply need to enter the code SUN4 when you head through the checkout.
DB Seabank Resort & Spa, Mellieha Bay, Malta and Gozo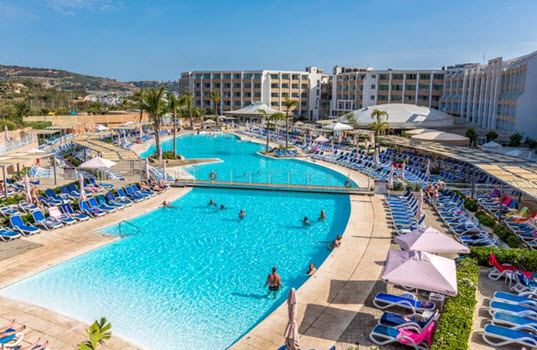 This resort is super close to the crystal clear waters of the Mediterranean Sea when you book you can opt for a relaxing sea view or perhaps a thrilling pool view. The pool is huge and happens to be Malta's largest lagoon-style pool. There is also a great choice of 7 restaurants which you can dine for free with the half board and full board options available. You can choose from Asian, Mediterranean, Spanish or American themed cuisines.
As well are the large lagoon pool you have the choice of two inside pools and another two outside pools. Some are kid's pools. Entertainment is available all the time be it day or night. Things to do include small team sports games, water sports, live music and mini discos. You certainly won't be short of things to do. The accommodation is a hotel with bright and airy rooms and tons of space. You'll be able to enjoy a balcony and whole families can sleep together. The hotel even holds a three-lane bowling alley which everybody will love.
Book today and start looking forward to a stress-free trip with Jet2holidays. Use code SUN9 to save a massive £100 off when you book. A little New Years treat to you.
Diana Palace, Argassi, Zante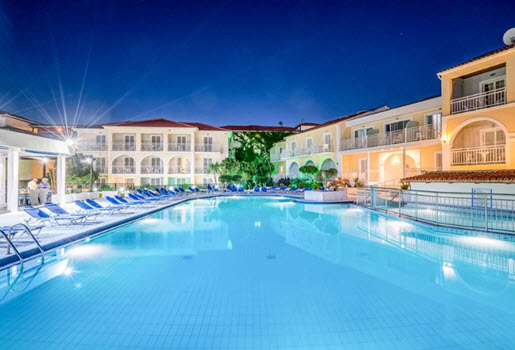 Our last choice is the Diana Palace in the stunning Zante. This resort is another that is beautiful, surrounded by meticulously landscaped gardens that pop colours for you to appreciate. When you stay you have the benefit of an all-inclusive board which offers all your meals and a selection of house beers, wines and spirits for free, served at least 12 hours a day.
You can get these meals at the wonderful buffet restaurant as well as one of the three bars on site. Four pools are located outside for you to soak up the sun and work on your tan, perfect for lazy days of relaxation. If you fancy keeping up the fitness regime you can enjoy the air-conditioned gym or maybe get involved in some of the team games? Once you've satisfied your need to get your blood pumping you can head to one of the bars for the evening entertainment, which could be a band or a disco.
Meanwhile, the kids will love running around the adventure playground or swimming the day away in the kid's pool. The whole family will be catered for at Diana Palace. Book today and combat that January Blues. Jet2holidays make the deal even sweeter by offering £100 off when you book. To get your hands on this offer you simply need to enter the code: SUN6 as you complete the booking process.
This is just a few of our favourite resorts that feature the £100 off code for the new year. There are lots more in many different locations if you fancy somewhere else. Just head on over to the website and have a look, you could be very surprised by the quality of the holidays for the prices.
Booking now is perfect for giving the entire family something to keep them going until the days start getting longer and brighter again. We hope you find the perfect resort with a little help from Jet2holidays this year.