5 Best Vacuum Cleaners for Christmas 2019
Not many people enjoy housework and vacuuming rarely come top of the list as anyone's favourite chore but having the right tools suited to your particular needs can make all the difference.
Choosing a decent vacuum cleaner can be a minefield, there are so many fantastic machines now on the market, from cordless to animal hair focused and some designed so you simply turn them on and let them work. As well as function you also need to consider things like budget and space-saving.
We've whittled down this substantial list and handpicked a few of our favourites to save you the trouble and give you peace of mind. Just in time for Christmas!
Dyson Light Ball Multi Floor Vacuum Cleaner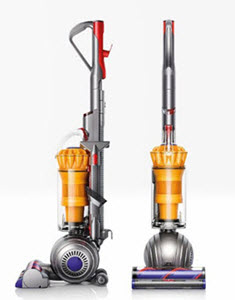 Understandably the Dyson Light Ball Multi Floor Vacuum Cleaner comes in first on our list. Not only is it easy to use and lightweight, at just 6.9kg, it is also one of the most affordable of the Dyson range coming in at around £199. We love the sleek design and roller ball technology, allowing it to manoeuvre around tight corners like dream.
As the name suggests it is effective on all types of flooring, from hardwood tiles to soft shaggy carpets. It also has three different suction strengths with the max being perfect for trodden in food and stubborn bits of debris.
The handy wand means you can reach hard to get spaces including stairs without a moment's hesitation and the one-click release button on the filter allows you to empty and continue with the task at hand super-fast without the hassle of attaching a new bag.
We love everything about this vacuum, get your hands on one here.
Shark DuoClean Corded Stick Vacuum Cleaner with Flexology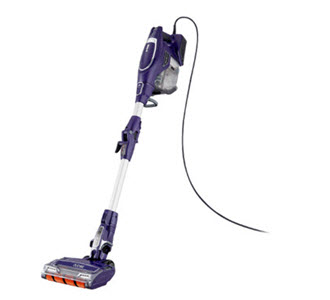 The Shark DuoClean Corded Stick Vacuum Cleaner is another popular choice when it comes to both space and ease of handling. Perfect for anyone who doesn't want a Dyson. Weighing in at just 4.9kg you can move about your home sucking up dust without feeling the burn or panting on the stairs.
Its steam lined stick shape means you can get into tough spaces that are all but impossible with some other chunkier hoover designs. Most vacuums with this long thin shape do tend to be cordless but if you are going to be using it a lot or are simply bad at remembering to charge then this is the machine for you. With 10 meters of cord, you don't have to worry about being restricted.
Designed for ease of use on all floors it can easily transition from carpet to hardwood without skipping a beat. The body of the vacuum bends to reach almost anywhere in the home and folds for space-saving storage. Another bonus is the LED lights which allow you to pinpoint and get rid of hard to notice dust or piles of pet hairs you might have otherwise missed.
You can't go wrong with this Shark model, get it here.
Numatic Henry Plus Vacuum Cleaner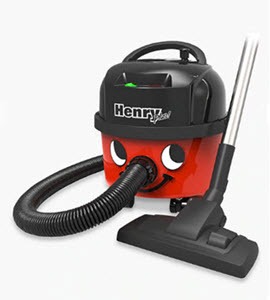 A list of the top vacuum cleaners would be incomplete without the inclusion of this iconic fellow. Henry the Hoover has been helping fight the war on dust since 1981 and there is a reason he has stood the test of time, he's good at it.
He sports a triple filtration system, is easy to move about the home or office and with his little bowler hat on he makes people smile. His high efficacy motor ensures suction is always strong. Another selling point for this little guy is that he is by far the most affordable vacuum on our list, generally coming in at under £150.
If you're feeling fancy or just don't want the trip hazards cables often pose then you can even get a cordless version now. Give a Henry a home today.
Dyson Cyclone V10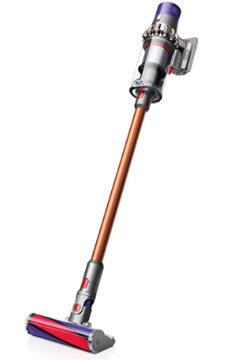 Although the most expensive, the Dyson Cyclone V10 is also one of the most impressive vacuums on this list. It is super lightweight at just 2.67kg and cordless, eliminating the trip dangers usually associated with vacuums. Usage time is approximately 1 hour with a 3.5 hour charging period.
The designers promise that the unique torque drive cleaner head will clean up to 25% more dust from carpets then the previous models and it indeed does have the strongest suction of all the stick vacuums. No dust particle or dropped food item is too big or too small for Dysons high tech filtration system. Reviews confirm it is perfectly balanced and this allows you to use it up in the highest corners with precision.
Investing in one of these will not leave you disappointed. Get it here.
IROBOT Roomba 612 Robot Vacuum Cleaner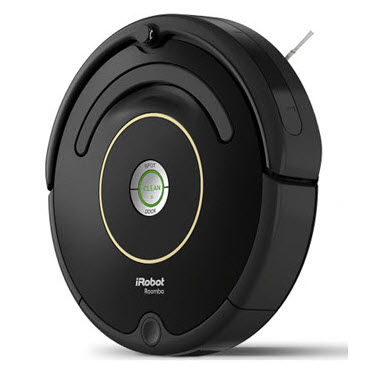 Last on our list, we have the IROBOT Roomba 612 Robot Vacuum Cleaner. It sounds like something out of a science fiction novel but we do indeed live in a time where robots can do the housework for us. This particular model runs around your home for an hour cleaning as he goes using his iAdapt Responsive Cleaning Technology to ensure he never hits the walls.
He has 0.6-litre storage capacity and his low design allow him to clean under furniture in such a way that regular vacuum cleaners would struggle with. It can easily detect where the dust is accumulating to target these areas, special brushes even knock dust into its suction path and the icing on the cake is that it will even dock itself to recharge. The best part is you don't even have to be in the house, you can simply set the Roomba to go to work while you to are at work! What could be easier?
Why not get one today and have more time for the things that matter?
There you have it, folks, 5 of the very best vacuum cleaners you can get on the market right now! We hope this has been helpful in your decision-making process and that you find the vacuum cleaner best suited to your needs. Keep checking back with us for more exciting reviews and handy guides.