The best fridge freezers to buy from Argos in 2020
The dynamic fridge freezer first came into our kitchens in the 1940s and since then this appliance has become so essential that almost every home has one. There is a bunch of factors to consider when you order a new one to ensure you get the modal which is perfect for you and your needs.
Size of budget and size of space available to how much space you need in the unit itself, a family of 6 will need a much larger fridge freezer than a single parent of one. You also need to consider if you need an integrated machine and if you are conscious of energy bills you'll be mindful of the energy usage. Another important facture is if you want the unit to be stored in an outhouse.
A good fridge freezer will be equipped with frost-free technology and a high energy rating as it's one appliance you always need to keep running and that can be costly. Some people consider a water dispenser to be vital as well while others love a double-doored American style machine that opens like a wardrobe and has tons of space. What makes a good fridge freezer for you, which featured do you consider important?
We've picked a few that we like to help you get a feel for what's available. They can all be found over at the Argos website.
Bush Classic BFFF60 Frost Free Retro Fridge Freezer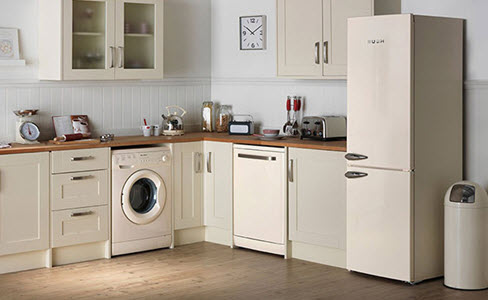 First up we've chosen this retro feel fridge freezer from Bush, as we love the retro feel in any room of the house. It came out top in the user's reviews with a 4.8 out of 5-star rating and 98% of customers recommending it. It scores an A+ energy rating which is efficient and will not frost over which for many is important as de-icing the freezer is a dreaded task no one enjoys. The fridge capacity is 231 litres which is about 12 shopping bags and makes this unit plenty big enough for a good-sized family. It also has 2 vegetable draws, four adjustable shelves and a handy wine rack. The freezer has a capacity of 87 litres and had three compartments. It will cost you £399.99.
Candy CVS1745WK Fridge Freezer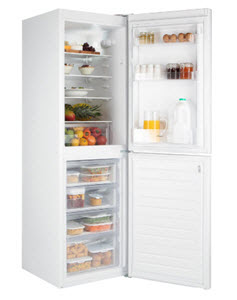 This fridge freezer is our budget one and it's even cheaper right now as it's currently in the clearance. It's from Candy and is only £209.99. Just because it's cheaper doesn't mean it can't pull its own in the review stakes. It has an impressive 4.7 out of 5 stars and 96% off customers would recommend. It also scores an A+ on energy rating. It isn't as big as some of the others with the fridge holding 7.5 shopping bags or 140 litres and the freezer holding 102 litres but it's perfect for a small family. You'll find three adjustable shelves, a salad drawer and three door shelves in the fridge compartment plus four draws in the freezer space.
Samsung RB33N321NSS/EU Frost Free Fridge Freezer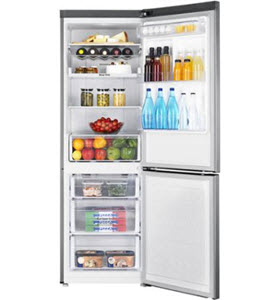 We've picked this next Samsung fridge freezer for the energy conscious among us. It is the only modal currently being sold by Argos that has achieved the coveted A+++ energy rating, this means it is very efficient and will save you money over other modals. It costs £619.99 and will suit a large family with its 217-litre fridge and 98-litre freezer capacity. Inside you'll three freezer shelves with frost control, and four shelves plus salad draw and three shelves on the door. There are special vents to keep temperatures even throughout and a CoolSelect Duo compartment that can be set to three separate temperatures giving you full control. We love this environmentally friendly fridge freezer.
Russell Hobbs RHUCFF50B Under Counter Fridge Freezer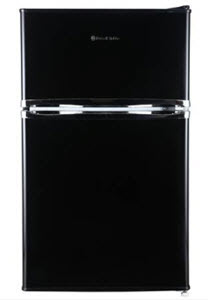 We choose this Russell Hobbs under counter fridge freezer as our space saver. Perfect for a one or two-person household this one is designed to go under the counter maximising your counter space. It comes in three colours so will suit any kitchen and has an attractive sleek design. It has an A+ energy efficiency rating and a 90 litre capacity overall with 65-litre fridge space and 25 litres of freezer space. You get two glass shelves inside, one of which is movable as well as 2 bottle racks, and one door rack as well as one freezer shelf. You also have the choice to change how the door opens which gives you the freedom to put the unit where you have space. It has 4.7 stars out of a possible 5 and 98% of customers would recommend.
Hisense RF702N4IS1 American Fridge Freezer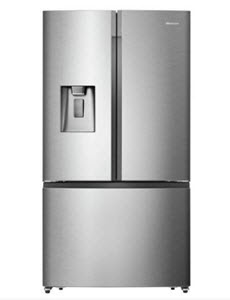 We thought we'd finish big with this last fridge freezer from Hisense. It is a huge machine that would easily have enough to accommodate a very large family. There are a massive 413 litres of space in the fridge, that's over 29 full bags off shopping and over 100 litres of space in the freezer. The top two-thirds are the fridge which opens with a double door. There is a water dispenser for quick refreshment that is plumped into the mains. The energy rating is an A+. There are four layers of shelving in the fridge plus the double salad crisper plus tons of space in the freezer for all your frozen goods. This model is the best you can get. It will set you back £799.99 right now but it has an impressive 4.6 stars out of 5 and 94% off customers would recommend it.
Above is a selection of 5 of our favourite fridge freezers currently available at Argos. We have tried to pick modals to suit every household but have ensured each one has an excellent star rating and is recommended by the people who use them. We would have also made sure that each fridge achieves at least an A+ in the energy rating department but Argos already had that covered and only had A+ or higher modals. We hope you've got a better idea of what it is you require now.
Once you've made your decision don't hit the "buy now" button until you've checked back with us for any Argos voucher codes. We'd hate for you to miss out on a great deal.