Argos Garden Furniture - New arrivals for spring
Getting outside and enjoying some fresh air is a part of our everyday lives that we can start to miss during the winter months. Our minds still crave the freedom of being outside but our bodies simply can't handle the chilly temperatures for too long. Which is why as soon as spring arrives it feels so nice to start enjoying your garden again.
The right garden furniture can make this simple pleasure even better as it allows for comfort, lounging, even entertaining, making the most of your outdoor space no matter if you have a little balcony in the centre of town or a huge sprawling garden deep in the heart of the country.
Argos offers a fantastic range of garden furniture for every type of household with every garden imaginable. We've been looking through their brand new arrivals in garden furniture and we're happy to tell you they have some gorgeous stuff just in time for the summer. Order today and start looking forward to warmer evenings and sunny days in the garden.
Argos Home Eve Folding 2 Seater Metal Bistro Set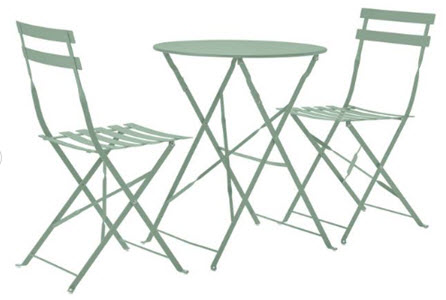 Our first choice transports you right to a café in the centre of Paris with its vintage bistro vibes and romantic design. The perfect spot for breakfast on a balcony or afternoon tea on the patio with a small table and just two chairs it doesn't take up much space. We love the bright colour as well. Enjoy this set this summer for only £50.

Argos Home Rope Cube 8 Seater Patio Set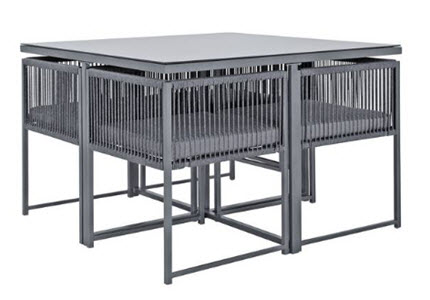 Our next choice is much more suited to a larger garden and a larger family although it is carefully designed to be a space saver still. The attractive rope detail designs make it feel a little Mediterranean. There are four chairs and four stools that come with this set and each one fits neatly under the table when not being used. Order it today and upgrade your garden for just £475.
Argos Home Wooden Deck Chair - Wilderness Jungle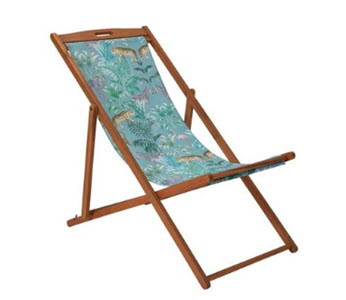 We love the playfulness of this jungle-themed deck chair. It is the perfect way to relax and chill out on hot hazy summer days where a book and a cold drink are all that's needed. The dark wooden frame beautifully offsets the bright colours of the fabric. As well as looking great in your garden it is also easily folded up popped in the boot and transported to the park, music festival or beach. It's only £38.
Argos Home Mini Corner Sofa Set with Storage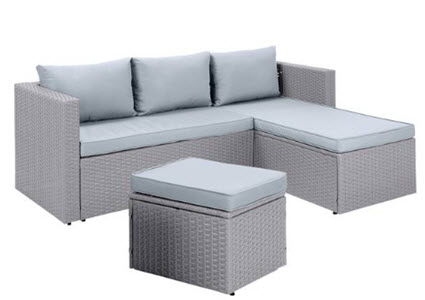 Next, we've chosen a sofa, which is a great way to entertain outside in your garden in a very relaxed way. The sofa has a hand-woven rattan effect which we love and the cushions can be stored inside the seats to protect them from the elements. It's nice and compact for will easily fit in a medium-sized garden. Order today for just £280.
Argos Home Nordic Spring 2 Seater Bench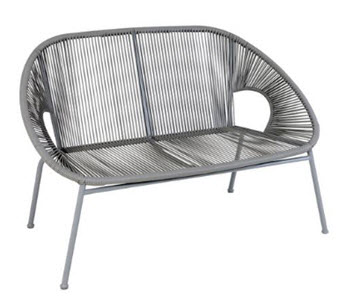 This Scandinavian inspired bench with its cool grey tones and the corded effect is so chic it could be right at home in any room of the house but we love it for the garden. It's the perfect place for a bit of quiet contemplation and the fact that it's just a bench with no table means you don't take up a lot of space. The bench is £90 and matching items are available such as chairs and tables.
Argos Home 3 Seater Metal Swing Chair – Grey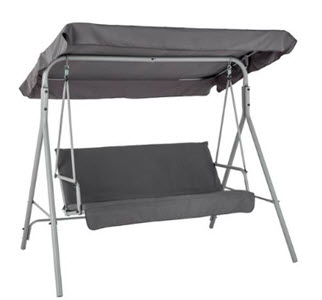 When I was young my auntie had a swing chair in her garden and since then it's been on top of my must-have garden furniture list. This three seater grey one is perfect. Pop it in the garden and naps will be a breeze as you gently rock to and fro. You have a shade so you don't even have to worry about getting too much sun. It's such a bargain too at only £75.
Argos Home Wooden Steamer Chair with Moorland Cushion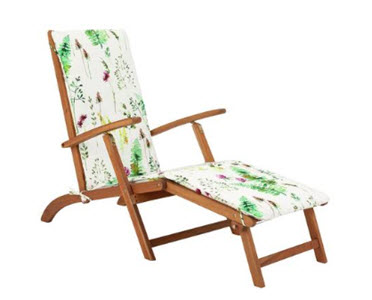 Sun worshipers will love this luxury sun lounger from Argos. It has a sturdy wooden frame that allows you to fully recline in your garden. The fabric cushioning is white with an attractive springtime floral pattern decorating it. We can just imagine spending some relaxing hours sipping a cocktail whilst listening to an audiobook. The chair is easy to fold up for storage during bad weather and the winter months plus the cushions are weather-resistant so if they do get left out in a little drizzle it's not the end of the world. This premium new arrival is currently £80.
Argos Home Space Saving 2 Seater Balcony Bistro Set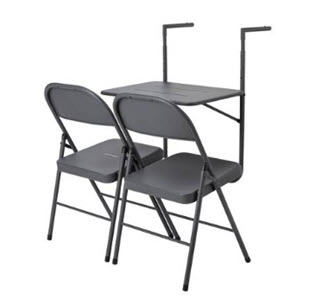 This little table and chairs is the cleverest piece of furniture we have on the list today. It is specifically designed to fit on a balcony and save space. The two compact chairs surround a small table that hangs off the fence of the balcony maximising the space. Both the chairs and the table fold up saving even more space when you're not using them. We love the dark colour and the chic design of this set. The best part of this table and chairs is that it will only cost you £60.
This list features just a few of the newest spring arrivals to the Argos collection, if none of this takes your fancy then there are tons more to look at in the rest of the collection. Including gazebos, sofas and more tables for alfresco dining and summertime gatherings. Be sure to check back with us before you order just to make sure you're not missing a new voucher code or offer.