Looking for a stylish new kettle? The top picks from Argos reviewed
The kettle is one of the most underrated and versatile appliances in the family home. You hardly notice just how many uses it has until it is taken away and then you find yourself scoffing at the thought of a cuppa made with water boiled in a saucepan. It goes far beyond making tea and coffee, although this is its most important task. It is also great for filling hot water bottles, making baby formula, getting pasta on the boil, defrosting the car windscreen on freezing mornings and making noodles to name just a few.
A kettle is also an appliance where there is a huge range in price. We've been picking some kettles we like and the prices begin at under a tenner and go all the way up to £99.99. This is fantastic as it means whatever your budget you will be able to afford a kettle. Rest assured the £9.99 kettle does work as effectively as the £99.99 kettle just without all the bells and whistles. Take a little peek through our list and let us know what you think. They are all from Argos as they have such a great selection.
Cookworks Kettle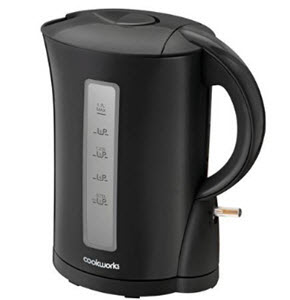 We'll start with the budget kettle and work our way up. As we mentioned the first kettle on the list is this black Cookworks Kettle which is just £9.99. It may be cheap but it has 4.5 stars across almost 1,500 reviews and is recommended by 92% of customers. It is a no-nonsense appliance with dry boil protection and it can make up to 7 cups at a time.
Vango Stainless Steel Whistling Camping Kettle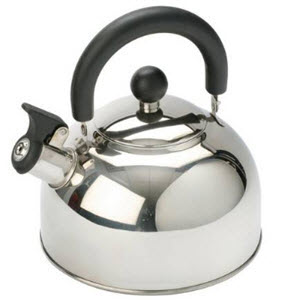 Our second kettle is a bit of wild card as it's a stovetop kettle. It's more traditional as you place it on the stove to heat it and it whistles at you when the water is hot enough. Perfect for though attempting to use less electricity by using the gas hob. It's also only £10.99 so is great value for money. It has a 2-litre capacity meaning I can make at least 8 mugs in one go.
Breville Jug Kettle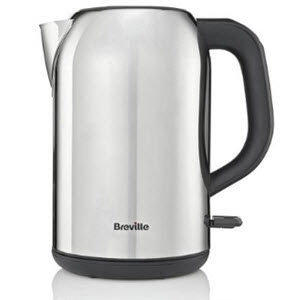 This polished stainless steel kettle is very attractive and perfect for the family home with its 1.7-litre capacity. It also benefits from rapid boil and dry boil protection meaning you'll get your cuppa super-fast and if you accidentally start a boil when the kettle is empty it will flick itself off and save itself from any damage. This kettle comes in at just £19.99.
Russell Hobbs 22851 Purity Brita Filter Clear Plastic Kettle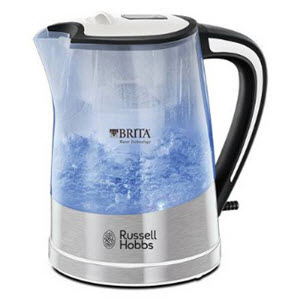 Russell Hobbs have teamed up with Brita for this next kettle. The Brita filter removes metals and chlorine, reducing limescale leading to a longer kettle life and a better-tasting hot drink. It lets you know when you need to replace the filter meaning you always have a perfect cuppa. It has 4.5 stars out of 1,400 reviews and is only £24.99.
Russell Hobbs 20460 Buckingham Quiet Boil Kettle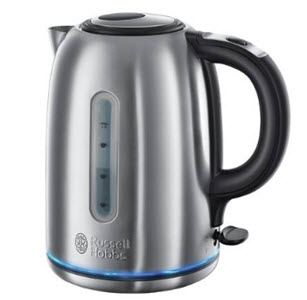 We've chosen another polished stainless steel kettle next, this one from Russell Hobbs. The best thing about this kettle is the quiet boil setting. It is 75% quieter than the average kettle and also has a rapid boil setting meaning you'll have a quick cupper with less noise than ever before. We also like the ring of light at the bottom of the kettle that illuminates when boiling. It costs just £29.99 at Argos right now.
De'Longhi KBJ3001 Brillante Kettle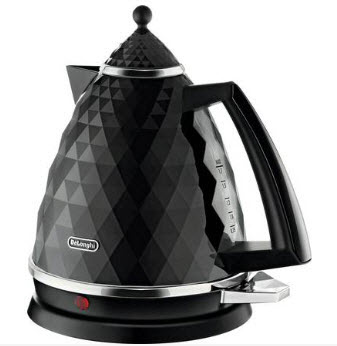 This unique looking kettle from De'Longhi has excellent 5-star ratings across the board. We love the stylish textured sides of this kettle as well as the high gloss finish and sloping sides that end with a pointed hat like lid that simply pops off. The kettle moves 360 degrees around the base and there is dry boil shut off for when you start a boil in an empty kettle. The 1.7-litre capacity easily makes 7 cups of tea.
Dualit 72120 Studio Kettle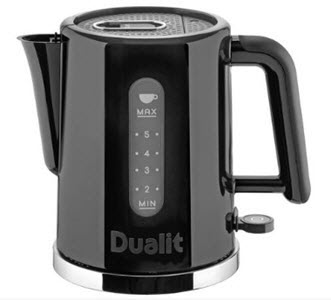 Is there anything worse than going to pour a kettle only for the boiling hot water to go all the sides rather than in the mug? This is why we love this Dualit Studio Kettle, the spout featured patented Sure Pour technology which cleverly ensures a non-drip stout and a low pouring angle, this is perfect for those with a poor from conditions such as arthritis. This kettle only has 35 customer reviews but an impressive 5-star rating, it will cost you £49.99.
Bosch TWK8633GB Styline Kettle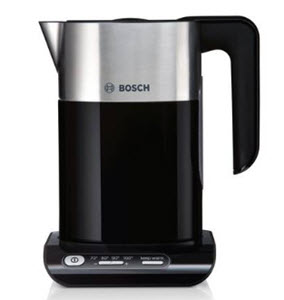 Our second to last kettle is from Bosch and comes in at £79.99. You may be paying a little more for this kettle but you will also be getting a hell of a lot more. For started you can choose between 4 water temperatures meaning you always have the right brewing heat for your teas and coffees. You also have a 30 minute keep warm options so you will have water at the perfect temperature for half an hour after a boil. Other featured include rapid and quiet boil features but it whistles when it is boiled as a stove kettle does. We love this nifty appliance.
Sage BKE820UK The Smart Kettle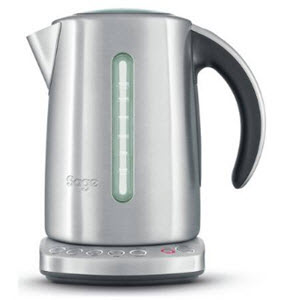 Our last choice is this smart kettle from Sage, amazingly you get to select the type of beverage you're making and the pre-programmed setting will heat it to the exact temperature you need. You also have a rapid boil function for when you're running late but can't leave without a coffee and will keep the water at the perfect temperature for up to 20 minutes after. This kettle also has a 5-star rating with 100% of customer would recommend. It's available at Argos now for £99.99.
We hope this list has helped you choose your next kettle, there is an awful lot of choice on the Argos website alone. Your choice will be driven by many things from budget to kitchen décor to specialist functions but one thing for sure is that we all need a kettle in our homes.
Check back with us on our dedicated Argos page to make sure you're not missing out on any great voucher codes before you order.