Looking for a new bed? We pick our 7 favourites from Barker and Stonehouse
The place where you lay your head at night is very important. It should be a safe comfortable place that gives you a good night's rest. It should also create a relaxing atmosphere that promotes calming vibes. Your bed is also a very personal space, some people like to have a lot of storage under it while others like to top it with a huge amount of pillows and blankets. How do you like to keep your sleeping space?
Barker and Stonehouse stock a huge amount of bedframes to suit every style of home. From minimalist to modern and more traditional styles. We've been having a look through what the furniture specialist has to offer and we have fallen in love with their slightly funky aesthetic. The company was founded just after the war and hoped to introduce a sense of fun back into the British home, a goal they still uphold today.
Hadley High End Bed Frame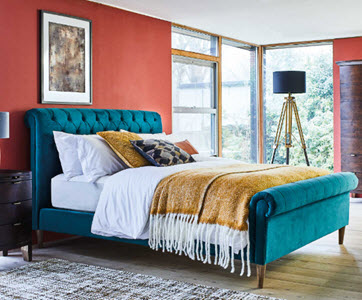 Our first bed frame is also one of the most exciting, the Hadley bed frame. We were first drawn to the colour which in the picture is Lumino Teal but if you don't like this one there are 14 other colours for you to choose from. Other selection you get to make include the size of the bed and the foot colour.
The bed is fully upholstered and the headboard has a classic chesterfield style with a buttoned design. The fabric gives an impression of comfort. You do have space underneath for a little storage but we wouldn't recommend to many things as you might spoil the finish. Order today and it will be ready to deliver in just 6 weeks and will cost you £1105.
Modi Bed Frame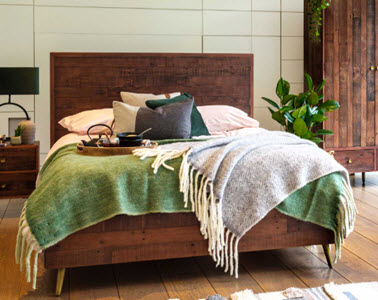 Our next choice is a more traditional design made of gorgeous dark wood. It has a retro meets modern-day feel thanks to its sleek design, tall headboard and sharp-angled legs. You'll be pleased to know that the wood used to make this bed is 100% reclaimed. This means that not only is it great for the environment but the signs of previous use and wood grain means no two beds will be alike.
If you order then you'll get your new bed within only 5 days, it is also a great price at only £685. If you'd like to keep the same theme throughout the entire room then you'll find many other items in the same range to tie the entire room together.
Keeler Metal Bed Frame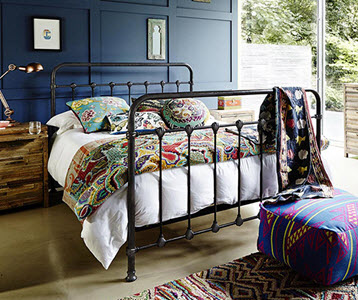 The Keeler metal bed frame has a very industrial Victorian vibe which is very popular right now. We love the traditional design of this metal frame and think the appearance of it is rather nostalgic with its vintage black finish. Don't be fooled by its slight appearance it is extremely sturdy and won't begin squeaking like some metal beds. The quality is second to none.
As it isn't bulky it doesn't overpower the room yet it still makes quite a statement. Order today and get your bed in just 5 days. It only costs £619.
Lewes Reclaimed Wood Bed Frame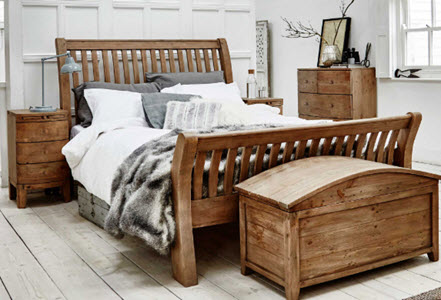 Another reclaimed wooden bed frame next, this one is called the Lewes. We vote for reclaimed wood over new every day as it's better for the environment and uses wood that would otherwise be wasted. This bed frame curves in all the right places and has a classic slatted headboard. Overall it gives the appearance of being very sturdy. Another thing we love is the slightly distressed finish which is a lovely shade.
As it isn't hand made to order it can be in your bedroom within 5 days of your initial order and will cost you just £765. As you can see in the image there are other items available to go with this frame.
Lutyen Storage Bed Frame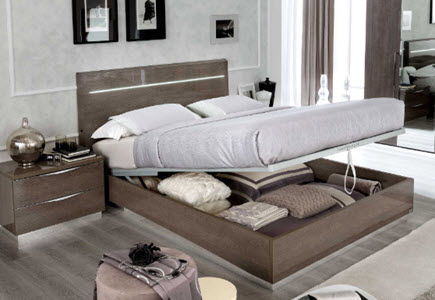 The Lutyen storage bed frame is the perfect bed frame if you'd like to store a lot of stuff under your bed but keep that stuff hidden. As you can see in the picture your lift the entire mattress up to access the storage meaning you have a shed load of space you didn't previously have. The design is dripping with sophistication thanks to the sleek edges and ambient light features.
Other items in the range are available to finish the look of the bedroom we love the dresser. Order today and get your new bed within 6 weeks. Prices start from £ 1995.
Bambury Bed Frame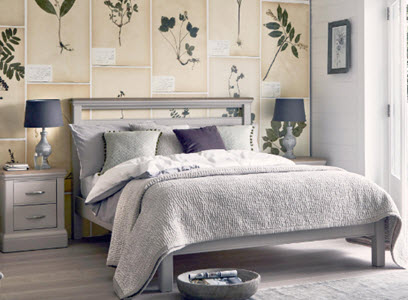 The Bambury bed frame is a charming mix of contemporary and classic styles. The Stone grey colour is very trendy and has a cool country feel. It's a more basic bed than some of the others we've picked but we probably are the fondest of it because of this. There is a polished oak effect along the top of the frame and the slatted headboard makes a great centrepiece for your bedroom.
Similar items are available in the Bambury range so you can pull the whole room together with ease. Order today and your bed will arrive within 4 weeks. It is now priced from £469.
Kenzie Children's Midsleeper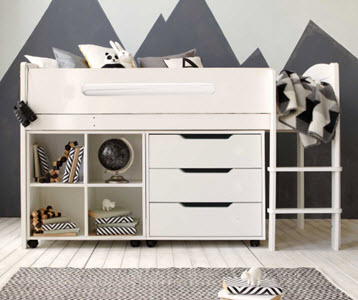 We couldn't end this blog without including just one bed from the children's collection. Children's bedrooms are often smaller, especially if they're the second child, it is for this reason that Barker and Stonehouse offer some ingenious space-saving children's beds.
This Kenzie midsleeper has a bed on top with a ladder and then underneath you'll find a chest of draws and a four chubby hole bookcase. We love this kind of innovation. It's ready to deliver in 4 weeks and will cost £749.
Have you found your dream bed within this list? Don't worry if you haven't as there are lots more choices on the website as well as a great selection of mattresses to go with the frames.
Before you order make sure you check back with us on the Barker and Stonehouse page just to make sure you're not missing out on any voucher codes, we get them coming in all the time and we'd hate for you to miss one before such a large purchase.