6 Cosy sofa ideas for your living room from Barker and Stonehouse
Barker and Stonehouse are a family run independent furniture store that opened in 1946 just after the Second World War has ended and today has 11 branches across the North of England as well as a successful website. The original aim of the founders was to inject a little colour into post-war Britain. On the website, you'll discover a pleasing selection of furniture for your home.
They stock stunning collections of furniture for every room in the house including beds, dining room tables, bookcases, bathroom furniture and of course sofas. The company also stock an impressive range in garden furniture, flooring, accessories, lighting and rugs.
We've spent a little time browsing the website today and have whittled the huge selection of sofas down to a selected list of ones that we think you'll like. Most of them are bright and a little quirky so they're sure to brighten up any living room. Check them out and see what you think. A visit to the website yourself is also a must for anyone looking to spruce up their home or garden.
Troy Leather Sofa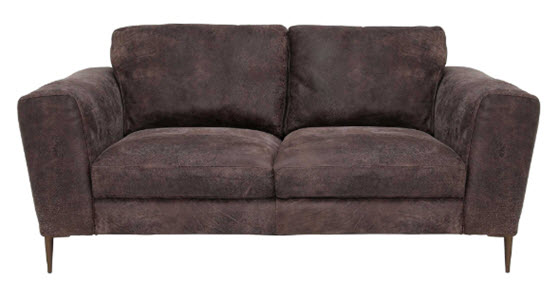 Our first pick is the Troy Leather Sofa and it comes from Italy where it is built. You can choose this particular style in 14 different shades of leather but we've chosen the Wyatt Moro colour as it currently has £380 off making it just £1519.
We love the shape of this little sofa, the seat cushion is lovely and deep while the armrests are tall and supporting. The thin iron legs ensure a smaller living room is not overpowered by the sofa. This sofa will look fantastic in traditionally decorated homes but is also stylish enough for more contemporary homes. Check it out today and pick which colour you'd like to see in your living space.
Orla Kiely, Willow Large Sofa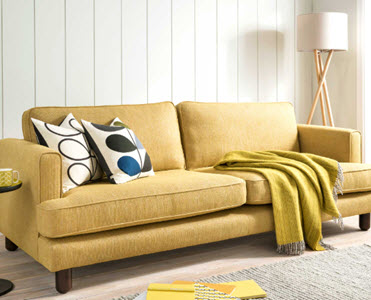 Orla Kiely is a designer that we enjoy, the brand makes some fabulous patterns with a unique style that for us has a particular 60s or 70s flare. This large sofa is no exception when it comes to style.
The front of this sofa is super chunky and inviting with its massive seat cushions, it is also super deep meaning you can easily have a comfortable nap. We also love high armrests. The soft fabric can come in 6 shades. The one in the picture is called Shannon Dandelion.
Purchase this sofa today and it will cost you £1235. We think this is a bargain for a branded sofa, particularly one this size. You also get to choose what colours you'd like your scatter cushions to be as well as the finish of the feet.
Fontella, Small Right Hand Facing Chaise

Corner sofas are always going to be a hit. People love to make the best use of their space, especially in smaller living rooms and a corner sofa utilises space that would otherwise be empty. The Fontella sofa is a small corner sofa so will not overpower a living space.
The woven fabric is very hard wearing and comes in an astonishing 16 different colours. You also get a choice of scatter cushion colour and foot colour meaning this sofa can be designed to suit almost any colour scheme.
We love the modern feeling of this sofa. It's made to order to your specifications and will be put together and in your living room within 8 weeks, all for just £1875.
Holkham, Two Seater Sofa Bed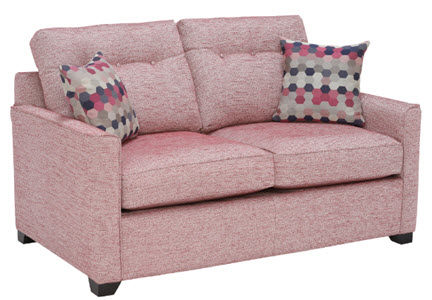 A sofa that is also a bed is a very handy piece of furniture for any home. It means that you always have a place for unexpected guests. They are so smart with the design now that you often can't even tell they are even sofa beds. We fell in love with the colour of this Holkham sofa bed, which is Fuchsia, if you'd like a different colour then there are 18 others you can choose from. You can even request samples so you can see if in real life.
This compact sofa has deep soft cushioning and slim high arms which seem to be very popular now and gives you a contemporary edge. A couple of pulls and you have a comfortable bed for the night. If you order today this sofa can be with you with 5 days and will cost you just £1059.
Levico Snuggler Chaise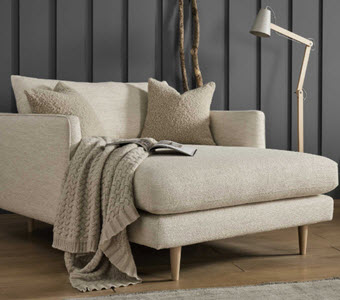 Another popular trend in living room seating is the love seat or Snuggler seat as Barker and Stonehouse call them. These are seats built for two people that like to cuddle. They are a great option for though short on space or those that like to put their legs up and relax in an armchair. We have a soft spot for the Levico Snuggler Chaise. You get to choose from 3 very neutral colours as well as the scatter cushion and foot colour.
The feet are small and thin so the sofa doesn't become too imposing and the large seat cushion is stylish and so comfortable. Order today and pay just £1219.
Ullswater, Two Seater Chesterfield Sofa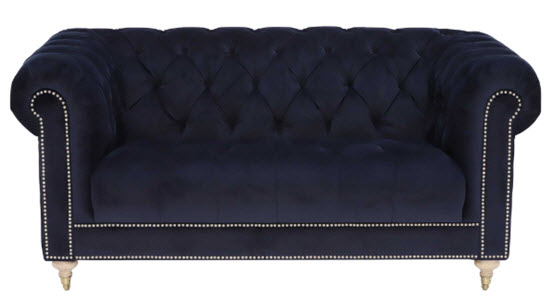 Our last choice is more traditional yet still extremely stylish. The Ullswater Chesterfield sofa is made from opulent velvet fabric and you have a choice of 7 colours. It has the button detailing that creates the classic diamond pattern on the high back or the sofa. We love the deep set of the cushions as well as the silver button detailing on the front.
This Chesterfield Sofa is great value for money and will only coast you £969, this is the best value sofa on the list. Hugh demand means if you order today you will have to wait until May for delivery but it'll be well worth the wait.
What do you think of our pick of sofas then? We hope you like some of them, our favourite is the corner sofa as we hate wasted space. If you can't decide between any of these then please check out the rest of the collection via the website here. It's so vast you'll find your perfect sofa for sure.