Best And Worst Christmas Jumpers
Christmas jumper day this year falls on Friday 13th December and it's always a fun day on the work festive calendar. Choosing a Christmas jumper to wear can be difficult simply because we are now spoilt for choice. There are hundreds of jumpers to choose from this year ranging from subtle festive touches to outright over the top in your face Christmas fun. Just how Christmassy you go is up to you.
We've had a look through some of the best online stores and handpicked a couple of our favourites this year for the whole family. We hope you can use this list to get some yuletide pullover inspiration.
Mens
Best
Festive Bake: Greggs Christmas Jumper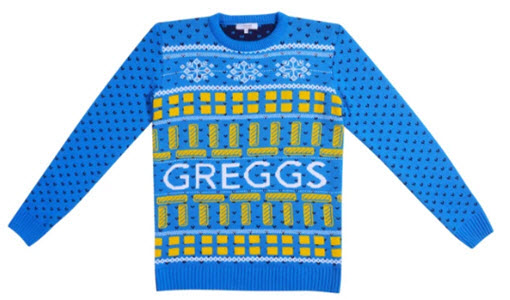 We're kicking off this list today with a jumper we've seen featured in the news recently. It's the Greggs Christmas Festive bake jumper. This garment is perfect who loves the bakery giant Greggs. We love the bright blue colour and pastry and sausage roll detailing. Get your hands on one today from Not Just Clothing for £39.99
Fluffy Reindeer Christmas Crew Neck Jumper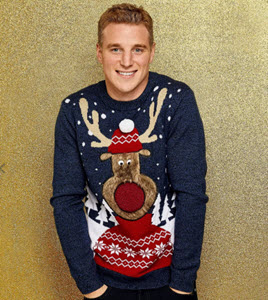 Reindeers are a popular choice of animal for the Christmas jumper with good reason. As the pullers of Santa's sledge, they are integral to the happiness of billions of children each Christmas morning. We really fancy this fluffy reindeer design on the front of this Burton jumper especially the fact that he has on his own Christmas jumper and matching hat. Save £5 off the price right now as well.
boohooMAN Polar Bear Fairisle Christmas Jumper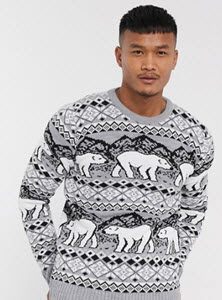 This light knit soft-touch grey festive style jumper adorned with polar bears is another favourite for us. It's only £18 so makes it great value for money also. We found it at Asos where there is an incredible amount of choice but this patterned beauty just spoke to us. We love that it could be worn throughout all of December without being over the top.
Worst
Ugly Christmas Pullover Sweatshirts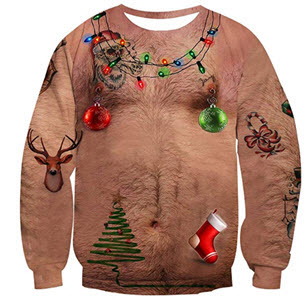 You need a strong stomach to be able to handle the design of this jumper. It gives the illusion of a topless elf with tattoos, strings of lights and even baubles hanging from nipples. It's all a bit too much for us. Saying that it would be a great way to get noticed this Christmas jumper day and there's no denying that it is festive. We found it at Amazon.
Boris Johnson Festive Jumper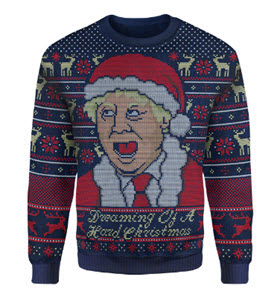 With one of the biggest election events coming up the day before Christmas Jumper Day this year some may consider this jumper featuring the words 'Dreaming of a hard Christmas' in bad taste so be careful. Given the right crowd, we actually love this. It's from IWOOT and is currently has £5 off.
Women's
Best
ASOS DESIGN Maternity Christmas Jumper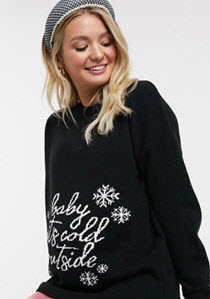 This first jumper we've chosen for the ladies is a maternity style and we thought it was so cute we just had to include it. It is fairly simple, just featuring the words 'Baby its cold outside' with some snowflakes. It's from ASOS and will set you back £25. Totally Worth it if you ask us. It has been designed to look oversized, this and the dropped shoulders means it will always be up there for comfort as well as fitting nicely over your bump no matter how pregnant you are.
Principles - Grey Rainbow Sequin Christmas Jumper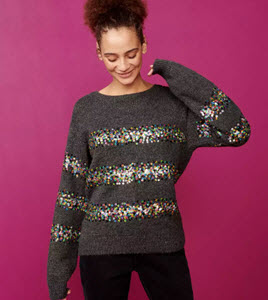 This fun jumper is our personal favourite. We are in love with the rainbow sequins and think the understated festive feeling you get is so classy. A relaxed feel is achieved thanks to the chunky knit and balloon sleeves design. It's currently only £24 at Debenhams and we feel it gives off a much more expensive vibe. Buy it today and wear it all winter.
Yumi Sparkly Avocado Christmas Jumper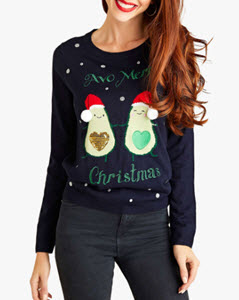 Nothing says Christmas like Avocados right? This jumper is perfect for any lover of avocados or Christmas. It features the words 'Avo Merry Christmas' on the front and who doesn't love a good pun? It is a lightweight knit fabric and has a stylish scoop neck plus long sleeves to keep you warm. We found it at John Lewis and there is currently 20% off so don't miss out order yours today.
Worst
Women's Christmas Long Sleeve Jumper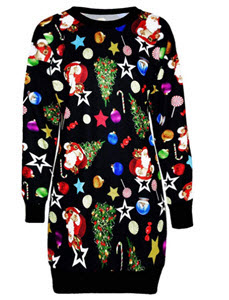 This jumper dress is just over the top and too much for us. For started it's a dress rather than a jumper and it is also just too busy. The design features Santa and his sledge, candy canes, baubles, stars, Christmas trees and sweeties against a black backdrop. If you fancy bring the biggest and brightest this December 13th then head over to Amazon now and order. You will certainly be getting yourself a bargain as they are selling for under £8!
Women's Christmas Santa Unicorn Ugly Sweater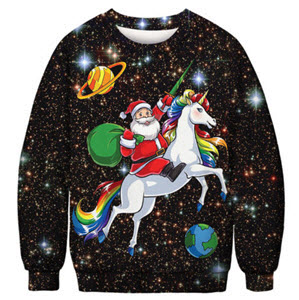 What more can you ask for from a Christmas Jumper than Santa holding a sword riding a unicorn through space? Yep, you read that right. Another Christmas jumper we're just not in love with there is just too much going on and it doesn't all make sense. Some People may love the ridiculousness of it though. We found it on eBay and it's only a tenner.
Kids
Jacquard-knit hooded jumper
Your little ones will love being jolly old Saint Nick in this warm Santa hoodie from H&M. The cute pompom on the hood finishes off the look. The knit will keep small bodies snug all day at school this Christmas Jumper Day and it's only £9.99.
Baby Bear Fair Isle Jumper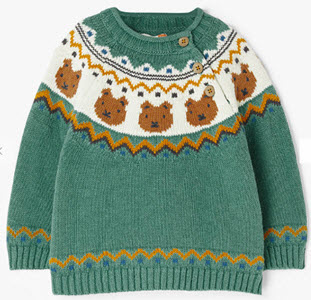 This baby jumper is so cute. What's not to love with this bear design and gorgeous green colour. The cotton-rich blended fabric ensures it is super soft against delicate skin while the stylish buttons are located on the right of the shoulder for easy dressing. Get this from John Lewis today.
This is just a small selection of the jumpers that are about this year. Finding the best Christmas jumper has become a bit of a quest for some and some people have been known to wear one every day of December. Please let us know if you've found an even worse jumper, we're sure there's plenty out there.