The Best Toys To Buy From Argos This Christmas
Christmas is just around the corner and people are making their shopping lists. You don't have to have children of your own to benefit here; you might have nieces and nephews, god children, or you might be visiting family who have children in the house over the Christmas period.
Established in 1972, Argos is a British catalogue retailer that has been supplying families and households with toys, furniture, jewellery and more for decades. A truly British household name, it wouldn't be Christmas if you didn't find yourself flicking through the pages of the current Argos catalogue, popping into store to do the same there, or even browsing their website to see what deals and offers they currently have in place.
It should be, without a doubt, one of the first retailers you think to look at when it comes to purchasing toys in the run up to Christmas.
What toys can you buy from Argos?
There are currently 5,600 toys, broken down by as many as 99 filter categories, available to purchase through the Argos website and catalogue.
Dolls, role play toys, radio controlled cars, electronic learning toys, skateboard, kids laptops, inflatable toys, kids face paints, baby trikes and kids watches are just a few of the many categories included that you can choose from and purchase from – for children of all ages, from 0 right the way through.
To make it easier when it comes to finding the best toy gifts for the children in your life, you can also filter by the cost of the toys too; so if you're working to a set budget per child in your life, you don't want to get too carried away, or you simply don't want to trawl through almost 6,000 products, then this added filter will come in handy.
But with such a huge selection of toys on offer, where you do you start?
We're here to help. We've gone through the various age ranges and pulled out some of the toys we think that you should be looking to purchase in the lead up to Christmas.
Toys for children aged 0 to 2 years old
Fisher-Price Laugh & Learn Crawl a Round Car – Blue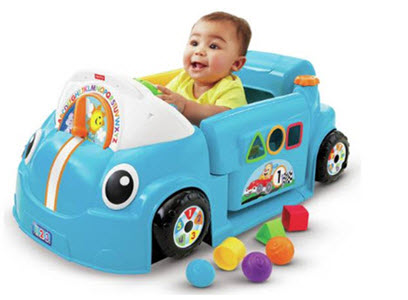 For ages 6 months onwards, this Fisher-Price Laugh & Learn Smart Stages Crawl a Round Car features 75 songs, tunes and phrase and grow-with-me features to ensure the lucky child can learn, play and grow. This stationary car, designed for indoor use, is ideal for various stages, from sit and play, to crawling, to standing and cruising.
Fisher-Price Laugh & Learn Silly Sounds Light-Up Piano Toy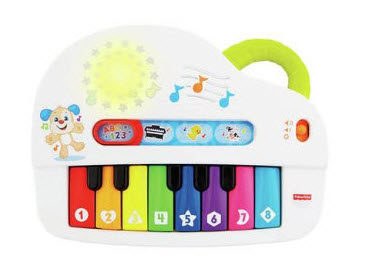 While there are eight numbered keys on the Fisher-Price Laugh & Learn Silly Sounds Light-Up Piano, there are four ways to play and learn with it, from the buttons making real piano sounds, to playful songs and phrases about colours, shapes and numbers, as well as duck and cow sounds.
Fisher-Price Little People Take Turns Skyway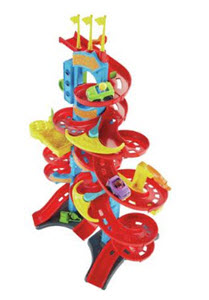 Standing at over 3 feet tall – the tallest Wheelies racetrack ever - this Fisher-Price Little People Take Turns Skyway is designed for one or more children to play with, from the age of 18 months and over.
The Skyway features three different racetracks, allowing multiple children to play together at the same time, and also features racing sounds and phrases, pretend play stops, such as a gas & repait station, and an awesome car launcher at the top.
Toys for children aged 3 to 5 years old
Toyrific i-Microphone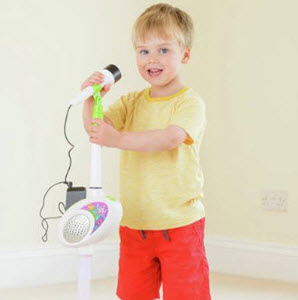 Whether you love the sound of children having fun, exploring their talents and entertaining the family, or you have a budding performer in the making, this Toyrific i-Microphone is fantastic. The microphone, help up by a stand that lights up, comes with two rock-style demos built in to get the kids started, but features a line in allowing you to plug in your iPod or MP3 device so they can sing along to their favourite songs.
Complete Barbie Home Set with 3 Dolls and Pool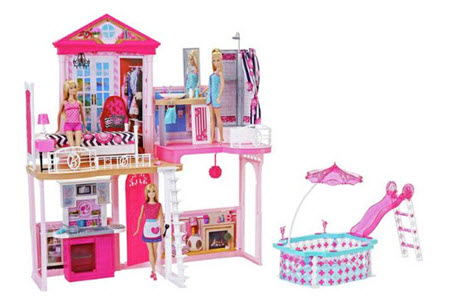 Standing at 78cm, this Complete Barbie Home is ideal for children who love to get creative with dolls and action figures, using their imaginations to create the lives of their characters. The home features four fully-furnished rooms (a kitchen, living room bathroom and bedroom), comes with a pool and three dolls, and includes impressive details such as a white stair case linking the two floors and a pink chandelier.
Each of the three Barbie dolls come wearing different outfits for different scenarios too; one is wearing pyjamas and slippers for the ultimate at-home comfort, one is wearing a polka-dot wrap dress for when she just steps out of the shower, and the third is wearing a cute apron for the days when she wants to do some baking in the kitchen.
PAW Patrol Ultimate Rescue Fire Truck Playset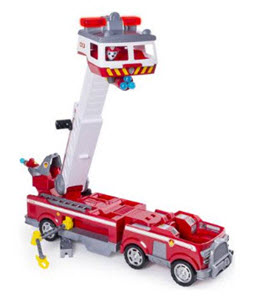 The PAW Patrol Ultimate Rescue Fire Truck is the ultimate toy for those who want to help Marshall save the day. The truck is equipped with everything a little one needs to save Adventure Bay, including flashing lights and sounds, a crank arm to move obstacles, an 2ft extendable ladder to reach high places, water cannon launchers and a mini fire cart.
Play-Doh Super Colour Kit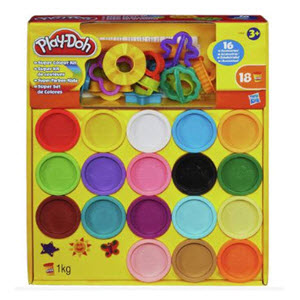 Nothing beats an age-old classic that brings the whole family together, and has been around since 1955, defying generations and technological advancements.
This Play-Doh Super Colour kit comprises of 18 different coloured pots of Play-Doh, along with 16 tools, accessories and cutters to allow children (and adults) to play, make and create to their hearts content.
Toys for children aged 6 to 9 years old
National Geographic Volcano Kit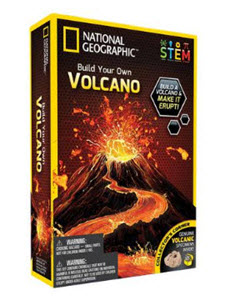 This is a fantastic educational-based toy for older children to truly get to know how volcanos work – from building it with plaster and a volcano mold, to painting it and using eruption powder. The kit also comes with a geode and pumice, two volcanic rock specimens, for children to keep on display or show their friends.
Cool Maker Kumi Kreator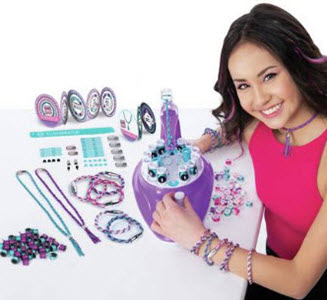 The Cool Maker Kumi Kreator is perfect for children who love to create their very own bespoke jewellery – particularly bracelets and necklaces. It's a simple and quick process, with children getting to choose the pattern that they want – although no two pieces of jewellery have to be the same, with 60 spools, 7 clasps, 14 end clasps, 2 tassel charms and 2 tassel bases included within the starter kit.
KidzTech Radio Controlled Lambo Centenario 1:12 Black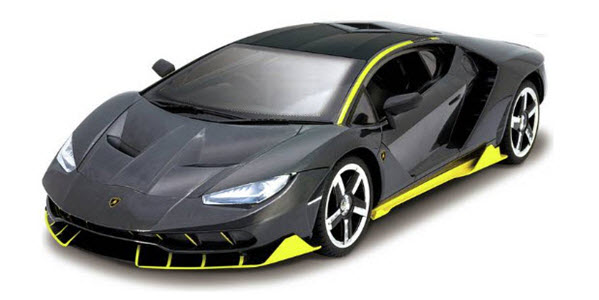 For the child that loves all things automotive, they can now race around the home or garden with their own Lamborghini Centenario, featuring working headlights and suspension, meaning it can also be played with in darker rooms and on bumpier terrains.
Working at a range of 25m, the car can move left and right, as well as reversing, and comes with a rechargeable battery.
Toys for children aged 10 to 13+ years old
LEGO Harry Potter Hogwarts Express Train Toy – 75955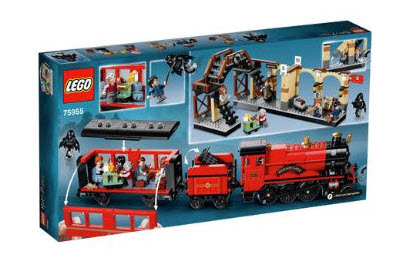 For children aged 8 and above, this LEGO Harry Potter Hogwarts Express Train Toy will allow children to build and explore the Hogwarts Express, with some of the key features being a removable side panel and roof, a carriage with four seats, a Trolley Witch with sweets trolley, railway bridge and iconic Kings Cross Platform 9 ¾ sign.
Harry Potter, Ron Weasley, Hermione Granger and Remus Lupin are among the numerous Minifigures included to help your child bring the Hogwarts Express to life once built.
Monopoly Fortnite From Hasbro Gaming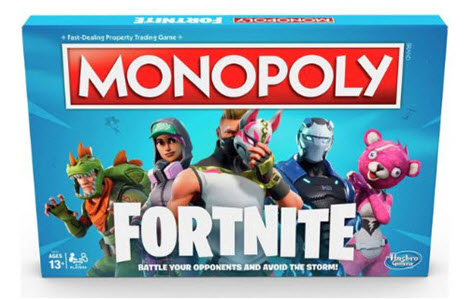 Based on the original game of Monopoly, the limited edition Monopoly Fortnite follows the same format where you have to work your way around the board, but instead of purchasing property and having the most in the bank, it's about who can survive the most.
Featuring key locations from Fortnite, players don't require money, instead earning Health Point chips that will help them to stay in the game, where they will have to battle their opponents and avoid the Storm.
What's more, instead of the usual icons to choose from, there are pawns and 27 different cardboard outfits for players to customise their own characters. Storm cards, location cards, loot chest cards, wall cards and health point chips are also included to make the game as interactive and enjoyable as possible.
Tobbie the AI Robot Kit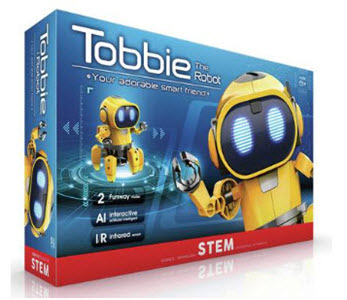 Tobbie the AI Robit is a fantastic STEM toy to get your child making and learning, particularly great for those who are a bit older and want a toy more stimulating than they would have received at a younger age.
The kit contains everything you need to build your very own clever Tobbie Robot, and once built there are two interactive modes to flit between: explore and follow. When set to follow, Tobbie will follow any person, animal or object that approaches, while when set to explore Tobbie will use his infrared sensors to move around without bumping into obstacles.
These are just a few of our favourite toy suggestions at Argos for various age groups of children, but with almost 6,000 toys to choose from you're sure to find something for every child, every age group and every personality, whether fun, educational or otherwise, and whether to be played solo or with siblings and friends.