Where to find half price boots from Clarks in the UK
Everybody knows that Clarks is without a doubt the best place to go for kid's shoes, especially school shoes. My sisters and I used to love the trip to Clarks before the school year started because we'd come away with cool new shoes. We'd also have just had a great time getting our feet measured before parading around the store modelling the potential shoes for mum.
Clarks is so much more than kid's school shoes; the entire family can find the perfect shoe for almost any occasion. From trainers to heels, first walker shoes to formal men's brogues, Clarks has it all. What's more, right now they are giving their customers a chance to save up to 50% on adult sale items with an extra 10% off your second sale pair purchased in the Mid-Season Sale.
We've decided to highlight some of those selected styles, specifically women's boots in this blog. We've chosen boots because the selection is superb and so is the quality. Check it out and let us know which pair is your favourite. This offer is only valid until 27th April so if you see a pair you have to have there's no time for delay!
Mascarpone Ela Knee High Boot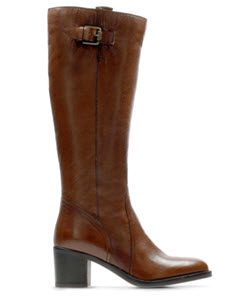 Our first boot is this glorious tan leather knee high charmingly named Mascarpone Ela. Who doesn't love a good knee-high boot? They keep you warm and are effortlessly stylish. Another Perk of the knee-high is that they go with virtually go with any outfit from dressing up jeans to dressing down dresses.
This particular style is made from richly coloured supple leather, we love the stitching and the buckle detail is a nice touch. There is a handy zip running along the inside of the boot allowing ease when putting on and removing the boot. The heel not only bang on trend it is also not too high so you can happily wear all day.
Visit the website today to grab your pair before supplies start running low with 50% off they are selling fast. Originally priced at £165 they are now just £82.50
Demi Beat Ankle Boots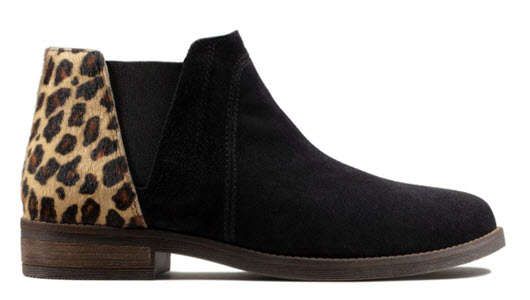 Hands in the air if you love a splash of animal print! A little leopard print is a fun and funky way to spruce up an outfit so long as you don't overdo it. These ankle boots are the perfect mix of cool and practical. They have elasticated panels on the sides so you can slip on and off with ease and the heel is tiny meaning comfort is always key.
The inside of this boot is made of soft leather and there is Clarks special Cushion Plus technology on the sole for even more comfort. These boots were £89 but with the code are now £44.50.
Orinoco Jazz Knee High Boot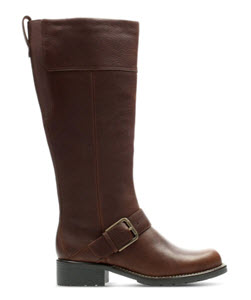 A knee-high boot is very on-trend right now and is a great way to keep your legs snug in early spring when you want to start wearing dresses but the temperature is still a little low. The tan colour is very easy to pair with clothes and the small heels add a little height but keeps your feet comfortable. We can't enough of the casual style.
In the sale right now these are only £59.50 as they have a massive 50% off! Don't miss out and order today.
Clarkdale Arlo Chelsea Boots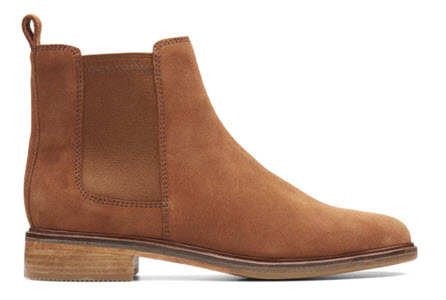 How gorgeous are these Clarkdale Arlo Chelsea Boots in dark tan suede? A Chelsea boot is a great all-rounder that can be worn every day with almost anything. They have elasticated side panels and a heel loop to make them super easy to get on and off.
There are only a tiny 2cm heels on these which makes them perfect for busy days when you're after a casual feel. The inside is lined with leather that is soft to the touch for an extra boost of comfort. Shop for these today and you'll pay just £44.50 instead and £89.
Velma Hiker Boots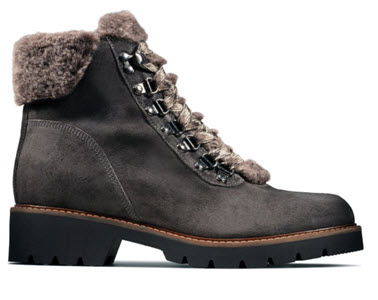 If your feet are always cold then these boots may be just what you need. The outside is designed in stunning grey suede with a cosy faux fur band around the top. We love the authentic stitching detail that adds to the quality as well as the chunky heel that adds grip and functionality while still keeping things stylish.
We may be heading into spring now but these boots will last a long time and with 30% off right now are a great investment for future cold weather. They are only £65 reduced down from £130.
West Lo Ankle Boots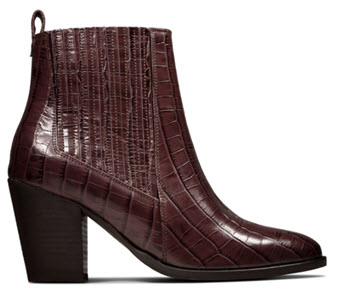 We love the details on the ankle of these West Lo ankle boots. They are elasticated along the top so you can easily get them on but it is cleverly hidden behind thin panels of the burgundy snakeskin which give the boot a very chic finish. When teams with the generous 8cm heel high you have a fairly elegant boot suitable for both day and night-time adventures.
As with most Clarks boots the inside is fitted with a comfortable leather sock that keeps the heat in and the rubber sole is perfect for maintaining grip. Buy these boots now for £115 or £57.50 in the sale.
Kaylin Fern Ankle Boot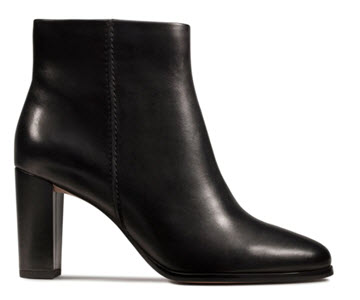 Our last boot choice is forever both classy and classic. A plain leather heeled boot that will look magnificent with jeans and a t-shirt. A welcome addition to any capsule wardrobe these boots come under essentials. The almond-shaped toe is eye-catching without being severe and the 8.5cm block heel is easy to walk in but certainly adds some height.
Grab a pair and fall in love with them today. They were £85 but they are now down to an amazing £42.50.
If boots aren't your thing then Clarks have many other styles for men and women available in this exciting promotion. Check them all out here. Don't forget you save an extra 10% on your second sale pair as well so you'll really be making some fantastic savings.