Create A Mindful Home In Time For Spring With Dunelm
January is very much underway and the days are short and grey but if you close your eyes and concentrate hard you may be able to get just the faintest whiff of spring in the air. Once we've dusted away the cobwebs of winter its common practice to begin a big sort out and clean. A spring clean. This allows us to head into the warmer, often more productive months with a clean head and attitude.
Dunelm is a fantastic retailer to shop with if your home or life requires a bit of a declutter or just general tidy. They have a huge range of home and kitchenware to bring new order to your life in time for spring. Check out our little list featuring some of our favourite spring cleaning essentials.
Metal Black Coat Stand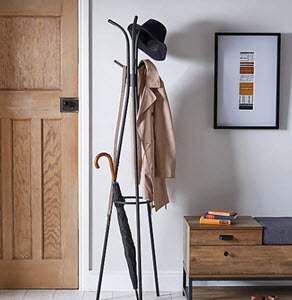 As soon as you walk into your home guest and residents all appreciate somewhere to hang their hats and coats. It allows the space to stay clear of outerwear lying about the place and ensure you always know where your coat is in a rush. We love this black coat stand and with a 5-star rating, it's clear others do as well. It's such a stylish way to hang your coats, bags, umbrellas and scarfs without taking up too much storage space on the backs of doors. It's just £30 as well.
Hanging Grey Organiser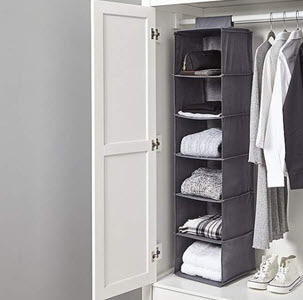 These are super cheap coming in at just £4 each down from £5 and create so much extra shelf space in your wardrobe it's ridiculous. Get a couple and go mad. This lightweight answer to your storage woes has a handy velcro tab for attaching to your clothes rail maximising the potential of your wardrobe, using up space often left empty below hanging clothes.
Foldable Grey Ottoman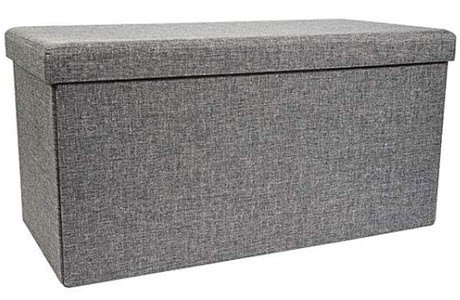 Another great space-saving storage solution is the ottoman. You can place this box in almost any unused corner of a room and use it to keep stuff in that you may have otherwise found hard to put away. In a bedroom you can place it at the end of your bed and use it for blankets or clothes, in the bathroom towels are perfectly hidden and in the living room again blankets and throws can be kept neat. This one has the added bonus of costing only £18 and being foldable. Over 500 customers have given it an overall score of 4.9 stars out of 5.
Kempton Shoe Bench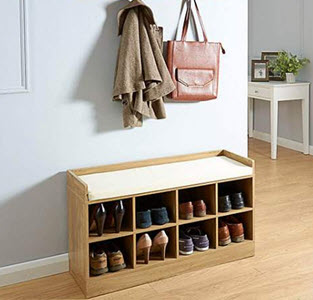 Shoes are another tricky thing to keep neat and tidy around the house and can often just accumulate in piles around the front door for your guests to see as soon as they enter your home. That is why a shoe tidy is always a good investment. We love this shoe bench from Dunelm. It is stylish and gives you a place to sit and put your shoes on while keeping them in pairs and hidden in the compartments underneath. It comes in three finishes and is currently priced at £75.
Grey Heart Wicker Laundry Basket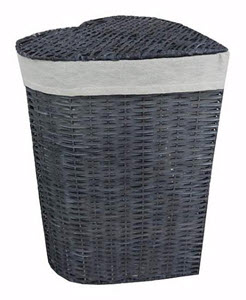 Have a busy couple of days and before you can say fabric softener there is a pile of washing waiting for you higher than you care to admit. A dedicated laundry basket then is very important. It is also important that it looks nice in your bathroom. We have a soft spot for a wicker basket and therefore love this one. It is an attractive heart shape. Purchase one today and hide those dirty clothes with ease.
Rome Modular 6 Cube White and Oak Finish Cube Shelving Unit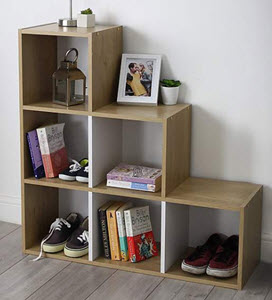 These cube shelves are so stylish yet so practical, we love them. Bric-a-brac will finally have a place to stay but can still be on display if you like a busier feel to your décor. What fun is minimalism anyway? The 6 cube design with one more cube being added each row means you can also maximise the space you have on top of the unit as well as within. At only £40 it's a bargain and has such a modern effect. Choose your finish and get buying today.
Wooden Shelf With Hooks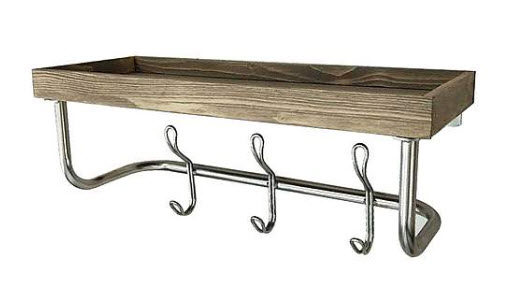 This rustic feel wooden shelf with hooks underneath will go perfect near any front door. The shelf will serve perfectly as a place to keep any post waiting to be looked at and we love the hooks for keyholders or perhaps a dog lead or two? Get it now for only £15 down from £24.
Monochrome Stacking Tea Coffee Sugar Canisters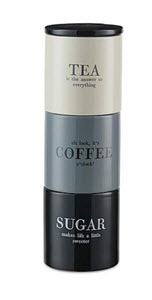 We move onto the kitchen next and these clever stackable tea coffee sugar canisters. The perfect way to save counter space is to stack your countertop items surely? They are made from Stoneware and have a chic monochrome colour design. Matching items are available online and these will set you back only £16 for the set!
Brabantia Set of 3 Glass Jars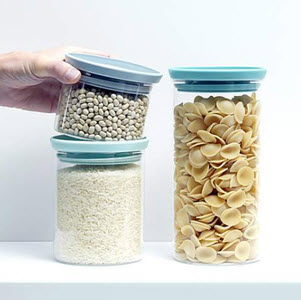 Sorting out the kitchen cupboards can feel like a mammoth undertaking at the best of times but when everything is in flimsy cardboard packaging it can be even worse. Putting everything in glass right from the start then is a great idea and a fantastic way to keep everything fresh for so much longer. This set of three glass jars is just a starter set there are tons of sets and sizes available. The lids on these have a button that creates an airtight environment inside. Save £3.60 today and pay just £14.40.
Pink Tassle Storage Basket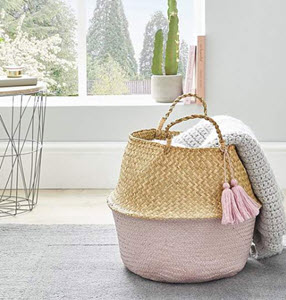 This last item we've added mostly because we think it's really cute. Again you can store almost anything in it to make the place look less cluttered or messy. From firewood to blankets. This item is new in for the spring collection and we're liking it. It's also only a tenner, a cute pastel pink hue and is both stackable and foldable.
If you feel in the mood for a mindful spring clean then don't hesitate to get down to Dunelm today and shop their spring collection. You'll be amazed by the solutions they have to all your home storage and space issues.