Cruise Holidays with TUI
TUI now sail to over 120 destinations under the name Marella Cruises. Exploring the icy waters of Alaska to the tropical beaches of the Caribbean, with the option of boarding straight from a UK port or catching a flight from 22 UK regional airports. Most cruise ships set sail at night so that you maximize your time onshore. If its sophisticated living, dining and entertainment you are after then coast exploring on a TUI cruise is for you.
Often the idea of extra tip and service charges put people off from cruise vacations, however with TUI Marella Cruises they are all included so you will have no extra charges to pay that can leave a stale taste at the end of what was an amazing trip.

You will regularly see TUI voucher codes offering special deals on selected cruises, discounted drinks packages and free excursions. If you are not ready for the larger ships, then they offer smaller more intimate ships to get you hooked on the cruising bug and there is a cruise available to suitable all budgets.
All Inclusive Cruises
Selecting TUI's all-inclusive cruise deal takes the hassle and expense out of the hidden extras that all seem to mount up and is much better value for your money. Most activities, entertainment, restaurants and drinks will be part of this cost-effective package. The Marella Discovery, Marella Discovery 2 and TUI's newest ship, the Marella Explorer even offer Prosecco and cider as standard, so let the bubbles flow and watch the shoreline go by.
Oh, did I mention there is a rock-climbing wall, an outdoor cinema, à la carte dining and first-class entertainment all available on board the Marella Discovery and Marella Discovery 2, great for both kids and adults that can't sit and do nothing whilst on board ship?
With TUI ships having at least 3 restaurants, there will be plenty of choices whether it's fine dining you fancy one night wearing your fancy frock or tickle your taste buds with the array of self-service buffets on offer in a more relaxed atmosphere.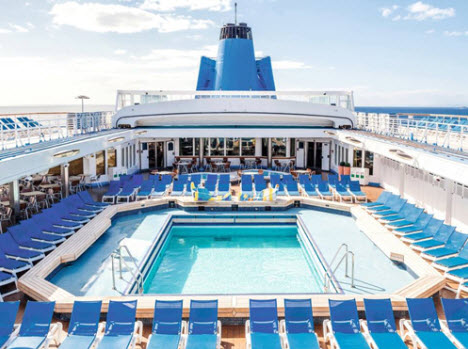 The good thing about all-inclusive is if you are peckish between meals you can help yourself to the snacks on board deck whilst you sip a nice ice-cold tipple. If you have a special dietary requirement, no problem TUI have it cover, just let them know what you can or cannot eat at the time of your booking and they'll make your trip as comfortable as possible.
The bonus of booking an all-inclusive cruise is the professional entertainment programs. You can catch a West End Show without even going to London. Maybe you fancy catching that new movie that's just hit the cinema or fancy a gamble at the onboard casino? Or maybe you like to party at the late-night disco, kick your shoes off and watch the sun come up! Don't worry if you're not one for lounging on the sunbed next to top deck swimming pool, as there are also plenty of daytime activities on offer.
If your cruising with kids, there is plenty to keep the kids from under your feet, with free kid's club for 3 – 11-year old's, where they can play with crafts and create masterpieces whilst parents can take time out in the onboard spa and gym. Older kids can make friends at the basketball court or games room or hook up with friends back home via the onboard Wi-fi. TUI cruising have it covered on all levels and there is something for everyone of all ages.
Late Deals
With late TUI cruise deals from as little as £595pp, sailing around some amazing parts of the world has never been more affordable.
If you can travel within the next 60 - 90 days, then you can often get your trip cheaper as this is the last call for when travellers can cancel existing reservations without penalty (some up to 120 days). Therefore the cruise line will know exactly how many cabins are left to fill and will reduce the fare so that they are at full capacity.
If you can holiday during 'off-peak' times, you stand a much better chance at getting a trip for less. Avoiding peak times like Christmas, Easter, July-August. A Mediterranean cruise will be cheaper during the off-peak season in October through to April. Other times that can be good to sail for a great price, is first two weeks in December or first two weeks in January.
If you can be flexible, you are more likely to bag a bargain boat! If you are travelling with an infant under the age of 2 then special prices apply. If your travelling with a family, you'll be glad to know that children do not pay adult prices and will not be charged any cabin supplements.
Shore Excursions
Make the most of your time whilst onshore. TUI Marella Cruises are there to take the hassle out of exploring. TUI has a great trip finder, where you can search trips and excursions by parts of the world. Don't worry if you have booked your cruise and haven't booked any excursions yet, as they go on sale 4 months before you sail and there is plenty of time to add these to your itinerary.
It's best to book these trips online, as online prices will never be beaten onboard! Also, some excursions have limited spaces, so for peace of mind book as soon as you can.
If you are worried about getting around in an unfamiliar country with a language you don't understand, then we recommend that you book you a guided tour, so that you get the most out of your time onshore.
Don't worry, bookings can be amended 24 hours before your excursion. Just remember it's your holiday, and if you just want to relax around the pool, then you don't even have to go ashore at all if you don't want to!