Currys Laptops - Laptops for all budgets
Every household can find a million uses for a laptop nowadays. They are the ultimate portable gadget that always comes in handy. The entire family can benefit, parents can check work emails, book holidays and do Christmas shopping while kids can complete and print homework, do research and stream their favourite shows.
Gamers can play their favourite online games, graphic designers can get creative, bloggers can blog about their chosen interests and influences can create their content and post it to their followers. Currys have a huge selection of laptops for you to choose from if you need a new one. They separate their laptops up into categories as they do their computers. You have social, for keeping in touch with friends, every day, for general work and play usage, achieve, which are perfect for those who undertake a lot of projects, gaming, for gamers obviously and lastly premium, for those looking for the very best.
We understand that when searching for a new laptop budget is often a huge factor in your decision so for this reason we've selected our choices by price. We hope this helps you make an informed selection.
Under £299
HP Stream 11-ak0500sa 11.6" Intel® Celeron™ Laptop - 32 GB eMMC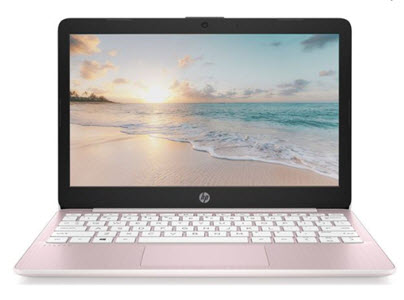 Our first choice is actually under £200 and is from HP. Being able to purchase a decent laptop for under £200 is such a huge positive for so many households and this modal doesn't disappoint. It comes under the social category meaning it offers fantastic basic computing with its Intel® Celeron® N4000 Processor. There is 2 GB of RAM and 32 GB of storage. You also get a 1-year subscription to office 365 and a 1TB one drive. The battery life is around 13 hours.
LENOVO IdeaPad S130-14IGM 14" Intel® Celeron® Laptop - 64 GB eMMC, Grey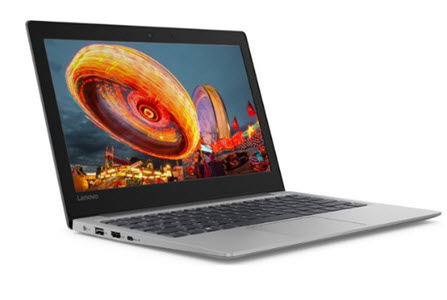 Our second choice under £299 is this one from Lenovo. It comes in at just £229 so is still way under budget and has an Intel® Celeron® N4000 Processor. There is 4 GB of RAM and a massive 64 GB of storage. It is classified by Currys as another social computer, perfect for fulfilling your basic online needs. This one has up to 8 hours of battery life and you also get the 1-year free subscription to Office 365 and a 1TB one drive.
£299 to £499
MICROSOFT 10" Surface Go - 64 GB, Silver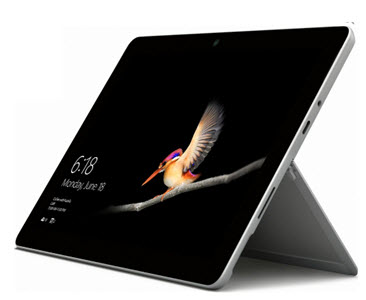 Our first modal in the up to £499 section is this sleek Microsoft laptop. It comes in at just £379 and runs on Windows 10 S using an Intel® Pentium® Gold 4415Y Processor. You also get a full HD display, 4GB of RAM and 65GB of storage. The keyboard is optional and the ultra-thin screen has an integrated stand. We love the look of it. It also comes with a mouse and a pen. Classed as an everyday laptop it is perfect for all your basic work and play needs.
ASUS Flip C433TA 14" Intel® Core™ m3 2 in 1 Chromebook - 64 GB eMMC, Silver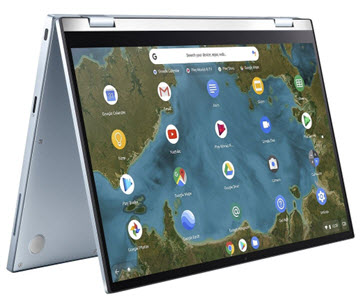 Our second under £499 choice is the Flip C433TA Chromebook from Asus. It comes in at the top end of the budget at £499 but is worth every penny. It runs on Chrome OS with an Intel® Core™ m3-8100Y Processor. It is attractive and slim so easy to carry about, there is up to 10 hours of battery life, 4 GB of RAM and 64 GB of storage. You can flip from a laptop into a tablet with the 360 degrees hinge and even get a free Google mini nest when you purchase.
£499 - £1000
Acer Nitro 5 AN515-54 15.6" Intel® Core™ i5 GTX 1650 Gaming Laptop - 1 TB HDD & 128 SSD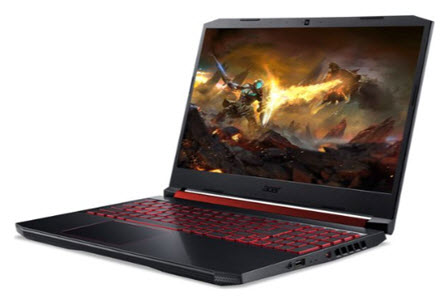 Our first laptop in the £499 to £1000 category is a gaming laptop from Acer. It uses an Intel® Core™ i5-9300H Processor but what makes it great for gaming is its much larger capacity for storage. It has 8 GB of RAM, 1 TB HDD & 128 GB SSD. Graphics are also vital so you have NVIDIA GeForce GTX 1650 4 GB. Plus up to 10 hours of battery life and full HD display. We love the look of this laptop and the fact that it is designed to not get too hot during long gaming sessions. It comes in at £899
LENOVO IdeaPad C340 14" Intel® Core™ i5 2 in 1 Laptop - 256 GB SSD, Blue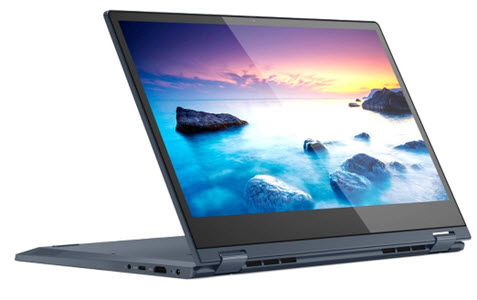 Our second Lenovo computer of the list this modal runs on Windows 10 and has a 360 hinges so you're able to easily watch work and share. It runs on an Intel® Core™ i5-8265U Processor and has 8 GB of Ram and 256 GB Storage. Currys have sorted it into the Achieve category meaning it has the latest technology and fast computing. Fully charged you have up to 10 hours of battery and the super-fast charging option means a 15-minute charge can last you 2 hours. It is at the lower end of the budget costing just £589 and currently has £60 off.
Over £1000
APPLE 13" MacBook Pro with Touch Bar - 128 GB SSD, Silver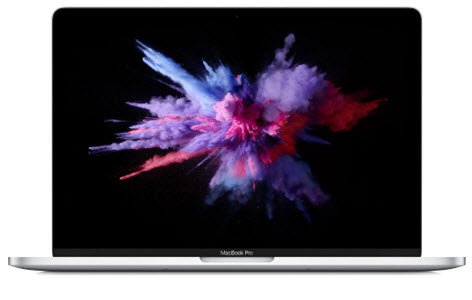 A blog about laptops would not be complete without the addition of the latest MacBook. This amazing machine runs on MacOS with an Intel® Core™ i5 Processor. There is 8 GB of Ram and 128 GB storage. There is high tech retina display and the graphics are Intel® Iris™ Plus. All your projects are now smoother and faster thanks to the new processor. The touch bar means you can access the relevant buttons for the task you're undertaking without the other getting in the way. You can also unlock the MacBook and use Apple pay with your fingerprint. The Currys price is £1149 but that's a small price to pay for what is arguably the best laptop on the market.
As you can see there is a laptop for all abilities, required tasks and budgets when you shop with Currys. This is just a few of our favourites if we haven't picked any from this list get on over to the Currys website and find one you do like. Check back with us to ensure you haven't missed out on any offers before paying.