Currys PCs - A new PC for the family home
A home computer is a very handy thing to have in the family home. The right modal can help the kids complete their homework, keep grandparents in touch with family and friends around the globe, allow teenagers to immerse themselves in online gaming and provide parents with a portal for advice and like-minded people when they find themselves overwhelmed.
Once you've decided to replace your old pc or even purchase your first one choosing a good one can be difficult. Unless you're an expert it can be hard to decipher what the computer terms mean and what functions are essential to your needs. Luckily Currys is on hand to help with this. They have helpfully sectioned some of their pcs up by need. These sections are social, everyday, achieve and gaming. We've picked two of our favourites from each section for you to have a look at. Let us know what you think.
Social
If you need a home computer for the social aspect you need a pretty basic computer. It has to give you access to social media accounts such as Facebook, Instagram and Twitter as well as allowing to browse the web and catch up with friends. All computers do these things nowadays but if this is all you need then you shouldn't spend the extra cash on all the fancy bells and whistles some pcs have.
LENOVO IdeaCentre 310s Intel® Pentium® Desktop PC - 1 TB HDD, Silver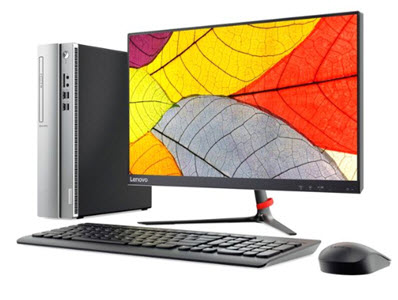 This first computer is from Lenovo and features an Intel® Pentium® J5005 Processor. It also has 4GB of RAM and 1TB HDD. The main selling point of this simple computer is that it is extremely reliable and its sleek compact design allows it to easily fit into our busy rooms and lives. As well as keeping in touch with friends it is perfect for essay writing or streaming TV. It currently has £80 off and is now only £249.
ACER C22-820 21.5" All-in-One PC - Intel® Pentium™, 1 TB HDD, Silver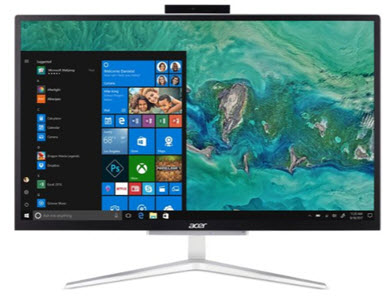 This Acer all-in-one PC has an Intel® Pentium® J5005 Processor with 4GB RAM and 1 TB HDD. It manages to fit everything you need into the super-thin frame that is only 11mm at the very top. The fully HD display makes streaming TV extremely vivid. You also get a moveable external webcam which is perfect for skype video messaging. This modal is currently £419 at Currys.
Everyday
An everyday computer must be able to perform all the things you need it to for both work and play. This should include Microsoft office, TV streaming and emails as well as others. As with the social computers you don't need anything to fancy just a good all-rounder.
ACER C22-865 21.5" All-in-One - Intel® Core™ i3, 1 TB HDD, Silver
Our first everyday computer is another Acer modal. This one features an Intel® Core™ i3-8130U Processor with 8GB of RAM and 1 TB HHD storage. You can enjoy a full HD screen with stunning visuals perfect for streaming. The large memory capacity means you can keep everyone's files safe without worrying about space. Amazingly this PC is currently in the clearance and is only £479.97.
HP 22-c0044na 21.5" AMD A9 All-in-One PC - 1 TB HDD, White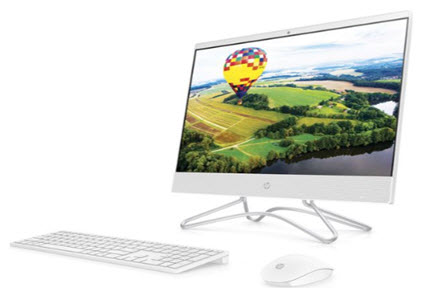 HP is the make of our second everyday personal computer and it has an AMD A9-9425 Processor with 4GB of RAM and 1 TB HDD storage. It's got a full HD screen and four front-facing speakers for great sound. The webcam has a cover for peace of mind as an extra security measure and we just love the modern feel you get from the sleek white design. It's not in the sale but it is only £429.
Achieve
The computers in the achieve section are here because they help you bring your creative ideas to life. You need one from this section if you plan on editing lots of photos or videos, undertaking extensive multitasking or will be using more professional creative software.
DELL Inspiron 3470 Intel® Core™ i5 Desktop PC - 1 TB HDD, Black & Silver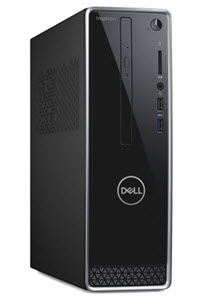 Our first computer in the achieve category is this Dell Inspiron, it features an Intel® Core™ i5-9400 Processor, 8GB of RAM and 1 TB HDD storage. It has an improved airflow design meaning no matter how many tasked you're trying to achieve at one time it won't overheat like some more basic modals. The 6 cores also keep every task running in quick time without slowing down. Getting creative has never been faster or easier. It's now £579 on the Currys website.
HP Pavilion 24-xa1006na 23.8" AMD Ryzen 5 All-in-One PC - 1 TB HDD, White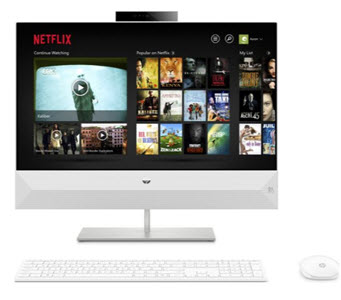 Our second achieve PC is also our second computer from HP, the HP Pavilion, it features an AMD Ryzen 5 3550H Processor with 8GB of RAM and the standard 1 TB HDD storage capacity. This powerful Ryzen processor can handle complicated editing software and large projects with ease. It can even swap between light gaming, streaming and work modes without slowing down. The speakers are fantastic quality and the large screen makes streaming fun. Even better is that it's just £649.
Gaming
Only serious gamers who want their gaming to go beyond the limits of their console will consider a gaming computer. You need it for things like 4k graphic and VR gaming.
PC SPECIALIST Vortex AR Intel® Core™ i3 Gaming PC, Full HD 23.8" Monitor & Gaming Headset Bundle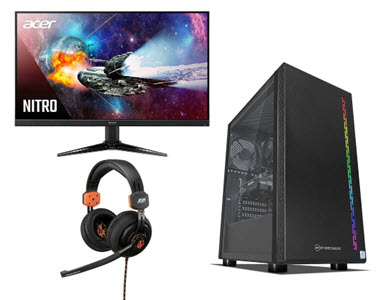 We've only chosen one pc in the gaming category as it's a fairly niche need that the average family doesn't require. We've picked a great offer bundle those that we think is awesome. It's the PC Specialist Vortex AR Gaming PC with Intel® Core™ i3-9100F Processor, 8GB of RAM and 1 TB off HDD storage. It's considered a great entry-level gaming PC and doesn't break the bank like some others, coming in at £649 for both the computer and the headset. This is a great deal as the PC alone is priced at £699. The graphics are NVIDIA GeForce GTX 1650 4 GB and you achieve 145 FPS when playing Fortnite at 1080p.
See what we mean about all the choices? One thing that is for certain is that Currys will have what you need. We hope this has helped your decision.