Currys Washing Machines - Washing machines for all budgets
The washing machine is not the most exciting appliance in the household but when it comes to the importance it is well up there at the top. Many homes do get by without one, loading all their laundry into bags to haul it to the nearest laundromat once a week or more but honestly, that's a lot of effort when you can have one in your kitchen for less than £200.
There is a surprising amount of variety when it comes to the washing machine, we shall be dividing the machines by budget however other factors to consider are drum size, spin speed, freestanding or integrated and if you'd like a smart washing machine of not.
We've picked some top-rated washing machines from Currys and are going to start with the cheapest and work our way up so you're able to only go as far down the list as your budget will allow.
Under £300
LOGIK L612WM16 Washing Machine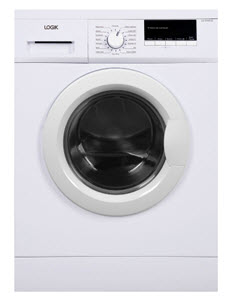 Our first choice washing machine is this bargain from Logik coming in under £200 at just £179. The drum capacity is 6kg with a spin speed of 1200 rpm. The energy rating is A+ and the wash rating is A meaning this machine is a great eco-friendly machine perfect for keeping up with the laundry made by a small family. The LED screen displays several washing functions which are easy to use and a delay timer function means to can have fresh washing ready for when you get home or wake up in the morning.
HOTPOINT WMFUG742P SMART Washing Machine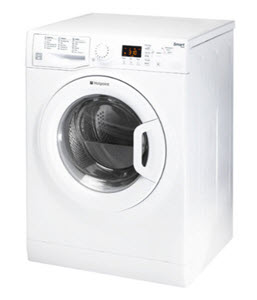 This Hotpoint washing machine has a larger drum capacity at 7kg with a spin speed of 1400 rpm. The energy rating is A++ minimising your carbon footprint and it has many special functions such as a 30-minute fast wash, anti-allergy program and anti-stain wash. Out of 10, it grabs a huge 9 stars based on over 7000 reviews and it comes in at just £299. A very reliable yet affordable washing machine from Hotpoint.
£300 - £400
SAMSUNG ecobubble WW80J5555FX/EU 8 kg 1400 Spin Washing Machine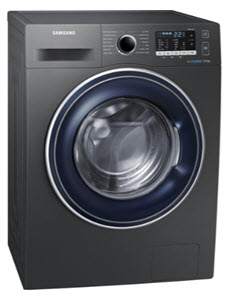 Samsung manufacture some excellent appliances and this ecobubble washing machine is no exception. It has an even bigger drum than the last two at 8kg and a spin speed of 1400 rpm. As the name suggests the energy rating for this machine is excellent at A+++ and the quick wash is 15 minutes for a 2kg load. It uses a mixture of air, bubbles and detergent to ensure you can an excellent clean without all the hot water that requires the energy. Save £10 right now as it's only £369.99.
LG F4J609WN NFC 9 kg 1400 Spin Washing Machine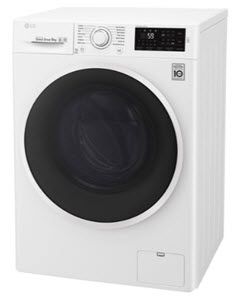 The drums just keep getting bigger as we move along the list, this one has a 9kg load capacity and a 1400 rpm spin speed. It has an energy rating of A+++ and a 30-minute quick wash for a small 2kg load. You can also manage your machine using your phone which is so convenient, you simply need to download the app. You also have the benefit of a diagnosis app which can highlight potential issues before they become serious. We love the pause and add program which allows you to pause a program to add any stray items after you've started. This machine is £379 right now and that's with a £70 saving. The overall reviews score this modal a 9.2 out of 10 across over 100 reviews.
£400 - £600
HAIER HW100-B14636 10 kg 1400 Spin Washing Machine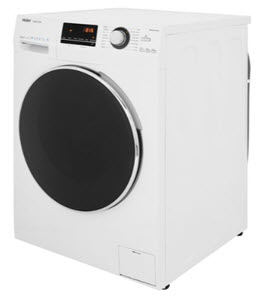 This Haier machine is another one with a large 10kg drum capacity and a spin speed of 1400. It can handle a short 15-minute quick wash if the load is only 1kg and has an impressive energy rating of A+++. It works with a sensor guided program meaning you fill her up and she selected the time and amount of water used based on how full she is. This meaning you'll save money on electricity every year and it's much kinder to the environment. The door even opens itself as soon as the wash ends to minimise the damage done to your clothes from being sat in the damp air. This great machine is now just £429.99 at Currys.
AEG ProSteam L7FEE945R Washing Machine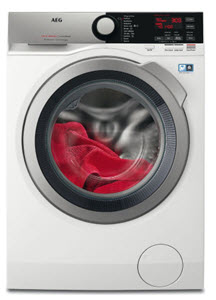 Our next choice is this AEG ProSteam machine, it has a 9kg load capacity, the spin speed of 1400 and an A+++ energy rating. The ProSteam program is perfect for those of us who are not fans of ironing. You can refresh clothes for a last-minute night by popping it in the machine and reducing wrinkles by 30%. The softplus option ensures even distribution of fabric softener through your machine meaning your clothes stay as soft as possible and sensors measure loads to add the correct amount of water each time. This modal is £569.99 right now and that's with a massive £79.01 saving.
Over £600
BOSCH Serie 8 ActiveOxygen WAW28750GB Washing Machine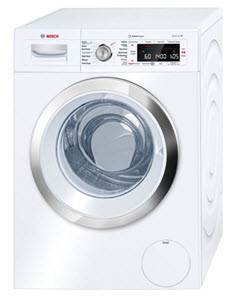 Bosch is the maker of our premium washing machine, which has a 9kg capacity, the spin speed of 1400 and A+++ energy rating. When using this appliance you can select SpeedPerfect for faster washing and dryer or EcoPerfect which greatly reduces energy usage. The high oxygen molecules in the water cut through dirt and stains meaning you can keep the water temperature low saving even more energy. It also benefits from being super quiet thanks to the anti-vibration technology.
It has 9.5 stars out of 10 in customer's reviews and is one of the highest-rated of all the modals we've looked at. The highest-scoring category was build quality which achieved a near-perfect score of 9.8. A great little investment for your home it costs £854.99.
Each of the washing machines we've picked has at least 8.5 stars in customer ratings and we hope there is one that fits your budget right now. There is so much more choice on the website if none of these catches your fancy we just didn't have the time to write about each of them.
Let us know which modal you go for and check back with us before you order in case we've got a cheeky Currys discount code that may get some money off for you.