Debenhams Bags - Brilliant backpacks
Today we've been looking online at Debenhams in the bag section. The right bag is very important for both practical and aesthetic reasons. You need something that compliments your outfit but also one that can carry everything you need it to.
Recently backpacks have made a huge comeback and they are now one of the hottest new bag trends around. Debenhams alone has over 180 to choose from. We think the backpack has become so popular again because they are so easy to carry and can fit a great amount of stuff in them. Now that there is so much choice available you can pick one that is pretty and feminine and the size that you want.
We've picked some of our favourite bags from the Debenhams website to show you the kinds of thing on offer right now. We hope you like them and that they inspire you and your spring look.
Conkca London - Dark Tan 'Anoushka' Leather Backpack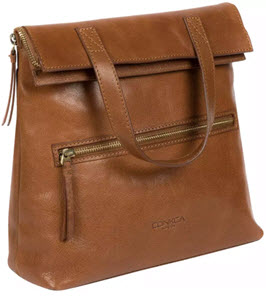 Our first bag is the Anoushka Leather Backpack from Conkca London. It's a neat little tan bag made of full grain buffalo leather. There is a zip fastening in the middle that secures the spacious central compartment that also has three internal pouches for things such as your phone and keys. The top zip folds over for extra security. Order this bag today from Debenhams and save £49.50 as it is currently half price and only £49.50.
Fiorelli - Multi-Coloured Roma Print 'Anouk' Backpack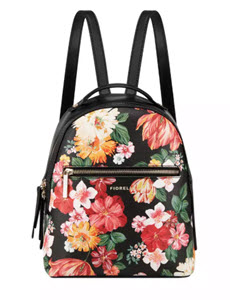 Our second bag is this gorgeous black backpack with stunning multi-coloured flowers from Fiorelli. The popular Anouk bag has been updated for the spring with on tread colours and new and improved zipper. It has not lost its practicality so still has large compartments for carrying around everything you need with ease. The shoulder straps are supple and adjustable so comfort is always a top priority. Save £11.80 right now and get this beautiful bag for only £47.20.
Mantaray - Pink Floral Coated Canvas Backpack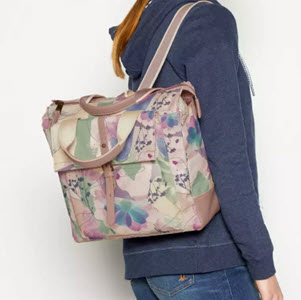 This floral backpack is our personal favourite. It is super sturdy and keeps its shape thanks to the coated canvas material and is one of the largest bags we have chosen. You could use this as a school or college bag with no worries about fitting everything in. The bright abstract flower design is very attractive and feels like spring. Carry as a backpack or if you prefer you can use the loop straps to carry on your arm. You'll also notice it has a large main compartment with a smaller buckle fastened pouch at the front for valuables. It is not in the sale but is only £35.
ALDO - Black 'Logorani' Backpack with Zip Closure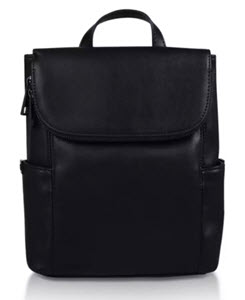 A simple black bag is a great go-to for almost every occasion. Something as simple as this bag from Aldo is great for a workplace environment. The flap lifts to reveal a good-sized main pouch with double-sided zip. We love the fact that it will go with every single outfit you match it with and that you can dress it up or down. A great everyday bag that will only cost you £45.
Herschel Supply Co - Brown 'Dawson' Small Backpack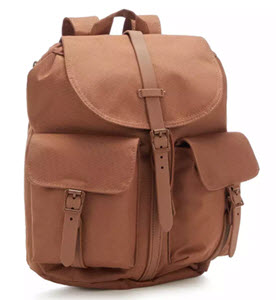 Our favourite thing about this Herschel Supply Co backpack is the lovely blush colour, it's perfect for spring. The mountaineer style bag has plenty of buckle fastened pockets so there is a lot of space for all your belongings and the thin straps keep it elegant and stylish. The main pocket has a bright lining and zippered pouch for extra security and the drawstring closure is both easy to use and secure. This is another bag that is also in the sale with an amazing 50% off. It's now just £32.50.
Pure Luxuries London - Grey 'Yeadon' Leather Backpack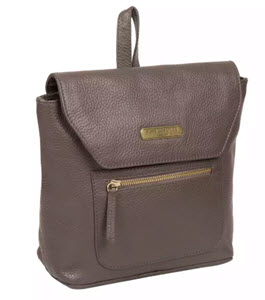 This compact grey bag from Pure Luxuries London is one of the bags with the biggest discounts on the list today. It is made from fine milled leather with a delightful pebble grain so was originally priced at £103, now however it is going for just £34.20 meaning you make a saving of over £68. We love the feel of the leather as well as the neat square design. Each pocket is zippered closed for security and the shoulder straps can be easily adjusted for comfort.
Herschel Supply Co - Plum Corduroy 'Nova' Small Backpack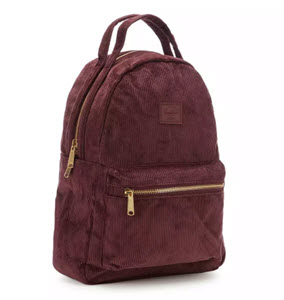 Our second backpack from Herschel Supply Co is this stunning corduroy number called Nova. It is a deep plum colour and the material is unusual as you don't find too many cord bags out there. This is why we love it, something a little different. It is designed like a standard backpack so it is quite large with a huge main compartment, again, perfect for school, college or university. You have a water bottle pouch on either side and the front pouch has an attractive zip. Order now and pay £75 which is fantastic value for such wonderful quality.
Conkca London - Black 'Kendal' handcrafted leather backpack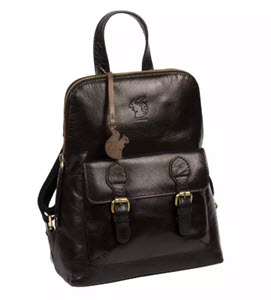 Our last bag is another great black leather bag, this time from Conkca London. It's of medium size and the outside is made of leather handcrafted from Buffalo for a supple soft finish that shines. We particularly love the little squirrel charm that hangs down, a symbol of the brand. The fabric shoulder straps are adjustable and there are secure zips on all pockets and pouches so all your belonging will be kept safe at all times. This is another bag that has a massive 50% discount meaning it is just £50 right now
This little list features just 8 out of the 180+ backpacks that Debenhams are currently stocking, the choice is vast with a style to suit every person and every outfit. Which was your favourite of the ones we chose?
If you find one you love be sure to check back with us before you head to the checkout, we have new deals coming in all the time so you may be surprised how much you could save if you take the extra couple of minutes to double-check. Happy bag hunting.