Debenhams Bedding - Duvet sets for the entire family
Bedding is one of life's simpler pleasures, after all, is there anything better than sliding into a warm cosy bed that has been freshly made that day? We don't think so. Fresh sheets have such a calming effect on your tired body and the scent is often one of people's chosen favourites.
A quick search of the bedding available at our favourite online retailer Debenhams revealed thousands of choices in quality bedding, from super luxurious feather pillows, fluffy thick winter duvets, high thread count Egyptian cotton sheets and bright, cheerful duvet sets. For this blog, we've decided to take a closer look at some of the delightful duvet cover and pillow sets seen as a new set of these can make the bedroom feel brand new.
Where is your favourite place to buy bedding? We guarantee after checking out some of these items you'll be heading on over to the Debenhams website.
Grown-up bedding
Debenhams - Multicoloured 'Zodiac' Bedding Set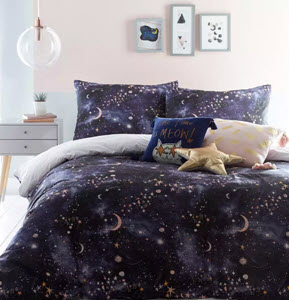 Our first choice is this mystical cover set from the Debenhams bedding range. We think it will look fabulous on any bed thanks to its dark colouring and fun zodiac inspired pattern which depicts the sun, stars and moon. The pure cotton fabric is super soft and the reverse side has a similar star pattern in white. The price of this set begins at £30 for a single with a super king setting you back £60.
Debenhams - Aqua Egyptian Cotton 200 Thread Count Duvet Cover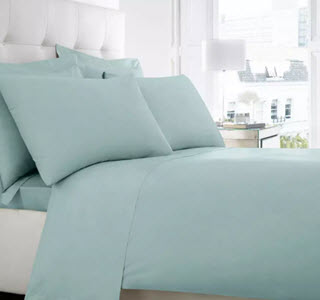 Our second choice is another Debenhams branded set, this time a very simple 200 thread count Egyptian cotton cover in a cool aqua shade. This set comes in many different colours but only the aqua is in the sale with prices starting from £10.50 for a single and only £19.50 for a super king. We love the fabric as nothing else feels softer and it requires minimal ironing.
Helena Springfield - Light Blue Polycotton 'Trixie' Duvet Cover Set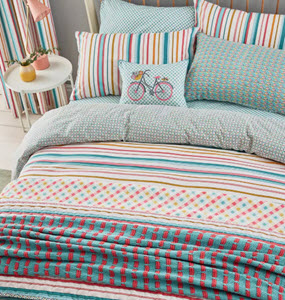 Helena Springfield is responsible for some simply stunning and vibrant bedding that would turn heads if everyone could see it. Our favourite in the collection is this stripy Trixie set which is now in the sale. Prices start from £16.15 for a single and £41.75 for a super king. The print is so much fun and the clever detailing gives the stripes a vintage woven look.
V & A - Blue cotton 'Alyssum' bedding set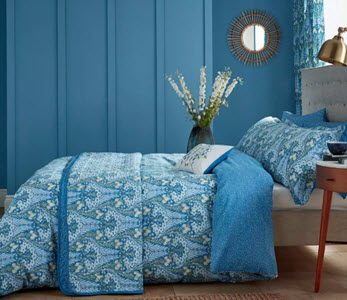 We were drawn to the brilliant blue colour of this set as well as the romantic feel of the pattern. It's made by V & A and you'll be pleased to find it is also in the sale. You can now save 25% off the original price with a single set now costing £30 and a super king costing £75. The stylised flower pattern is reversed to reveal a cute spot pattern. The fabric is 100% cotton so is super soft.
Hotel - Camel Combed Cotton 250 Thread Count 'Ravello' Duvet Cover Set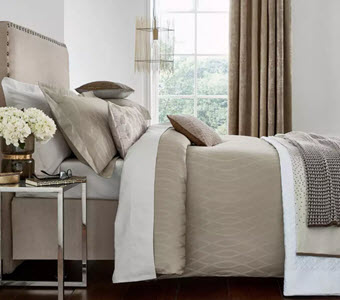 We've gone with a Hotel set for our next selection. It has an opulent 250 cotton thread count which means it will be one of the softest bedding sets out there. We love the classic gold colour and the interlocking design. The prices range from £59 to £109 and that's down from £85 to £155.
Morris & Co - Brown Cotton Percale 220 Thread Count 'Strawberry Thief' Duvet Cover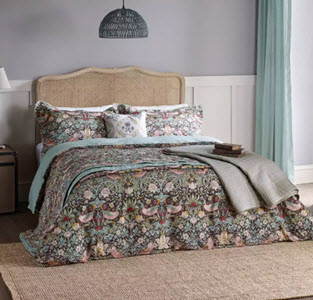 Morris & Co have some wonderful offerings in the Debenhams bedding section but we have to give the prize to this set, whimsically named Strawberry Thief. The intricate pattern is inspired by thrushes stealing strawberries from the window of the designer's childhood home. Prices now start from £68 for a single to £108 for a super king. You can save yourself up to £27 depending on which size you need.
DKNY - Mustard Cotton Sateen 220 Thread Count 'Wild Geo' Duvet Cover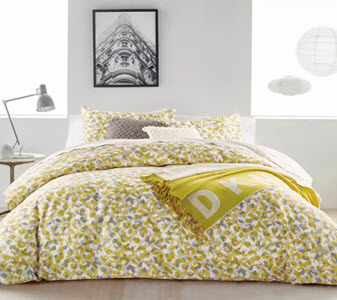 Mustard is such a versatile colour and we can't get enough of it. It makes a room pop. This DKNY bedding set uses three colours that complement each other and a retro pattern that is so much fun. Prices start from just £52.50 to £82.50. Yet again this is a sale price with savings of up to £27.50.
Kids bedding
Debenhams - Yellow Organic Cotton 'Scandi Lion' Duvet Set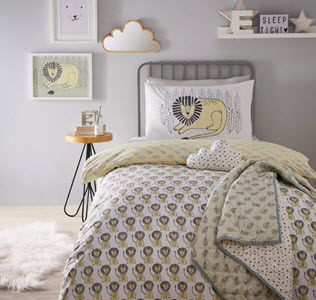 We've moved onto kids bedding now, which, let's face it is much more fun. Our first choice is this adorable lion set from the Debenhams collection. The lion print is simple yet effective and it will delight kids. The ultra-soft organic cotton will have them drifting off to sleep in no time. The toddler size is £25 and the single size is just £30.
bluezoo - Blue 'Transport' Duvet Cover and Pillow Case Set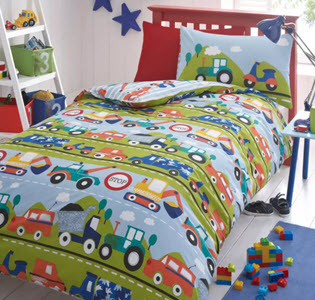 If your child has a love of vehicles then this is the bedding for them. It's from bluezoo and is one of their bright and cheerful range made to make kids smile. It made from 50% cotton and 50% polyester meaning it is lovely and snugly but also easy to clean and get stains out of. The single size is £20 and the double (what a lucky child) is only £30.
Baker by Ted Baker - Multicoloured 'Geo Jungle' Fitted Sheet Set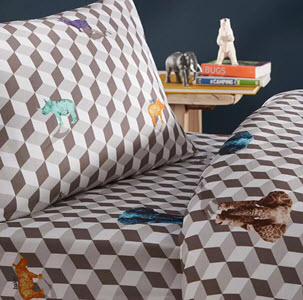 Ted baker make some fabulous bedding for the whole family but we couldn't take our eyes off this geometric wonder. The entire duvet is covered with a spinney geometric print that is dotted with images of jungles animals. It's very fun and boys and girls will both love it. A single set will cost you £25 while a double will cost £30.
That concludes our list of breath-taking bedding from Debenhams. We hope we've got you heading upstairs to change the sheets before you crack open the laptop to order some even better new bedding. Like we said at the start the selection is massive and there is something to suit every bedroom no matter the décor.
Check back with us before you buy as we may just have a cheeky voucher code or offer you can use to save even more money when you get to the checkout.