Debenhams Dresses - Get ready for Spring
Does anybody else get bored of their winter wardrobe? It's so dark and cold outside that it's often a challenge to even get dressed at all let alone to find something pretty to wear. It's so easy to get consistently stuck in an endless cycle of jumper, jeans and trainers. We find the best tactic to get you through those long winter months is to look forward to spring and the return of everyone's favourite fashion staple, the spring dress.
We've been having a browse through the new dress collection at Debenhams dreaming about warmer more carefree days when we can have a little fun with our outfits again. Here are a few of our top picks. We hope they offer you a little inspiration and make you excited for the coming year. After all, we do get the worst months out of the way right at the beginning.
Red Herring - Blue Floral Print Tiered Hem Knee Length Dress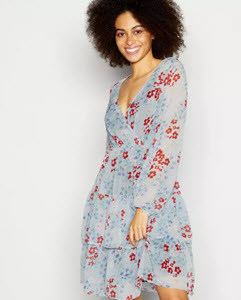 Spring fashions mean florals and we are kicking off our list of spring dresses today with this gorgeous blue floral print dress from Red Herring. The delicate red flowers pop against the blue fabric and the knee-high length is very flattering no matter how long your legs are. We also really like the way the fabric is cinched in at the waist and the full-length balloon sleeves keep things modest. This dress is now priced at just £29.
Dorothy Perkins - Petite Blue Short Sleeves Ditsy Lace Dress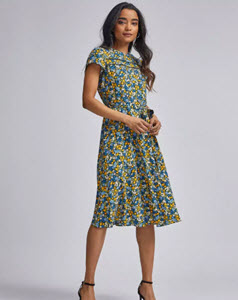 We are sticking with a floral theme with dress number two and it's the Ditsy Lace Dress from Dorothy Perkins. This one is fancy enough to be worn to a wedding but also versatile enough to be dressed down with a nice pair of trainers and a jacket. We love the dainty lace trim on the short sleeve and the just below the knee length is very sophisticated. Buying this dress today will cost you just £35 but we're sure you'll get tons of wear out of this as spring turns into summer.
Warehouse - Yellow Ditsy Floral Midi Dress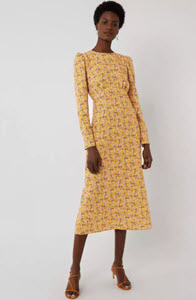 Are you noticing the floral themes in this list? We couldn't help ourselves. This next choice is from Warehouse and is a charming midi ditsy floral dress. Yellow is one of our favourite colours to wear in the spring as it just radiates sunshine and an all-round happy feeling. We love the fit and flare silhouette with gathered bust and long sleeves plus the midi length is always very flattering. There is a fantastic contrast in the vibrant pink flowers with green stems against the yellow. This dress is one of our priciest at £52 but if you get enough wear out of it it is well worth the extra spend.
Mantaray - Bright Green Stripe Print Colour Block Hem Mini Tunic Dress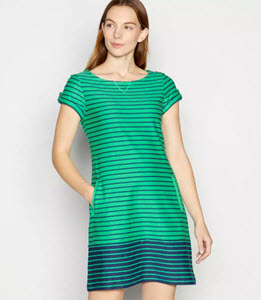 Our next dress is much more casual but still features stunning colours that stand out. This mini tunic dress from Mantaray is effortless to pull off and so comfortable. The mini length ensures you'll stay super cool even in high heat and the 100% cotton fabric again allows your skin to breath. The strip design is super stylish plus it has pockets. If you order it right now from Debenhams you'll get it for only £23.20 as there is currently £5.80 off.
Oasis - Multicoloured Leaf Print Midi Dress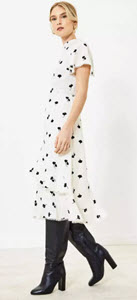 This elegant dress is one for your next spring date night or perhaps a night out for dinner and drinks with the girls. As it's mostly white it's best not to wear to a wedding. We love this little number from Oasis. It has a wonderful leaf pattern and the midi length with layered hem gets all floaty around the knee. The cap sleeves add to the relaxed floaty feel of this dress and the detailing down the front flatters a smaller bust. Now just £58 at Debenhams.
Oasis - Black Denim Button Shift Dress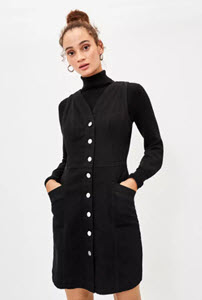 Our next dress is a must-have in any spring wardrobe. It's a denim shift dress from Oasis. This dress is much more casual which part of the appeal is and it lends itself to a bit of layering for days that are still a little nippy. Debenhams recommends teaming this with a light knit and a pair of knee-high boots and we couldn't agree more. Currently, in the sale, this dress is now £36.80 down from £46.
Wallis - Petite Black Star Midi Wrap Dress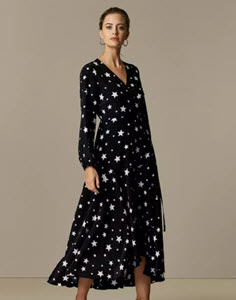 We've reached for the stars with this next dress from Wallis. It has a stunning star design and monochrome colouring which are a winning combination. The style of the dress is a wraparound which is very flattering at creating a waist for a feminine outline. The hem flares out at the bottom and the balloon sleeves are instantly a hit due to the fact they are so comfortable. The biggest selling point of this dress right now is that it's currently in the sale with half off making it just £25. We are sure you'll be wearing this dress over and over this coming spring.
Mantaray - Blue Denim Mini Tunic Dress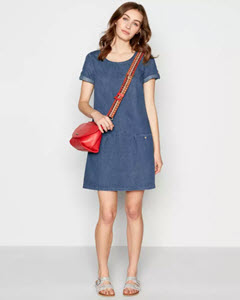 Our last choice is another adorable denim dress, this time from Mantaray. It is made from 100% cotton so the fabric is lovely and soft. The short sleeves have a cool turn-up detail and the mini length will keep you cool. We think teamed with some trainers this dress will look effortlessly chic but you could still dress it up slightly with some knee-high boots and a nice jacket. Mantaray has a huge selection of accessories that are very similar in style to the dress and so complement it perfectly. Visit the store today and have a look for yourself. It's also now in the sale for just £27.30.
We hope you've enjoyed our top picks in spring dresses as much as we enjoyed choosing them. Debenhams has such a huge selection there is always something to please everyone.