Debenhams Handbags - New arrivals in the handbag section
A woman feels naked if they leave the house without their handbag, for many it's almost a security blanket holding all the treasures that enable them to get through the day. You'll find the usual things such as phone, purse, car keys and other essentials such as a few handy makeup items, tissues, a book for a long commute, snacks for if they get peckish. The handbag is vital and so it's important to choose the right one.
We've been loving Debenhams at the minute so headed back over to them to search for some cute handbags. We've picked some of our favourites out of the couple thousand that they sell. Let us know which one is your favourite.
Mantaray - Initial Print Shopper Bag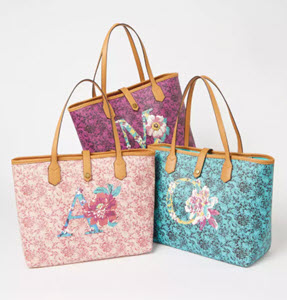 Our first choice is from Manatray, which is a relaxed boho brand that we love. The initial shopper bag is bright and most importantly roomy. There are six to choose from each showing a different initial on the side. The large compartment has one zippered pocket to keep valuables safe and you carry it over the shoulder using the two-loop straps. We love the floral pattern design in different colours and think it's a really fun bag for a day of shopping. The bags are currently £23.20 down from £29.
J by Jasper Conran - Navy Faux Leather Monogram 'Forest Hill' Hobo Bag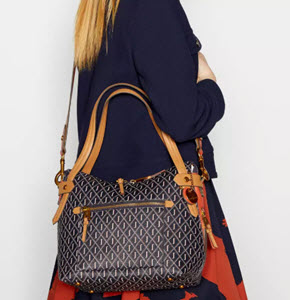 Our next bag is designed by one of Debenhams most popular brands J by Jasper Conran. Vegans will be pleased to know it is made of faux leather. The material is adorned with the iconic J monogram pattern. To carry it you have two easy grab handles and a detachable shoulder strap. We love the gold trim that runs along the edges of this bag and think it is a great size for all your everyday essentials. Order today and you'll save £11.80 as it's now £47.20.
Principles - Black Double Strap 'Francesca' Hobo Bag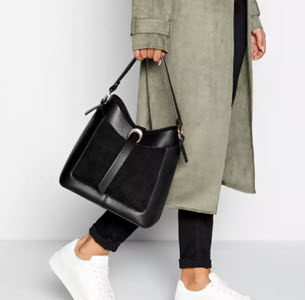 Every woman needs a decent black bag in their wardrobe because they goes well with almost every outfit. This bag from Principles is the perfect example. It has an attractive contrasting pocket on the front as well as a zipped internal pocket. The main body of the bag is fastened via a magnetic button. You can carry this versatile accessory with the shoulder strap or by the two grab handles. It's a bargain too at only £32.
Dorothy Perkins - Pink Casual Mini Tote Bag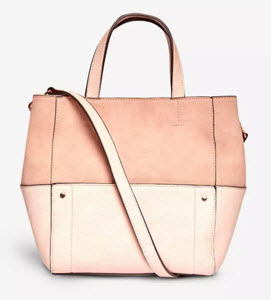 A tote bag has such a great casual feel and the bright colour of this Dorothy Perkins one really pops. We love the two-tone fabric as well as the relaxed shoulder straps which are attached to the bag via rose gold clasps. There are also two grab handles for easy carrying also. This bag is in the Dorothy Perkins collection and so like many of their items is excellent value for money at just £22.
Faith - Silver Chain Strap Faux Leather 'Betsy' Cross-Body Bag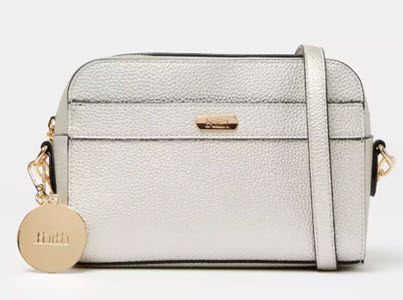 This next bag is a little flashier and more glamorous than the other ones. Girls also need bags for when they hit the town in the evening and this bag is perfect. It has a crossbody strap for security as well as a zip to fully close the bag. We love the compact size of this one as well as the fun metallic silver colour. It's from Faith so adds a touch of luxury while remaining very reasonably priced at just £25.
Joe Browns - Blue Suede 'Bella Boho' Shoulder Bag with Purse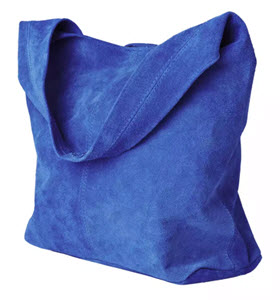 Our next bag is from Joe Browns who are another brand that revels in a super relaxed bohemian feel. We love this soft unstructured bag for its bright colour and super-rich Italian swede fabric. It is super sloughy but security is kept high as there is a purse that is attached to the inside of the bag. Take this bag home with you for only £50.
ALDO - Rainbow 'Lerrasa' Striped Shoulder Bag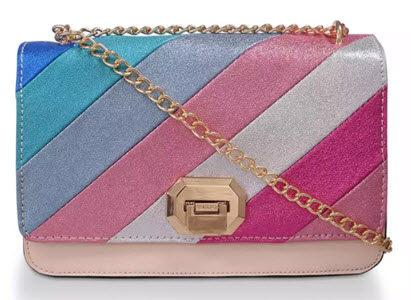 We have another small bag now, this time more of a clutch bag from Aldo. We have fallen for the gorgeous colouring on the front which resembles a pink rainbow. The turn-lock fastening added extra security so all your valuables will be kept safe. There is a chain strap that goes over your shoulder but you can just carry it in your hand. Buy it now and it will cost you £45 at Debenhams.
Carvela - Navy 'Mini Camilla Slouch Tote' Chain Tote Bag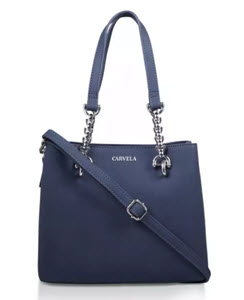 We have another slouchy tote next, this time from Carvela. The bag is made of a suedette material which is super soft and has an attractive chain detail on part of the grab handle straps. You also have a shoulder strap. The large main compartment is split into two with a secure zippered pocket in the middle for valuables. This premium looking bag is a little pricier than some of the others on the list and is currently £69 and wonderful quality.
Dorothy Perkins - Blue Drawstring Cross Body Bag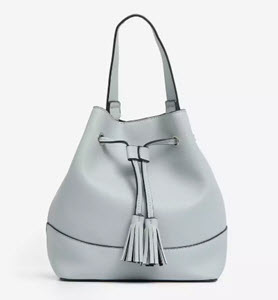 Our last bag is another from Dorothy Perkins, this one is a dreamy baby blue hue and has a unique drawstring closure method at the top of the bag. There is a crossbody strap for ease of carrying that can be removed if you prefer. We think this is super cute and feels bright like spring. It is a great size and also fantastic value for money coasting you just £22.
That about rounds up our list of favourite handbags from Debenhams. As we mentioned above there are over 2000 different bags to choose from which is simply too much for any one person to sift through. We hope this list has given you an idea of what you might want or require out of your next handbag purchase. We will be keeping an eye on a few items to see if they go into the sale.
Check back with us on the Debenhams page before you order. You never know when a good code may come in so it's always worth a quick peek.