Debenhams Shoes - Fabulous flats
Hands up if you've never really been one for heels? If so we feel you, they look good but when it comes to comfort they just fall short in every single way. You'll be pleased to know then that now you don't have to feel obligated to squeeze your feet inside a pair of soul-destroying stilettos every time you attend a wedding, hit the town on a night out or head into work for an important meeting. The range of flats you can get now is huge and can rival many heels in the fashion game.
You can choose from pumps, loafers, trainers, sandals in the summer boots in the winter and autumn. The possibilities are endless. We've been online at Debenhams again, this time looking at all the fabulous flats they have to offer and we couldn't be happier to show you a few of our favourite pairs.
Moda In Pelle - Brown Leopard Print 'Elony' Loafers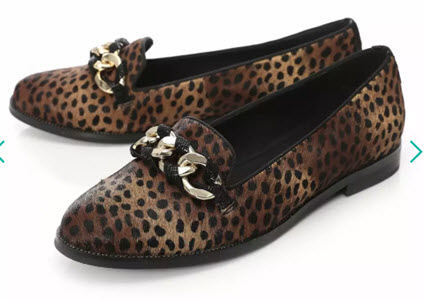 Our first fantastic flat are these gorgeous leopard print loafers from Mode In Pelle. They simply ooze sophisticated style with a super cool edgy feel due to the animal print. A loafer with a chunky sole like this one is very on-trend right now plus the extra padded sole means your puppies won't start aching no matter how many steps you've taken. Right now they are only £29.95 which means you save a whopping £60. Warning the leather lining makes these not vegan.
Dorothy Perkins - Burgundy Peaky Pumps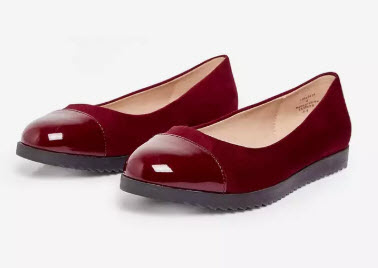 Our second pair of flats are these delightful burgundy pumps. They have a chunky sole again which we love as it makes for a comfortable walk. The pump itself has soft fabric and there is a patent toe at the end which adds an attractive two-tone look. The best thing about these Dorothy Perkins shoes is that they are now only £12 in the sale, that's a saving of £13.
Converse - Light Pink 'Madison' Trainers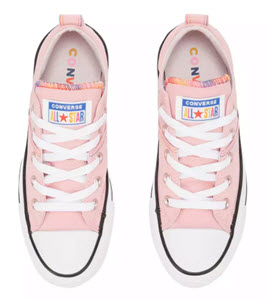 Next, we have chosen a pair of trainers from the iconic shoe brand, Converse. Everybody needs a pair of converse in their wardrobe. This light pink pair in the 'Madison' style will turn heads for all the right reasons. The ankle fastening is cushioned for extra comfort and the bright thread around the tongue add a funky touch. They are currently £40 at Debenhams.
FitFlop - Pink Leather 'Rally - Flower Crush' Trainers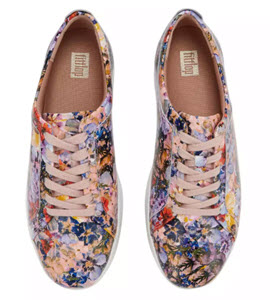 Next, we have another pair of trainers but this pair not only look good they also help you work out and tone up. Anatomicush™ technology on the soles improves the way you walk. We love the bright floral print on these two which makes us long for spring to arrive. These were originally £85 but in the sale, they are now just £42.50 which is half price. Grab a pair today before they sell out.
Pink by Paradox London - Satin 'hannah' flat pumps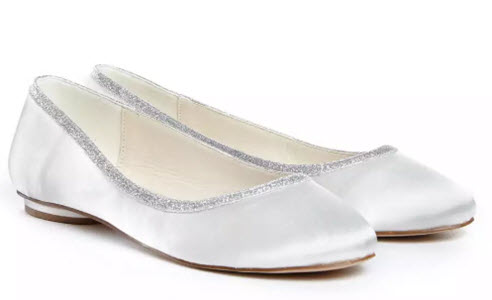 These delicate pumps in silver had us in love at first sight and their sale price of £29.40 was only half of the reason. They are so ladylike and feel opulent and special making them much more than just a pair of pumps. The material is satin with a sparkly glittery edging along the inside of the shoe. We also love the dainty heel. These are an example of the perfect flat for a wedding or night out. Add that touch of glam without adding height and aching feet the next day after hours of carefree dancing.
Faith - Natural 'Arrow' Ballerina Pumps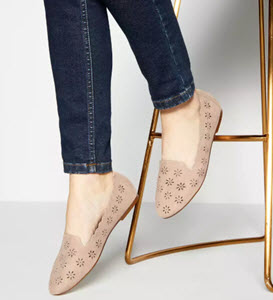 A nude shoe is a great staple for any girl. The colour goes with most things and is super trendy as well as easy to wear. That's why we've added these cute nude pumps from Faith to the mix. Don't you love them? They have a fairly basic design but they make a statement thanks to the flower pattern cut-outs that cover the entire shoe. The material is oh so soft and the scalloped edge give them a feminine feel. They will cost you just £22 at Debenhams today.
J by Jasper Conran - Red Leather 'Judge' Flatform Heel Sandals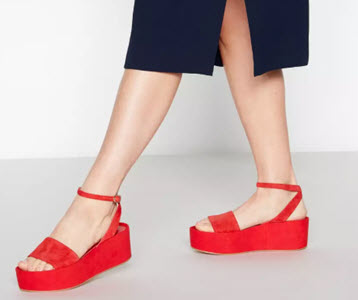 For a decent pair of shoes in Debenhams Jasper Conran can always be counted on. These jazzy vibrant flatforms from J by Jasper Conran are so practical and still manage to be fun. They are made of leather with an attractive ankle fastening and the platform heel is an ingenious way of adding height without adding discomfort. These were £59 but are now £17.70 in the sale which is a saving of over £40. Also available in black which will go with almost any outfit and can be both dressed up and down.
Dorothy Perkins - Brown Montreal Hiker Lace Up Boots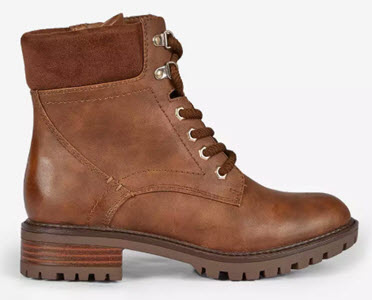 Up next we've chosen these wonderful brown hiker boots from Dorothy Perkins. Boots make a vital addition to our list of fabulous flats. Flat boots are so versatile you can wear them to almost any occasion apart from perhaps a wedding reception. We think this casual brown pair is great. The lace up front means you can remove them easily and the 1.5-inch heel gives you a tiny boost. They are also currently in the sale for just £25 down from £40. What a great saving!
We hope this list has given you the inspiration to kick off those pesky heels and start wearing some more cosy footwear that won't leave you reaching for the plasters or rubbing your feet as 2 am at the edge of the dancefloor. If you haven't seen any that took you eye be aware that this is just a handful of the hundreds available, many of them in the sale.
Please make sure you check back with us on the Debenhams page before you buy anything. We can get voucher codes and offers coming through at all hours so you never know how much a quick check back could save you.