Debenhams Swimwear - New swimwear for your summer holidays
Summer may seem like a distant dream right now as we head into the third long month of winter but before we know it the sun will come back and our summer holidays will arrive and we'll have a reason to get our swimming costumes out again. We firmly believe that every body is a swimsuit body but it is also important that you feel comfortable in whatever bathing suit you choose.
Debenhams have a very large selection of swimwear available both one-piece swimsuits and two-piece bikinis as well as a few tankinis. We have been having a good browse through some of the pages and have selected some that we like. A few are even in the sale, which is always a bonus. Take a look below.
Joe Browns - Multicoloured Floral 'Palm Life' Crossover Swimsuit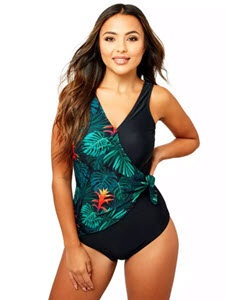 Our first choice is this tropical little number from Joe Browns. We love how the bright cross over fabric cinches in the wearer's waist helping to create that hourglass figure that is so coveted. It's just very flattering. The palm print is a lovely green with pops of orange that have a fun effect. The back is very low so you can get a nice tan and the straps are thick and secure so you always feel confident. It is currently £40 at Debenhams.
Debenhams - Black Stripe Print Non-Wired Padded Tummy Control Swimsuit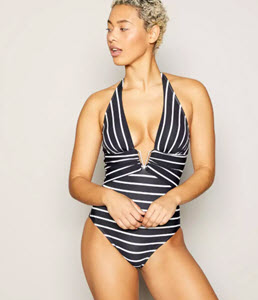 Our second choice is from the Debenhams collection. It has a pleasing black and white stripe pattern with some great tummy control fabric across the stomach. It is fairly low at the front with a structured v neckline that goes down under the bust. It is a halter neck which leaves your shoulders free to catch a tan while still giving you firm support. Get it for just £35 ready for summer.
Lands' End - Blue Print Bandeau Perfect Swimsuit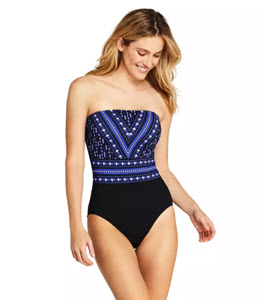 This bandeau style swimsuit has detachable straps so you can avoid tan lines and transform this stylish blue suit into a sexy strapless number. The clever patterns have a relaxed feel and are placed to be flattering and slimming. It also has a reinforced lining across the stomach so it holds you in creating a smoother silhouette. It's now in the sale with £30 off making it just £40.
Debenhams - Multicoloured Floral Print 'Ombrental' Non-Wired Padded Tummy-Control Plunge Swimsuit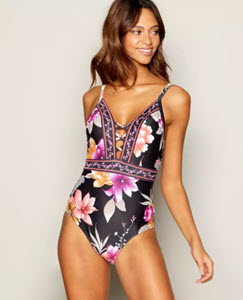 Our last one-piece swimsuit is another one from the Debenhams collection. This one has a daring neckline that plunges below the bust but is held together by crisscross material. It also features some lovely sunny colours in a floral pattern that makes you think of summer. We love the padded tummy control fabric. This swimsuit is very reasonably priced at just £35.
Floozie - Yellow Underwired Padded Polka Dot Print Bikini Top and Bottoms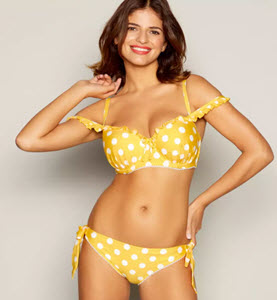 The first bikini we've picked is bright and cheerful making it the perfect addition to any summer holiday by the pool or beach. It's designed by Floozie which is known for being a really fun brand. Both the top and bottom have a polka dot pattern and we love the double strap detail. The top is just £28 and the bottoms are £18 and have a flirty side tie detail.
Mantaray - Purple Feather Print Non-Wired Padded Halterneck Bikini Top and bottoms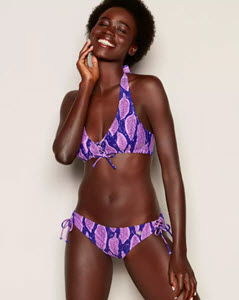 Our second bikini is from the relaxed brand Mantaray and is a halter neck, which is a great shape for avoiding tan lines while giving you a gentle uplift. We love the vibrant purple colour and feather pattern of this bikini. The top is padded to smooth you out and both parts have an attractive side tie detail. The top costs £24 and the bottoms will cost you £16.
Debenhams - Black Plain High Waisted Bikini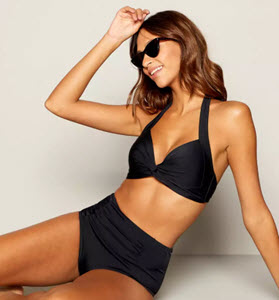 We've gone for a basic yet classic two-piece for this choice. It's from the Debenhams collection and is such a flattering shape on every figure with high waisted bottoms to cover a little tummy and a structured halter neck top to give you a flattering boost. It's only £34 for both pieces with the top costing £20 and the bottoms £14.
Mantaray - Khaki Floral Print 'Vintage Hawaii' Short Bikini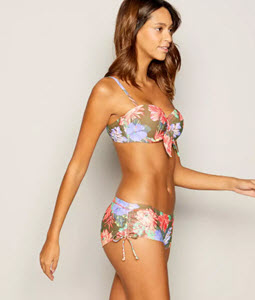 If you prefer a larger bottom then this Mantaray bikini may be the thing for you. Rather than a pant brief for the bottom, you have a comfortable pair of shorts. They are still very flattering and can give you much more confidence. We love the tropical floral print and the gathered ties at the sides. The shorts are £18 and the underwire bikini top is just £26.
Phase Eight - Blue Brenda Broiderie Tankini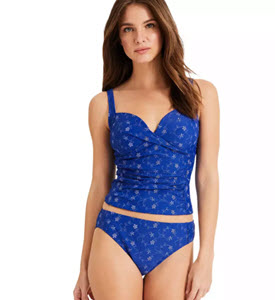 Our last choice is our only tankini and it's from Phase Eight. It's in the sale. You'll save £10 on both the top and the bottoms with the top costing £29 and the bottoms just £15. We particularly like the dainty flower design and a flattering sweetheart neckline. The ruching around the tummy is also great if you're worried about a bit of a tum. The fabric is double lined for extra support and the bust is structured for comfort and uplift with adjustable straps.
These are our top 10 swimsuits available at Debenhams right now. Have a look and choose some of your favourites and add them to your basket ready for your summer holiday wardrobe. We always find the best strategy is to have at least three swimsuit options available for any one holiday so you can mix and match to suit your mood.
Check back with us once you've chosen and double-check we haven't had any voucher codes come in. We upload them as soon as we get them and we'd hate for you to miss one.