Eurocamp parks in Brittany [sites reviewed and rated]
Brittany is a stunning area of France, located in the north-westernmost point of the country. It has miles of beautiful hilly coastline that is dotted with some of the best holiday parks in Europe. The pink granite rocks give the beaches a soft blush colour that the region is renowned for. Other notable attractions are the walled port town of Saint-Malo, Oceanopolis – an aquarium with over 1000 species and Fort la Latte.
eurocamp has several parks around this region, all of which are fantastic places to take the entire family for a break. Brittany is easy to get to thanks to its 5 airports and two ports. We've been looking at a few of our favourite campsites to help you make up your mind if you're looking to book.
Château de Galinée Campsite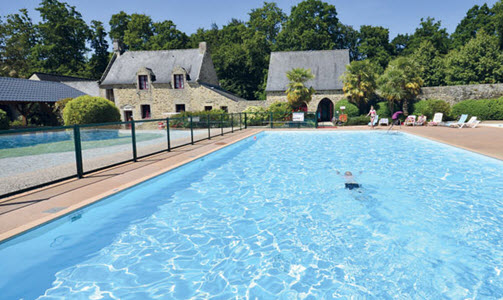 Our first park is located on the grounds of a pleasant manor house with 35 acres of land. The park is family run and known for its spacious design which gives holidays makers plenty of room to pitch up their tents.
The location is perfect, being within just 5 minutes of the stunning town of St Cast and the nearby beach. The medieval town of Dinan is also within driving distance as is the popular tourist attraction of Mont St Michel. Dinan is a magical 14th-century walled city known for its medieval ramparts, cobblestone streets and traditional timber frames houses. Mont St Michel is in Normandy but is well worth a visit if you're close enough. It is a stunning settlement located on an island just 1 km offshore that peeks with an abbey on top of the hill.
Another popular attraction for this park is the port city of Saint-Malo, this city is known for being a stronghold of pirates back in the day and has a stunning cathedral and hugely popular aquarium to visit.
Onsite, this relatively small park has lots of entertainment and activities such as play parks, park run kids clubs, table tennis, mini-golf, a warren of water slides and pools plus tons of water sports options at the nearby beaches. It's also dog-friendly which is always a bonus. The closest airport is a short drive away in Dinard and the recommended port is St-Malo as a car is recommended also it would probably be easier to travel via ferry.
La Plage Campsite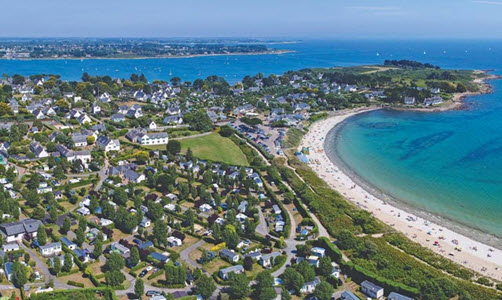 La Plage is nestled near a stunning Breton farmhouse, it has the benefit if direct beach access. The grounds are well maintained and idyllic to wander around for an afternoon stroll and the restaurant, shop and bar is just a short walk along the coast.
In terms of attractions, the closest town is La Trinité-Sur-Mer which is a quaint little fishing port town that is a hub for some amazing seafood restaurants and known for their water sports competitions. This is also close to Carnac which is home to a set of ancient stones called the Carnac Stones. To find out more about this wonder you can visit the family-friendly museum. The mediaeval town of Auray is also not to be missed. It routinely holds markets which are very popular in the surrounding areas and make for a great day out.
Onsite you'll find this very relaxed toddler-friendly park has waterslides and two fun pools to enjoy as well as tons of water sports very close by such windsurfing, scuba diving surfing and canoeing. The park has a friendly kids club and is dog-friendly. You can also hire bikes for the day and enjoy a game of tennis. You'll never run out of things to enjoy. This park is a little trickier to reach, the nearest airport is Lorient which is 55km away and the recommended port is still St-Malo which is over 200km away. Unless you're prepared for a long drive we'd suggest flying and then renting a car.
Domaine des Ormes Campsite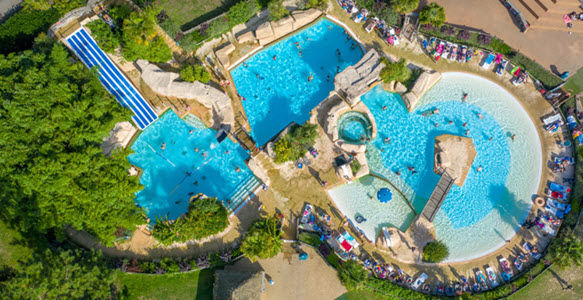 Our last park is on a whole other level to the previous ones and by far our favourite, it is the biggest with over 700 pitches and is known for being a lively toddler-friendly park that is always action-packed. There is even a fully working splash park. It is located on 400 acres of stunning wooded parkland and even has its own lake. The only downside is that you are 25km away from a beach.
Nearby attractions include the previously mentioned Mont St Michel and medieval Dinan. You can also travel to the port at Saint-Malo and catch a ferry crossing over to Jersey and Guernsey to explore these unique islands. Nearby Chateau Bourbansais has some stunning botanical gardens and a nature reserve to explore and a day trip to the nearest beach, Cancale, is a must.
With this park, it is all about the superb onsite entertainment. The splash park features many outdoor pools with wave machines and numerous slides while a huge dome houses the indoor tropical island-themed pool. There is also an 18 hole golf course for the adults, horse riding school, gym, cycle hire, volleyball pitches, pedalos on the lake, tennis, kids clubs, archery, fishing and football. With water sports such as sailing, surfing, scuba diving and windsurfing all nearby. There is never a dull moment at this park.
Getting there is fairly easy, the nearest airport is in Dinard just 41km away while the recommended port is St-Malo a little closer at just 39km. We'd suggest the ferry as it is much more convenient once you arrive in France.
Above are our top three eurocamp parks in Brittany, they are all very different but all promise a fantastic holiday that you won't forget in a hurry. Overall Brittany has 14 Eurocamp parks most of them situated on or close to the 1600 miles of coastline in the region. As you can see there are some stunning attractions in the area for the entire family to enjoy. Picking which park you'd like to visit is the hardest part of planning.
Once you've decided where you'd like to stay be sure to check out Eurocamp page for any new voucher codes. You never know when one might pop up.