16 DIY bloggers reveal their favourite room at home
The DIY season is upon us, want to jump on the bandwagon but not sure where to start? In association with Homebase we thought we'd go to the experts for some inspiration.
We asked 16 DIY and home decor bloggers "Which is the favourite room in your home?" "How much did you spend doing it up?" and "Can you tell us a little about the room?"
We loved having a peak inside their gorgeous houses and hopefully they'll get your DIY creative juices flowing when it comes to updating your own home.
Rebecca - Busy Bee Mummy Bex

Favourite room: Bedroom
Amount spent: £1500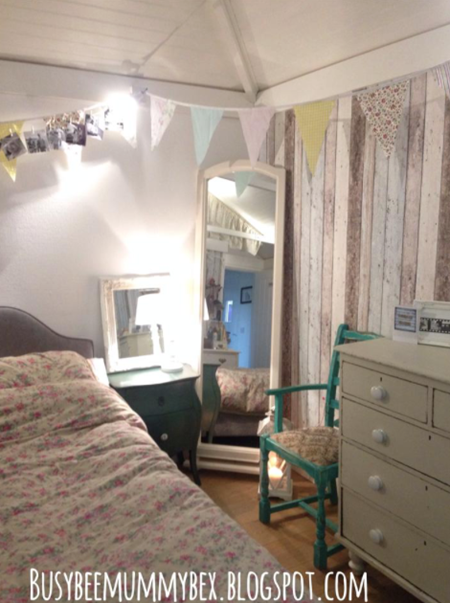 My favourite room so far would have to be my bedroom (Though I do love my whole house).
I tried to be as thrifty as possible & searched antique shops a local one to us was closing down & had huge discounts. So everything apart from our bed/mirrors & bedside tables were solid antique wood - we probably spent around £1500 on everything.
It's very shabby chic & romantic. I wanted a space that I could relax in but felt cosy especially in the winter months. My husband had no say over the room but he loves it as much as I do. I love that you can sit back on the bed & be busy looking at all the little ornaments & cute trinkets around the room. I've up-cycled many items myself meaning I've put my own stamp on the room. I get so much enjoyment painting furniture especially if it's looking a bit tired & neglected. The eaves in the roof I made a curtain to hide the storage it works well. The bunting is also home made, we used it for our wedding blessing.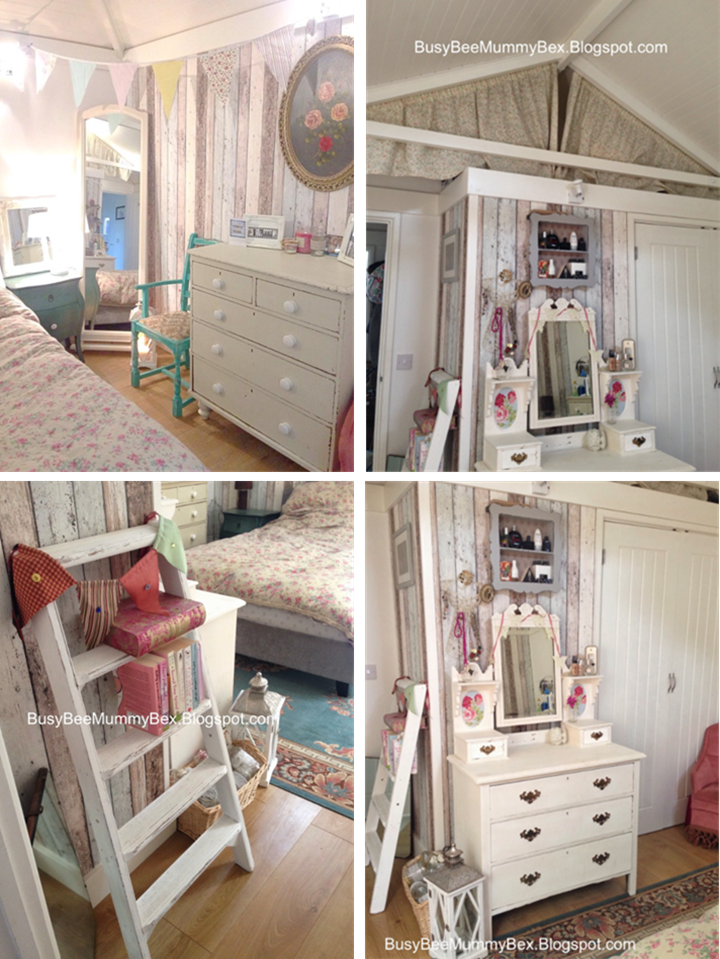 I'm always looking at ways to improve the interior of my house & change things around or buy new things for it.
Stephanie – Renovation Bay-Bee

Favourite room: Bedroom
Amount spent: £600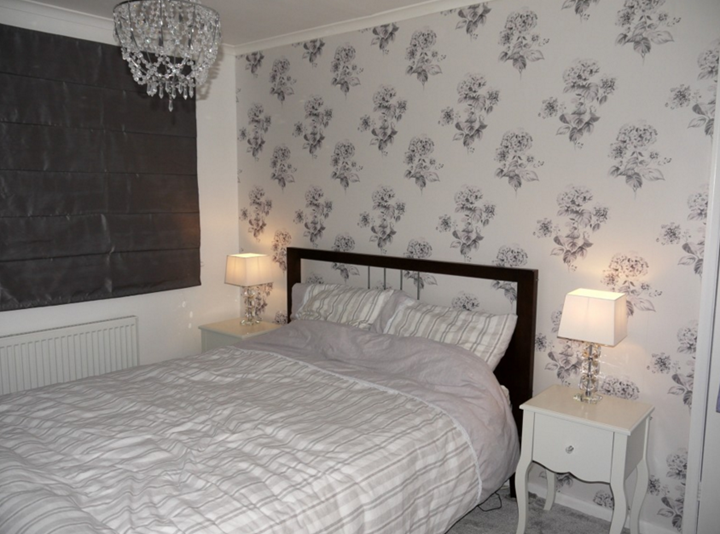 My bedroom is my favourite room.
We managed to do it for £600.

We painted our bedroom walls plain white, with soft grey flower wallpaper. With a few little sparkly bits here and there! We saved money by purchasing second hand wardrobe doors and ex display units from IKEA. However we did push the budget and purchased a super soft carpet, which is amazing to step out onto each morning. White paint is cheap and a couple of rolls of wallpaper from Next. It transformed the room from a very 1960's dated room.
Iida – Iida Emilia

Favourite room: Living room
Amount spent: Unknown
My favourite room in our apartment is living room because it's the room where I spend most of the time when I'm at home.
Our home is like an eternal project to us so we don't have a budget. Me and my boyfriend moved here in September and still I think our living room isn't ready yet. Last week we finally bought a proper lamp for here and now I am thinking about getting a new rug, maybe I'll crochet one myself!
Our living room is quite big and light which is great. We really love modern and scandinavian style and that's why almost all of our furniture is designed by Finnish or Scandinavian designer. Scandinavian colour palette is pretty light and our furnitures are mostly beige, grey or white. But our Marimekko curtains are very colourful and the print is bold. I have also crocheted a colourful blanket for our living room. We like to keep things simple so we only have one painting on our wall. It's a huge oil painting by Koby Feldmos and we purchased it from Etsy couple of years ago. I also love plants so we have succulents and herbs in our living room as well. In spring I love to buy fresh flowers and put them in our coffee table.
Alina – The Fairytale Pretty Picture

Favourite room: Downstairs bathroom
Amount spent: £100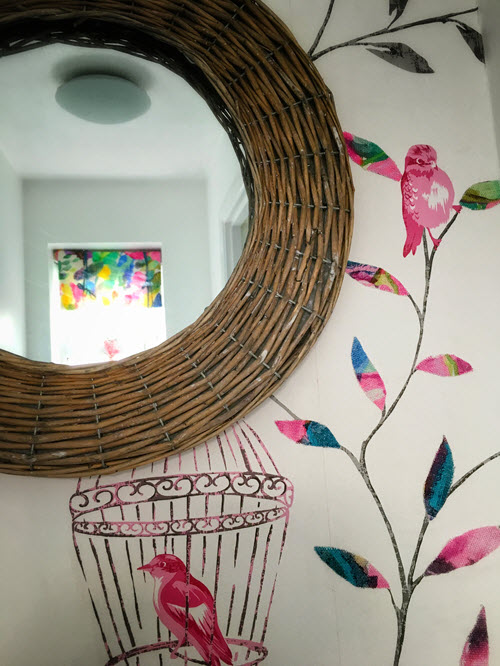 My favourite room would have to be the little, closet bathroom downstairs.
We spent less than £100 doing it up.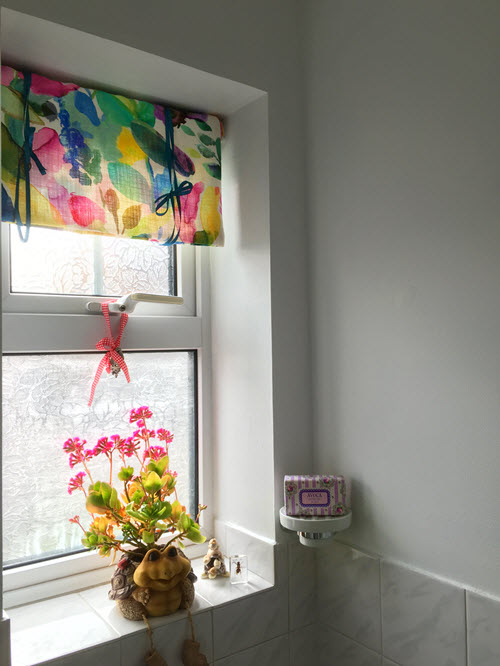 Although the tiling is cracked and the sink and toilet were all already there before we moved in I ended up painting the bathroom white (rather than dark blue) and adding colourful touches to it, plus new modern accessories. I've even gone as far as to add fabric to my wallpaper to customise it to my homemade blinds (all which I feature on my blog.)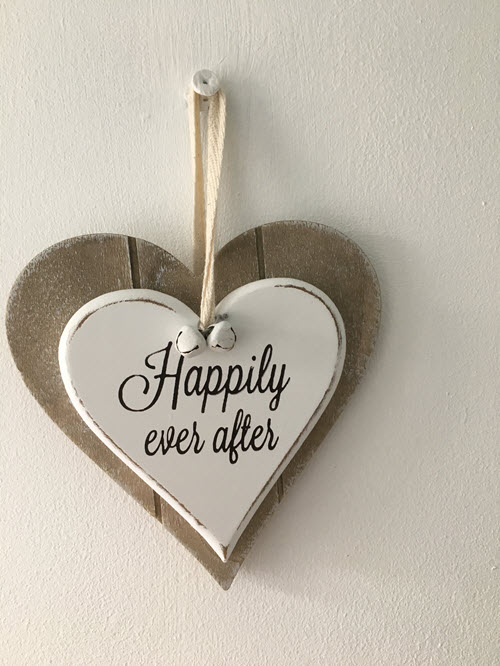 It must have cost me less than £100 to do a lot of the labour and styling myself!
Karianne – Thistlewood Farms

Favourite room – Family room
Amount spent - Unknown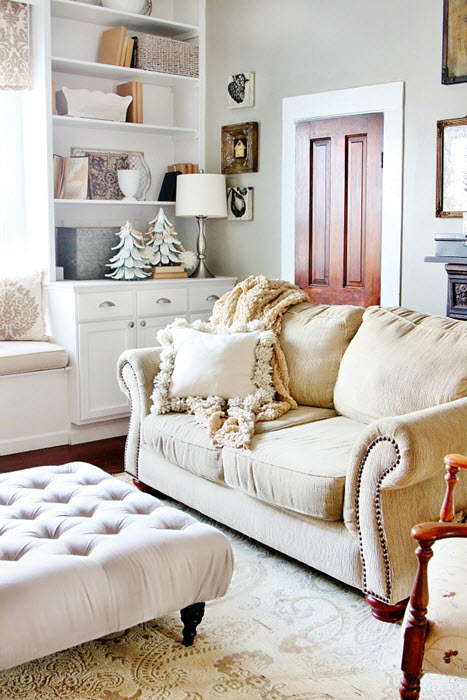 My family room is my favourite room.
We spent about two weeks building the built-ins and painting the room and adding the furniture. The hardest part was removing the wallpaper!
I love the family room because it's the heart of our home. It's where the homework is done and the stories are told and the laughs go on for days. I think one of the best tips we used for decorating this space was to invest in a few quality pieces of furniture with a neutral base. Keeping the walls and large-scale furniture neutral provided the perfect foundation to add colour and personality whenever I want with accents and accessories.
Sarah – The Ugly Duckling House

Favourite room: Kitchen
Amount spent: $2000+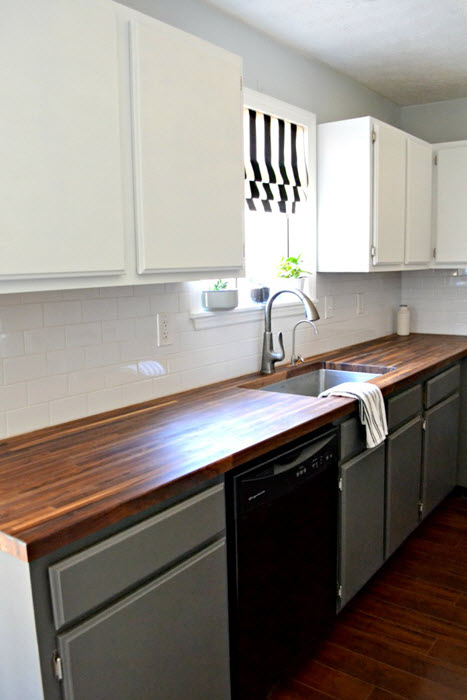 My kitchen is probably the front runner for favourite room right now.
For one, it has my coffee :) For another, it is probably the most dramatic change in the whole house. I put in the floor, painted the cabinets, upgraded the appliances, installed subway tile, and just recently created my own DIY light fixture for the breakfast nook!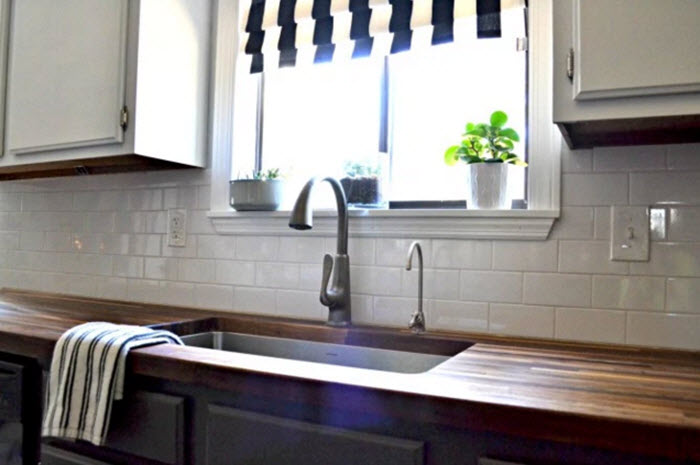 There's still more to go, but I've spent several thousand thus far and saved myself a LOT in the process by doing most of the work myself! You can catch a full tour and details of my progress on my blog.
Laura – Avery Street Design

Favourite room: Bedroom
Amount spent: $1000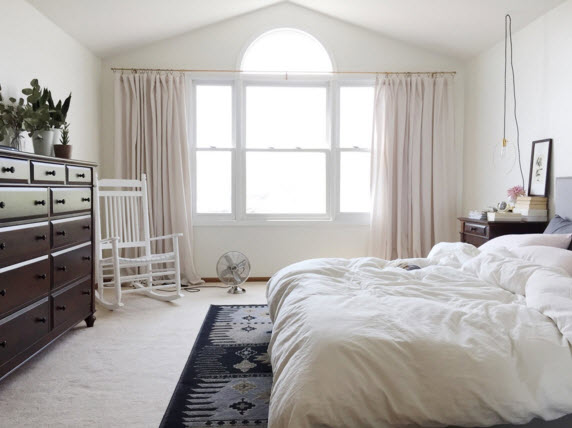 My favourite room in our house is my bedroom.
We spent just over $1,000.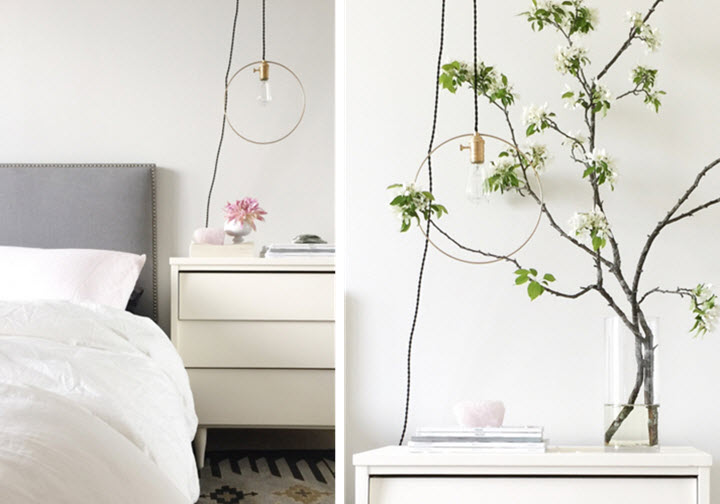 I wanted the room to be minimalistic, relaxing, and totally comfortable for our 3 kids and dog. The bed is low to the ground and the frame is fully upholstered, with lots of fluffy pillows. So it's ready for the littles to jump in. We purged everything we didn't love before I even created the design, and there is plenty of storage for what was left over. Keeping our "stuff" to a minimum makes the room easy to keep clean and clutter free. That, plus the neutral and light colours, achieve the relaxing space we were hoping for.
Emily Bird – Amara The Luxpad

Favourite room: Living room
Amount spent: £3000
People always say that the kitchen is the heart of the home, but I hate cooking with a passion so for me my favourite room will always be the living room. It's where everyone comes together to relax after a day at the office and is the perfect place for entertaining at the weekend.
I have recently bought my first home so decorating the living/dining room this time around also included all new flooring and furniture. Having said that, as so much money went into buying the flat decorating had to be on a tight budget. In the end I believe I spent around £3000 which included the flooring, sofa, table, chairs, sideboard/bar, TV unit, coffee table and all soft furnishings/accessories.
No matter what idea I have in my head for an interior design project I always have one underlying rule – it has to be cosy! My home is my sanctuary so I always aim to make it as warm and inviting as possible (hygge is my new favourite obsession), so for the living room I chose a neutral grey base, with burnt orange to add some colour & warmth and copper accents for a touch of glamour. The rustic oak-style flooring ties the look together and adds depth whilst the mock brick wallpaper on one wall (sadly I don't live in a chic loft apartment with real brick walls) offers an industrial edge. To soften the feel of the room I have then added different textures in the form of shaggy rugs and faux fur throws to make it even cosier.
Lori – Wild and Grizzly

Favourite room: Lounge
Amount spent: £500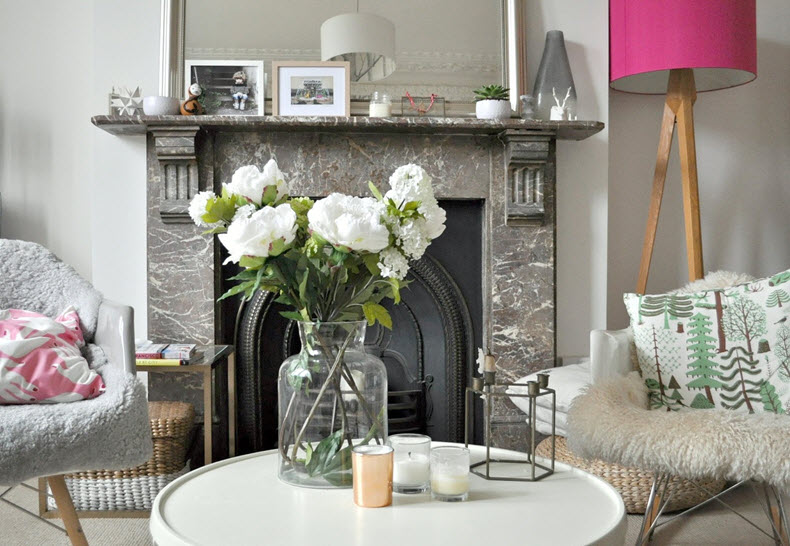 Hmm that is a tricky one but I'd have to say the lounge, it's where we hang out the most as a family and relax in the evening.
It's been a slow labour of love really, we've bought things second hand, waited for sales and spent hours decorating and painting. We've tried to keep the cost low and I'd say no more than £500 in total.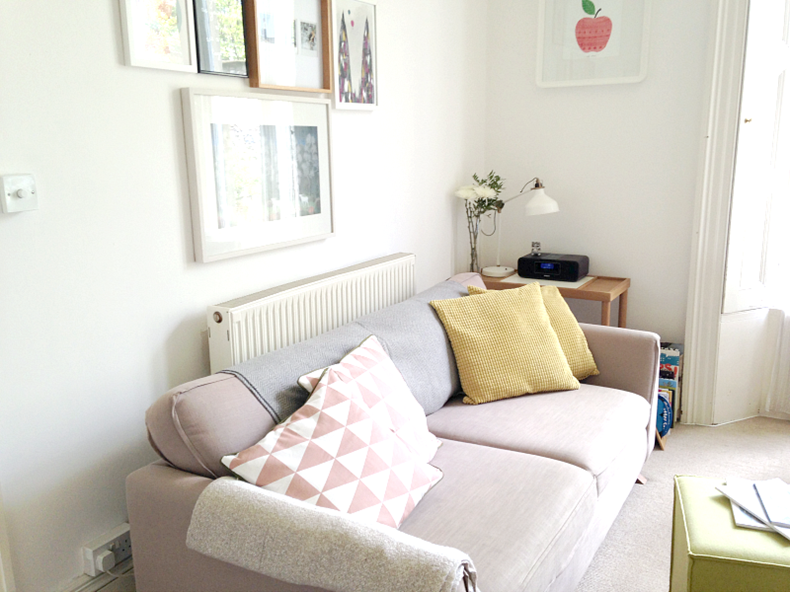 I've tried to keep the colour neutral, think Scandi but with pops of colour to make it playful. The main colours are greys, soft pinks and natural woods. It's quite a pale palette and the room is washed with light due to huge Georgian windows and high ceilings. The last job on the list would be the floors, i dream of wood floors in the lounge. One of my favourite pieces in the room is hand printed cushions I made as I couldn't find want I wanted in a store. My motto is if you can't find it then make it and it gives the room a personal touch.
Rani – La Maison Jolie

Favourite room: Nursery
Amount spent: $121.50
My favourite room in our home would have to be the nursery. It has been a labour of love. It's a happy bespoke space decorated in a whimsical colour palette and fun accessories.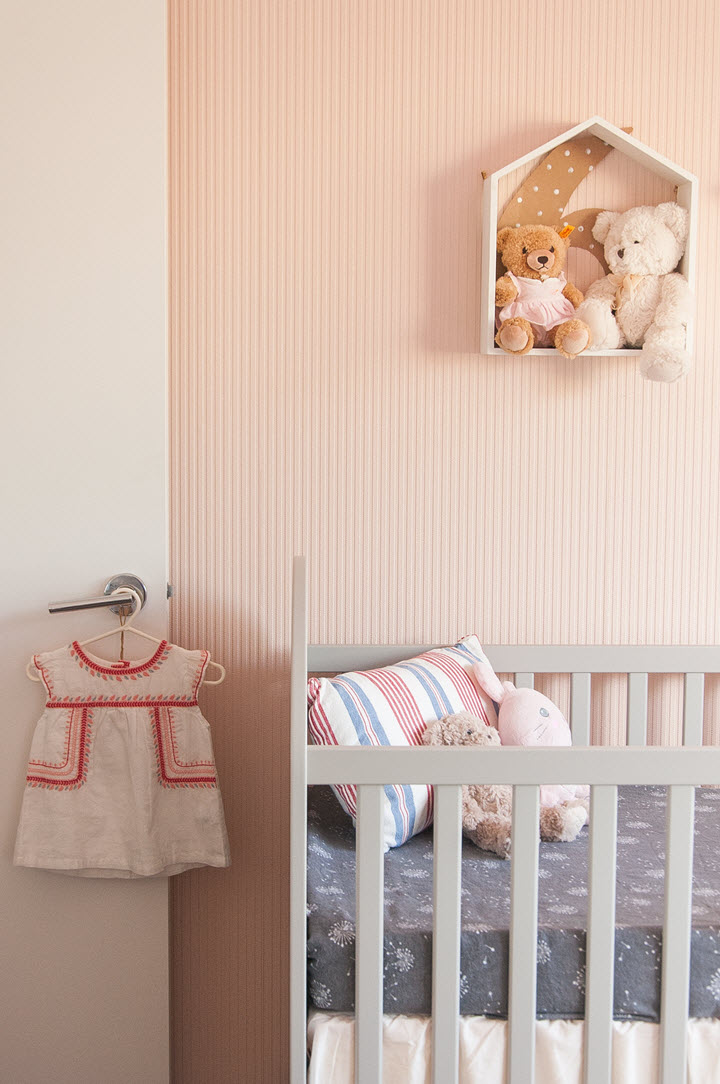 I was quite thrifty when doing up the nursery. Since it is the smallest room in the house, I didn't want to overcrowd it with a lot of furniture. I wanted to keep it simple, eclectic and fun.

The pinstripe paintable wall paper & paint : Dulux Australia - Product Trial & Review : $0.00
IKEA GONATT Cot & Mattress: Baby shower gift
IKEA SAMTID floor lamp: Moved from another room and up-cycled
Vintage dresser: $5.00 from Op Shop
IKEA TROFAST Toy Storage: $5.00 from Op Shop
IKEA TROFAST wooden shelves: $20 for 4
Fabric storage baskets from Reject Shop: $40.00
Hot Air Balloon Pendant Light: Paper lantern: $2.50 | Twine: leftover from another project | Wire pencil holder from The Reject Shop: $2.00 | Felt : leftover from another project
Spray paint (gold & white) Bunnings Warehouse: $15.00
Kmart shelves pack of two: $12.00
Vintage alphabet poster: $10.00
Cloud clock from Target: $10.00 on sale
ALL THE LABOUR: FREE!

Grand Total: $121.50 :)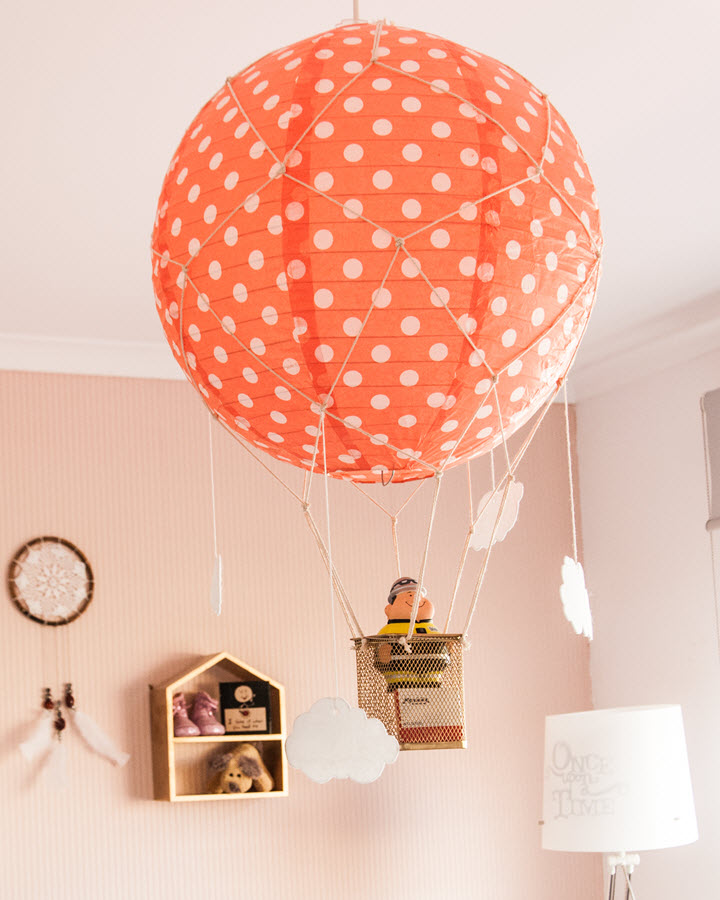 When I was designing the nursery, I wanted the room to have a personality. It had to be much more than just great design...it had to be fun, unique, bespoke, engaging and happy! And we are so pleased that the nursery turned out to be a warm and inviting space.

My husband and I hung the beautiful pinstripes paintable wallpaper and painted it a gorgeous sunny soft coral on a Sunday afternoon. I couldn't be any happier with it! I love the fact that I could repaint the wallpaper in another colour to get a completely different look next time! The sunny coral pinstriped wall complements the soft dove grey cot beautifully. I up-cycled the floor lamp by cutting out a silhouette of 'once upon a time' in black card paper and glued it to the inside of the shade to continue with the theme of whimsy in the nursery.

The vintage dresser that holds all my daughter's clothes was a great op-shop find. The shop owner was literally throwing it away since it had terrible ink stains on it. The grain pattern of the wood was unique and gorgeous once you looked past the ink stains, dirt and patchy colour. It was a total 'yes!' moment. A little bit of elbow grease, nail paint remover (yes, that's the secret), sand paper, walnut wood stain and Danish oil, is all it took to restore a piece of junk into a much loved, beautiful and useful piece of furniture.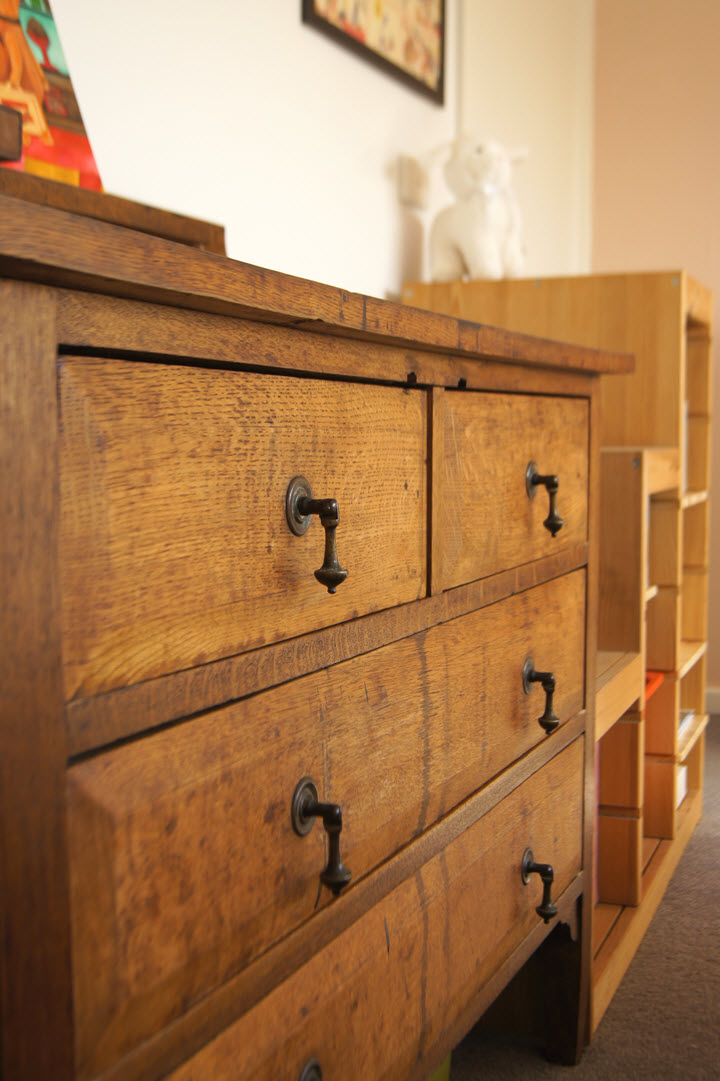 I sprayed the little house shelves in matte white and gold to offset the soft coral wall paint. The teddy bears and puppy dogs have a great time living there! The dreamcatcher was a lot of fun to make too. We also put up a couple of floating shelves on the adjoining wall to hold story books, a cute cloud clock, photos and toys. The vintage alphabet poster is a perfect addition to the space.

My most favourite item in the room has to be the pendant light. It's a hot air balloon, which has probably been the most fun and creative DIY project that I have undertaken. The nursery had a standard IKEA pendant, so I decided to make something different. This DIY project started at 11 pm at night while watching a movie and since I used things that I already had in the house – a paper lantern I had bought for our backyard but never used, a wire pen holder, gold spray paint, felt and twine – I was done in a couple of hours! I'm so pleased with the effect. It's unique, fun and wonderfully playful and the colours of the pendant complement the feature wall and the dove-grey cot. At night time the polka dot paper lantern casts the most beautiful shadows, creating a warm and magical atmosphere in the nursery.

I'm a firm believer that if you fill your home with things that inspire you and make you happy, the result will always be beautiful!
Lins – Boo and Maddie

Favourite room: Office
Amount spent: £2000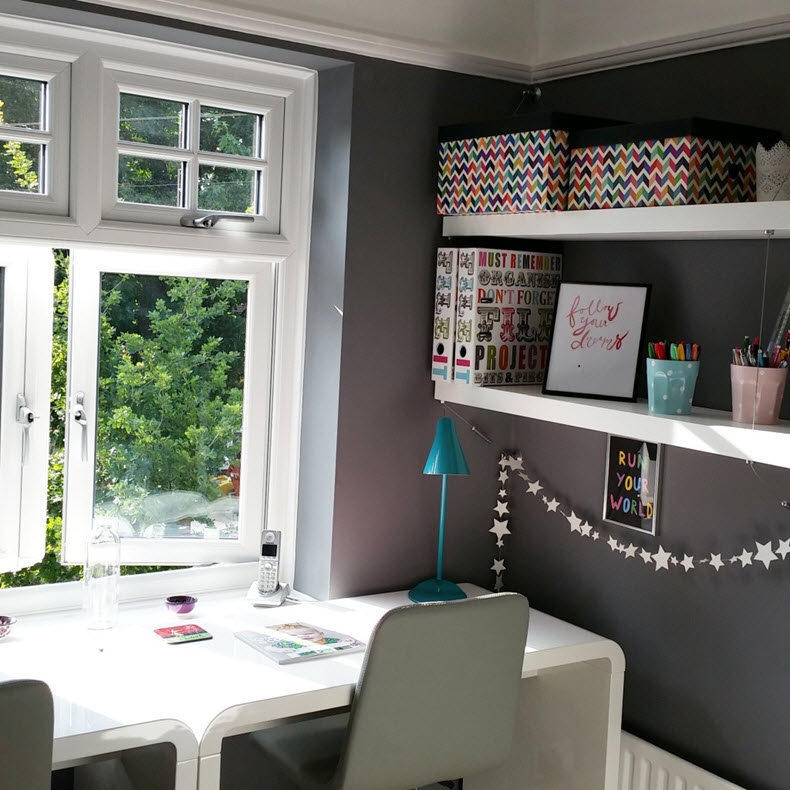 Our recently renovated home office is my favourite room at the moment.
In total, because we were replacing the windows and flooring as well as more cosmetic changes, we spent about 2,000.
We've recently finished transforming a little box-style bedroom into a home office that we can both share - it felt like a perfect solution for the space and was in desperate need of a makeover. We stripped the wallpaper, replastered and painted the walls a dark grey as well as replacing the green carpet with a wooden floor.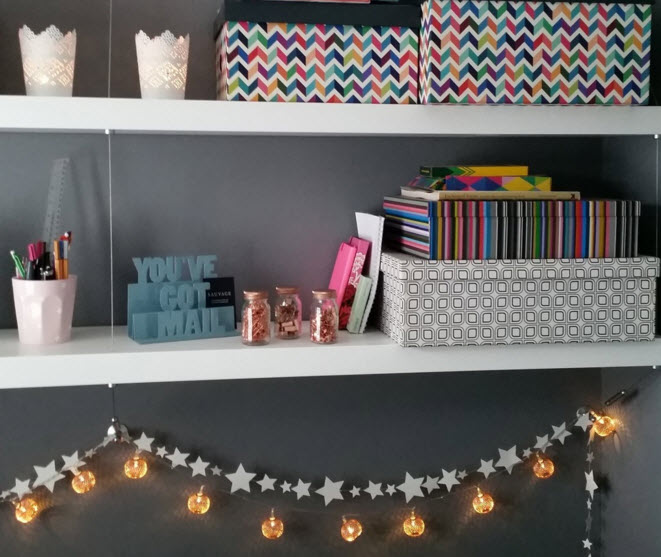 It's now an inspiring and productive room, we have a desk each from Dwell that sit next to each other so we can both look out of the window as well as wall to wall shelves on one side that our neighbour designed and fitted for us. I love the room so much now that sometimes I just peep in as I walk past and sigh contentedly.
Tanya - Dans Le Lakehouse

Favourite room: Kitchen
Amount spent: $1500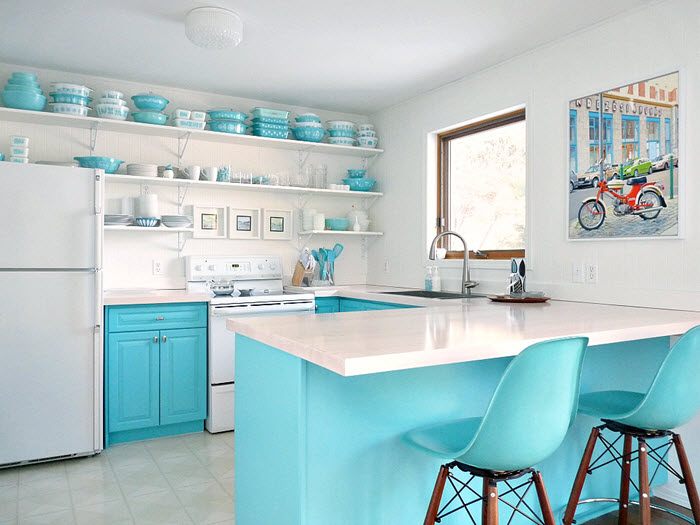 My favorite room is my kitchen. Even though the makeover was just a temporary spruce to hold us over until we have enough money to really renovate, I find myself reluctant to change it.
We spent about $1500, $650 of which was spent on supplies for building solid maple counters from scratch.
The kitchen is small and the original upper cabinetry was really awkward. One cabinet was fake and another couldn't be opened unless I crawled onto the counter. This house was a summer place for the former owners, so I doubt they had much china! Open shelving gave us some more storage and has been surprisingly easy to keep clean. The lower cabinets were painted a bright aqua to match my vintage Pyrex. I wanted to paint the cabinets in our last house but they were in good condition and Hubby loved the wood so I painstakingly re-varnished them instead. When he said he hated these cabinets and I was free to paint, I went a little wild. In photos it definitely looks bold but in real life it's just a happy space. I definitely find myself cooking and baking more now!
Claire - Heart Handmade UK

Favourite room: Craft room
Amount spent: £400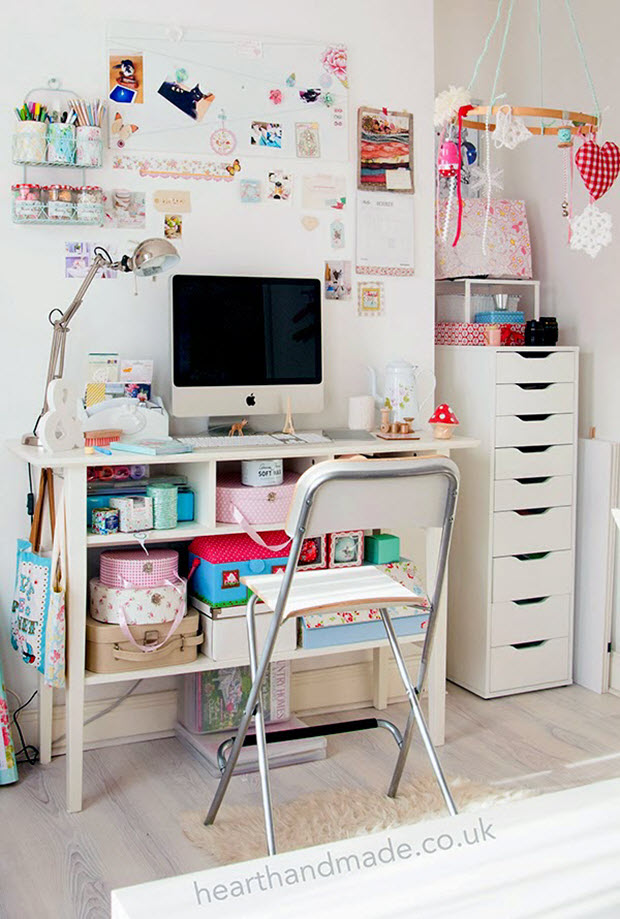 The best room in my house is my craft room! It gets the benefit of all day sunshine if the sun is out. The white floor and white walls mean it's bright, beautiful and inspiring!
I had my eye on this room ever since I moved into the house but couldn't take it until someone moved out. It needed a complete transformation as you will see from the before photos on my blog.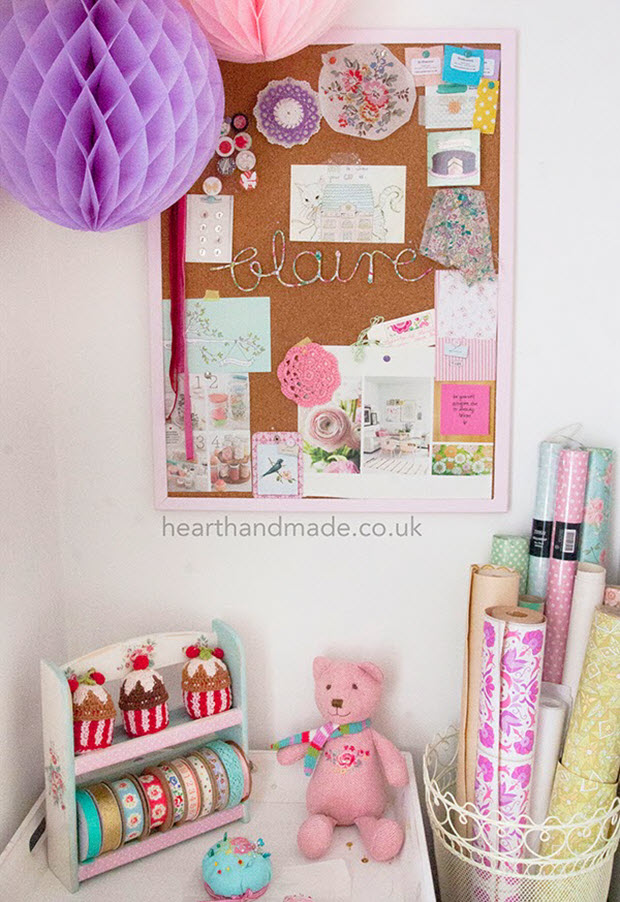 I got a new floor from Ikea, some fabric for new curtains and got the walls painted white. I only had to buy three extra pieces of furniture; two Alex drawers from ikea and the Ikea Expedit (now Kallax) desk extension.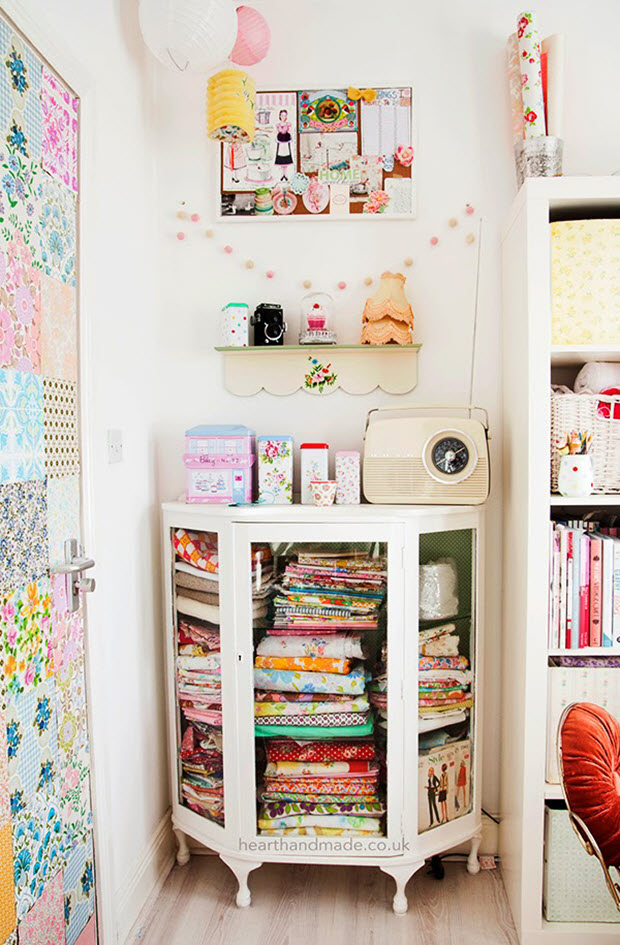 Everything else I already had, after being stuck in a small craft room for about 2 years, I had managed to collect lots of beautiful little crafty storage options and it was when I was designing the new craft room, I realised I had a favourite colour palette! I love it!
Diane - In My Own Style

Favourite room: Studioffice
Amount Spent: Under $1000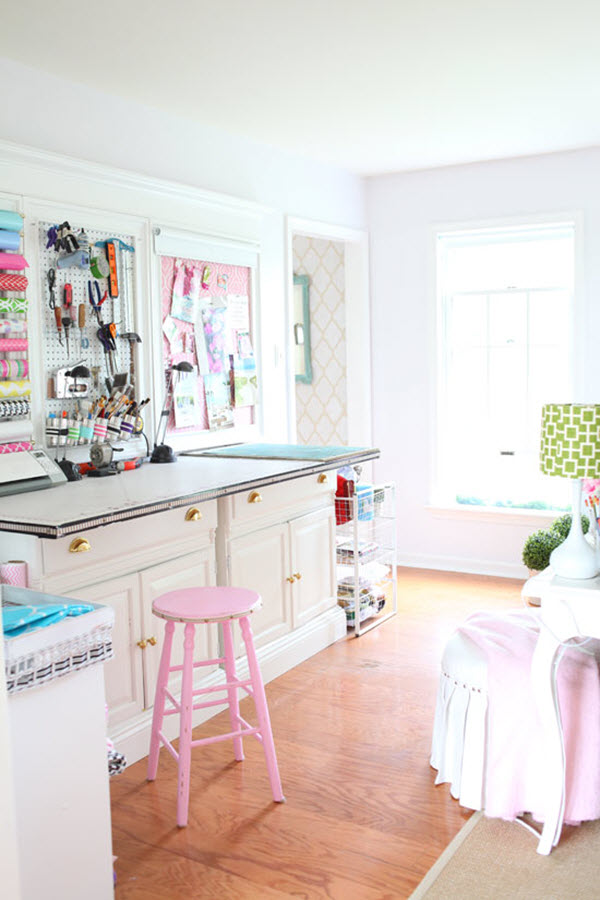 It is a room in my house that was designated as the "formal" living room, but since we have a family room, we had no need for a formal living room. I decided to make the room into my office - creative space. I call it my Studioffice.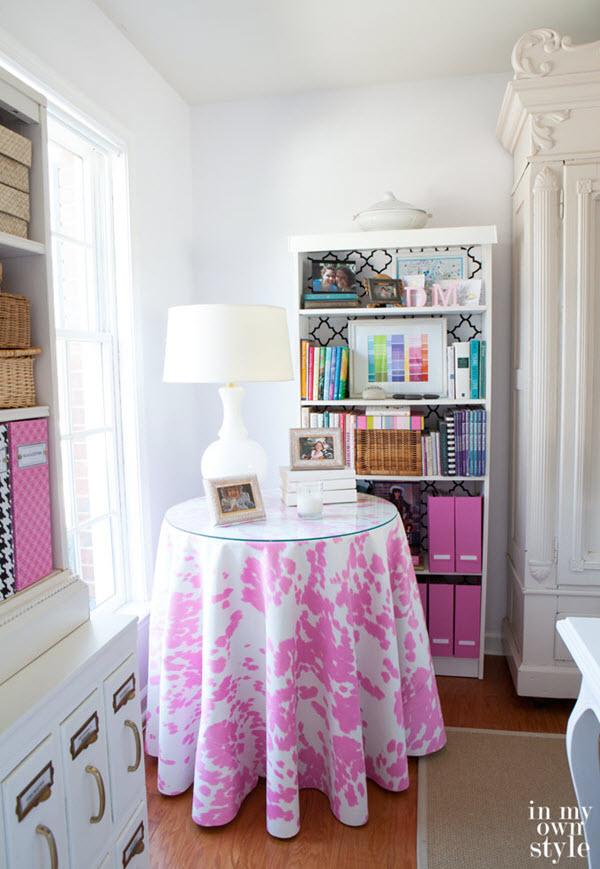 I created it to be a bright and inspiring place where I can take care of the admin part of my business as well as the the creative project creating spot.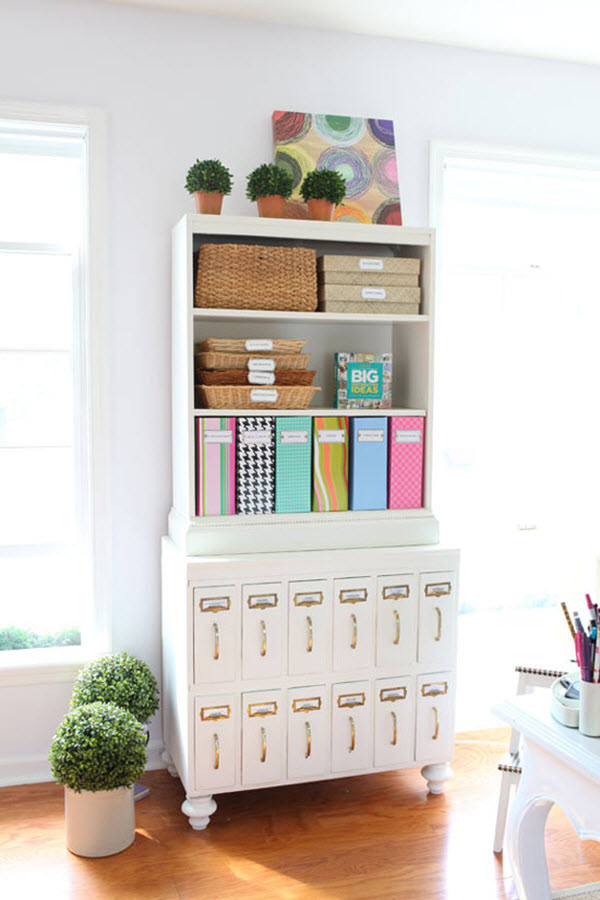 Bonita - Mamas V.I.B

Favourite room: Bathroom
Amount spent: £150
After moving it to our home 3 years ago the separate toilet seemed like the easiest room to tackle first. Although I wouldn't say it's my favourite room - it's loo after all - but it's definitely one I am most proud of.
Mainly because it's the only room I actually did everything myself - well almost - my sister helped too. The room is tiny of course, so I used that opportunity to go bold and try some green floral and bird print wallpaper. My sister did a great job matching it all up! We then laid some dark wood effect flooring, hung a wooden blind, added a green shade and styled with a vintage radio and fake lavender plant in the window.
I would say the whole room cost about £150 - I wish I could say the same for the kitchen!?
Nancy - Artsy Chicks Rule

Favourite room: Kitchen
Amount spent: Under $2500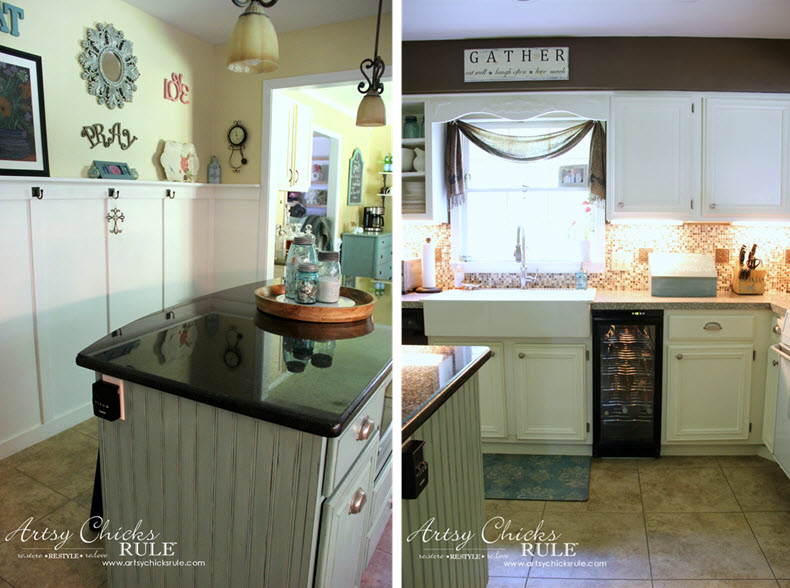 My favorite room in my home has to be the kitchen. It is the heart of the home and where everyone loves to be. It never fails! We now have the space for all to gather and I couldn't be happier.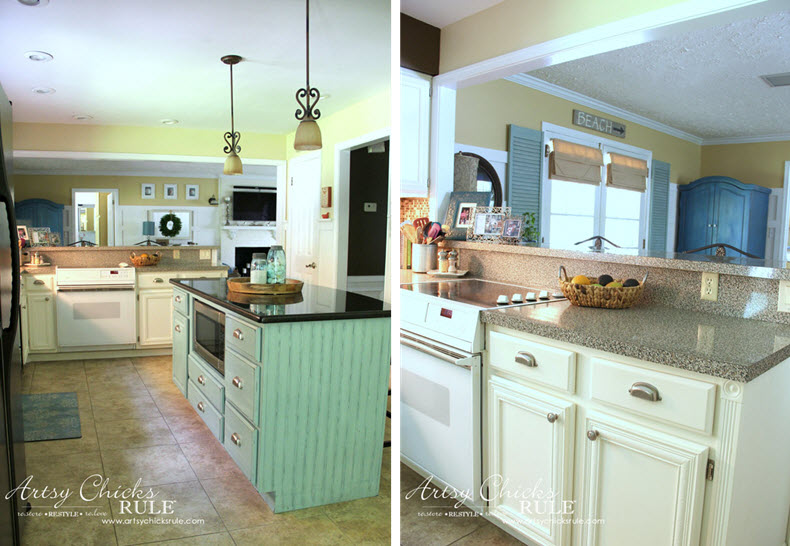 When we moved in it was a dark, dated and cramped space. We opened things up by removing two walls (on either side of the kitchen), adding white board and batten on a feature wall along with lighter paint on the walls and cabinets. What a difference it all made. The kitchen is now a dream! I love cooking, creating and gathering with friends and family in my favorite room.
Heather - Setting for Four

Favourite room: Living room
Amount spent: Unknown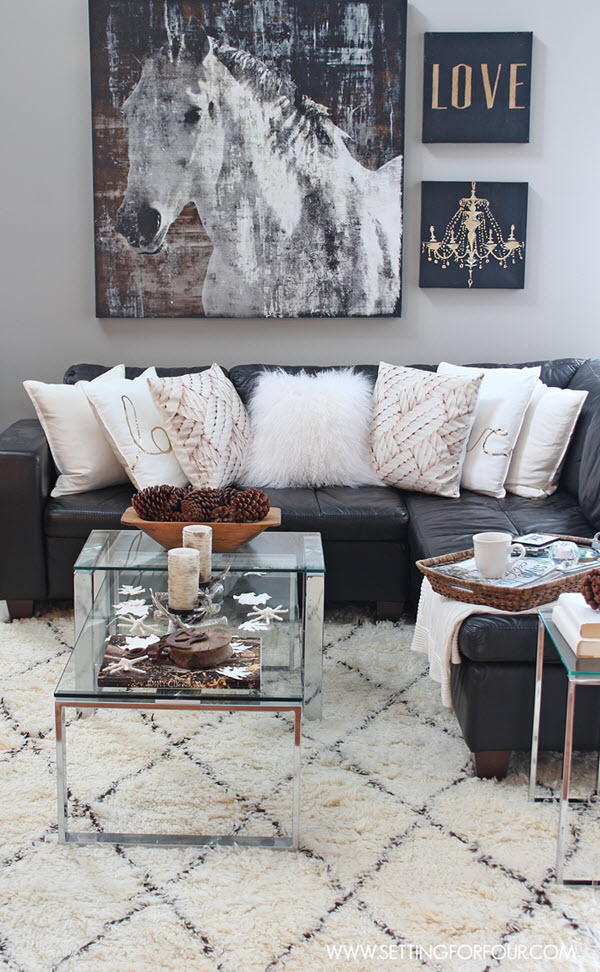 My favorite room is our living room! It's a cozy space with a comfy sectional sofa where we all love to hang out and watch movies on our TV.
I painted this room a gorgeous greige paint color that is the perfect backdrop to all of the black, white and gold decor I love! Most of the furniture and decor in this room has moved around with us on all of our military postings. Lots of comfy pillows on our sectional sofa make this the perfect spot for our family to hang out on weekends. The gorgeous Moroccan wool rug, leather sectional and abstract horse print are three of my favorite items in our cozy, comfy living room!
Doing it yourself
Feeling inspired? We know we are!
If you're itching to get going on a bit of decorating yourself then head on over to the Homebase website where you'll find pretty much everything you need.
Whether you want to do a complete over haul of you kitchen or bathroom or you simply want to jazz up some old furniture to bring it up to date you'll be able to buy the units, paints and tools to get the job done.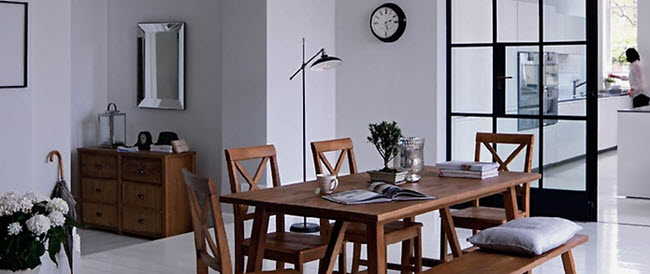 They have a wide range of colours and style available for you to choose from, so matter what your personal taste is you can add something unique that speaks volumes about you and your home to any room.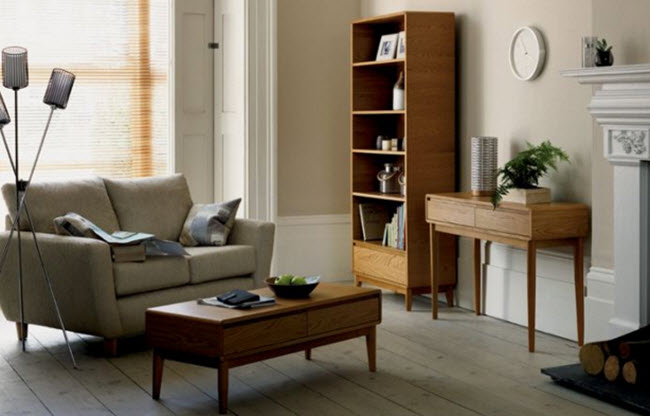 These small improvements are bound to make your house feel more like a home.
HUGE thanks to everyone who contributed to this wonderful post! Please share if you think it was useful or inspiring! And let us know what your favourite room in your home is.
Happy DIYing.