Jewellery for Valentine's Day - The perfect way to say "I love you"
Many of us go weak at the knees when presented with a sparkling piece of jewellery. Choosing and gifting the women in your life a new piece of bling is always going to be a great gift that she will love. Valentine's Day is the perfect day to give jewellery as it's a holiday all about love and therefore meant for treating that special person in your life just because you love them.
We've been searching the internet for some cute Valentine's Day jewellery gifts and have found a pretty impressive amount to choose from with prices starting from around a tenner ranging up into the hundreds and even thousands. We couldn't help but start dreaming and selected a couple of pieces that we are pretty fond of to give you guys some inspiration if you're looking for a gift to give this February 14th. Check out our choices below.
Personalised Double Heart Charm Necklace from Not on the High Street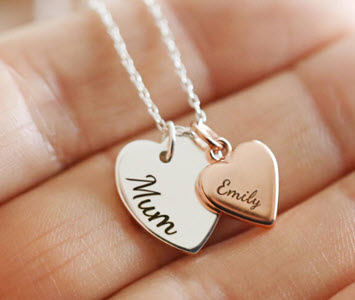 A lot of our choices are heart-themed as they are gifts for Valentine's Day after all and the first pick is this adorable heart charm necklace we found at Not on the High Street. You can personalise it when you order by entering your chosen message at the checkout phase and its fantastic value for money at only £26. We need to mention that it scores 5 stars with over a thousand customer's reviews which are very promising.
The necklace has two heart charms of different sizes and colours giving a charming effect. It is carefully stamped with your message before it is posted out to you. It is small enough so that it isn't garish and will compliment almost any outfit you team it with.
Disney Lady and the Tramp Heart Dangle Charm from Pandora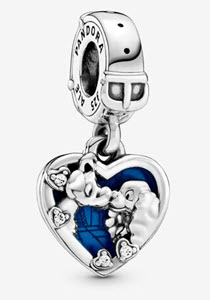 A gift from Pandora is a sure-fire way to make your loved one smile this Valentine's Day. Even better is if it's a charm for their beloved bracelet and extra brownie points if it's Disney themed. That's right Pandora has hit it out of the park again with this magical Lady and the Tramp Heart Dangle Charm.
The charm of this charm is in the details. The loop is shaped like a dog collar and the charm itself has two layers, the front one showing the characters in a kiss and the background is blue and shows the alley behind the Italian restaurant where they share that iconic spaghetti dish. The back is engraved with the words "Opposites Attract" It costs £55.
Gioie 22ct Rose Gold CZ Heart Bracelet from John Greed Jewellery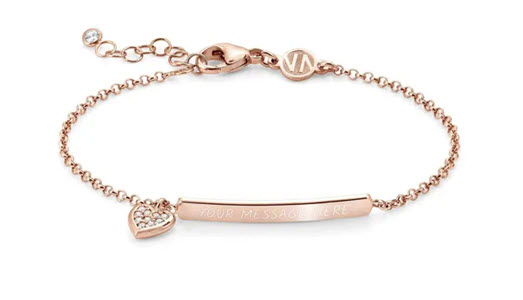 This delicate bracelet from John Greed Jewellery is a romantic gift that maintains a classy understated feel. We love the rose gold colour and the small plate that you can add your message onto. Another small touch we love is the love heart with the stones. Anyone receiving this lovely piece will be chuffed. It will set you back £49.
Revere 9ct White Gold Diamond Heart Cluster Stud Earrings from Argos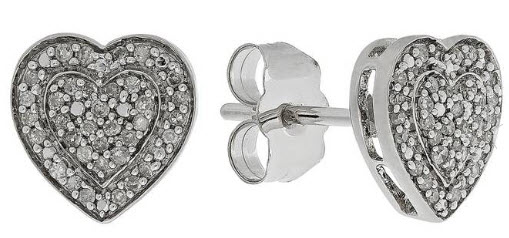 Argos has a wonderful selection of jewellery and much of it is very affordable. We've gone a little towards the most expensive end with these stunning diamond heart cluster earrings. Set in flawless 9-carat white gold with sparkling clusters of tiny diamonds these are show stoppers. They come presented in a beautiful box and are priced at £149.99.
Merci Maman Personalised Eternity Pendant Necklace from John Lewis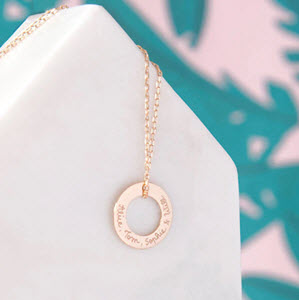 Our next choice is this delightful eternity pendant available at John Lewis. It is available in three metals, gold, rose gold and silver. The pedant is a small ring which signifies endless love, you can have it engraved with your names or perhaps a date or small message (up to 30 characters) to personalise it. It currently costs just £79.
Simply Silver - Sterling Silver 925 Swarovski Tree Of Life Bracelet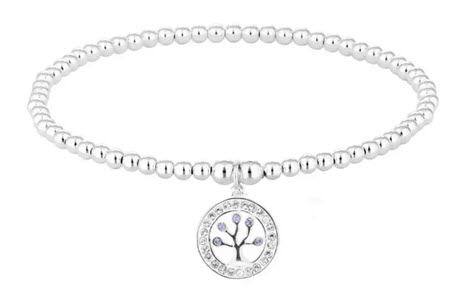 Another stunning bracelet is next from Swarovski and available at Debenhams. It is made of stretch material with delicate silver beads attached all around, there is also a pretty charm with Swarovski Crystals depicting the tree of life. We think its cute gift for Valentine's Day that comes a little away from the more traditional love heart-themed gifts. What's even better is that it's now in the sale for only £24.50.
Sif Jakobs Jewellery Double Row Cubic Zirconia Band Ring from John Lewis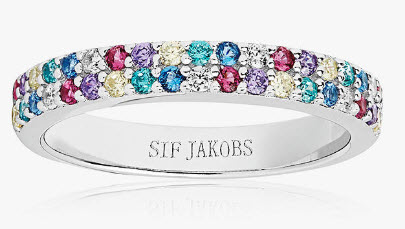 If your partner is a fan of all the colours of the rainbow then this ring is the perfect gift. It's our favourite because of its bright colours. The ring has two rows of bright stones going all the way around creating a fantastic effect. Order yours today while stocks last as they are selling well. We've chosen the silver setting but you can also get gold and a single row if you're after a little less bling. This one shown in the picture will cost you £79.
9ct White Gold Aquamarine & Diamond Twist Ring from John Greed Jewellery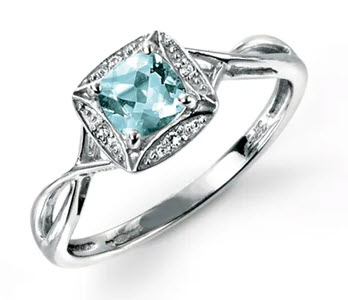 Our last choice is a more traditional ring, one that you might even like to pop the question with as Valentine's Day is a traditional day to ask someone to marry you. Like eye-catching ring is made of white gold with an aquamarine cushion-cut stone surrounded by smaller diamonds. We are in love with the more unusual aquamarine colour as well as the twists either side of the stones of this ring. If you do decide to take the plunge and get this ring you'll be getting a bargain as well as a new faience, it's currently in the sale and just £159.20 down from £199.00. Good luck!
Are you feeling like you have a bit more of an idea what to get your loved one for Valentine's Day now? We certainly hope so but understand it's hard. We've picked just a few pieces of Jewellery that we love but there was so much more that we couldn't even look at. When you decide on the perfect piece make sure you head to our retailer page to check if we have any voucher codes live that may save you some extra pennies.