Must Visit Beaches - 58 Travel Writers each pick their top 3
Are you looking for a great beach holiday, but need some inspiration or not sure where to go? In association with Thomson, Thomas Cook and Lowcostholidays - we thought we had better get you some ideas!
We asked 58 travel writers 'Which are your 3 must visit beaches from your travels?'
The results we got back were very interesting, we have plotted the result on a map below - the bigger the pushpin the more a country was chosen.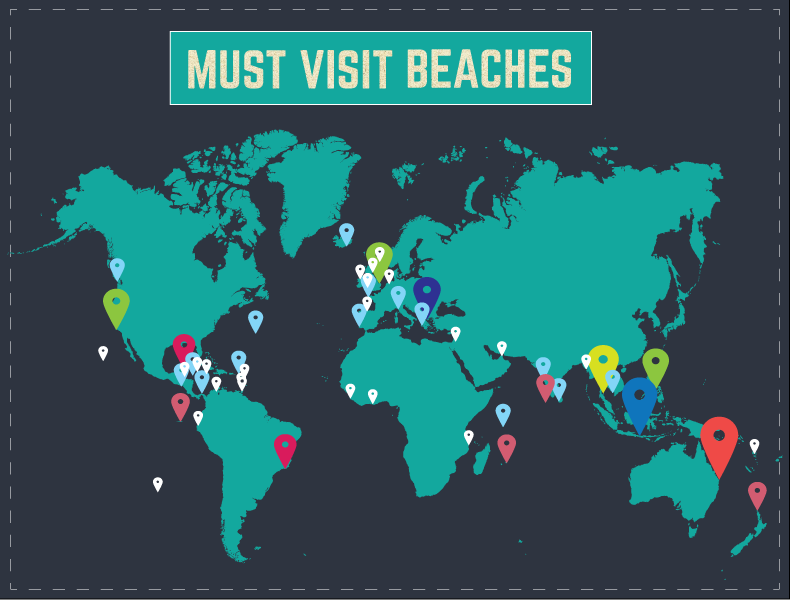 It was nice to see people picking beaches that weren't necessarily known for just sunshine, with a number of UK beaches being picked for good winter walks
The top 12 countries chosen were:
Australia
Indonesia
Thailand
Greece
The Philippines
USA
England
Brazil
Mexico
Galapagos
Tanzania
New Zealand
Five standout beaches that are worthy of a special mention due to numerous picks are:
Whitehaven Beach, Australia
Gili Islands, Indonesia
White Beach, Bocoray Island, The Philippines
Ipanema Beach, Rio, Brazil
Tulum Beach, Mexico
A Brit and a broad
On our travels we've stumbled upon some simply stunning beaches, and even though it's very difficult to pick just three, there are definitely some we'd go back to in a second. Our biggest surprise was El Cuco in El Salvador (here, check out how beautiful it is); we loved kicking back there for a bit. While in Australia, we spent quite a bit of time road tripping up the east coast, and even though you could pick any one, we'll go for Noosa Main Beach. Same applies for Thailand too, but we loved how secluded Tonsai Beach was near Krabi; that place really is a dream.
A Luxury Travel Blog
Mnemba Island, off Zanzibar, Tanzania
The perfect end to a safari in the Serengeti or Ngorongoro Crater, Mnemba Island is an exclusive island retreat off the north-east coast of Zanzibar. The white coral sand on this paradise island never gets too hot and the peace and solitude is amazing. If you're really lucky - like we were - you might even see turtles hatching and making the long walk back to sea.
Morgat, Brittany, France
This beautiful shaded bay offers a perfect crescent-shaped beach for anyone with young children with a huge expanse of soft sand and shallow waters. Situated on the Morgat-Crozon peninsula, it is not the most accessible of Brittany's beaches but worth that extra effort.
Camps Bay, Cape Town, South Africa
The beach at Camps Bay is immacuately maintained and a hive of activity for young and old alike that's made all the better for the fantastic selection of restaurants on the other side of the road. Set against a backdrop of Table Mountain, this beach - which invariably has a lovely, gentle breeze - is also a great location for wonderful sunsets.
Absolutely Lucy
My absolute must-visit beaches would have to be on the island of Ile Aux Cerfs, just off the coast of Mauritius - absolute paradise and completely empty. You can only reach the tiny island by boat and can spend the day relaxing on this stunning tropical beach while local fishermen catch lobster and rich to be freshly barbecued. Heaven!
In Thailand - you have to visit Nang Yuen, a tiny island just off Sairee Beach in Koh Tao, it's beautiful and classed as a national park. The best bit? Walking across a tiny stretch of sand joining the two sections of land together where tropical fish will surround you and then climbing up to the viewpoint to overlook the beautiful island and the ocean that stretches as far as the eye can see.
My other favourite was over in Australia, not Whitehaven beach on Whitsundays as you could imagine, but Fraser Island's beaches - they stretch for miles and have everything from pure white sands to incredible viewpoints like Indian Head, you can swim in the Champagne Pools and drive 4WD up and down the golden sands. It's just that much wilder than Whitsundays and the ocean is teeming with creatures from tiny fish, to dolphins and sharks, to turtles and huge whales that fill the horizon.
A Modern Mother
Huntington Beach, California - Dubbed "Surf City USA", this beach city has sun, surf and the Hollister Clothing web cam that is shown in their shops. Teens and tween will love it.
Holkham and Wells-next-the-sea, England - These twin beaches are wild, rugged and gorgeous. Norfolk is the all rage this year with all the royalty about. Admire the candy-coloured beach huts and walk the mile or so until you reach the sea! it's a great place to fly a kite.
Long Bay, Antigua - This beach is exactly what you would expect from the Caribbean - white and and calm water that is a million shades of turquoise. Perfect for snorkelling.
Ashley Abroad
My favorite beach destinations are Bermuda, Gili Trawangan and Koh Rong.
Aviators and a Camera
My must visit beaches are, Pink Beach in the Komodo Islands of Indonesia because of the gorgeous sand and the incredible snorkeling which is accessible just off shore. Rottnest Island off the coast of Perth in Australia because of the clear, warm water that is all shades of gorgeous turquoise. And the beach at Iberostar Grand Paraiso in Playa Del Carmen, Mexico because it's clean, the water is so warm and the beach chairs are wonderful.
Baby Routes
At Baby Routes our preference is very much for natural and unspoilt beaches set in beautiful locations. I've found many gorgeous beaches around the world but have kept the focus here on the UK, with one exception. Too often our British beaches are overlooked in favour of their tropical counterparts but we have so many amazing, wild beaches here in the UK, packed with nature and adventure.
1) Barafundle Bay, Pembrokeshire, Wales. A fifteen minute walk and several flights of steps is rewarded with one of the most scenic beaches in the UK. Barafundle Bay lies perched peacefully between cliff-tops. Its golden gradually shelving sands and beautiful blue sea is impressive from beach level as from the cliffs above and gives any beach in the Mediterranean a run for its money on a sunny day.
2) Manuel Antonio, Costa Rica. Costa Rica does beaches like nowhere else and the beaches within tiny Manuel Antonio National Park are particularly noteworthy. Hike through the rainforest, surrounded by the call of howler monkeys and other wildlife to secret swathes of white sand. A perfect place to combine beach-time with hiking and nature.
3) West Sands, St. Andrews, Scotland. One of the very few beaches that I've ever found snow on, West Sands is a vast expanse of fine sand backed by wild sand dunes with one of the World's most famous golf courses and the ancient and fascinating town of St. Andrews as its backdrop. On a wintery day you can see snow on the Cairngorm hills from here, walk up to its far end (a mere 2 mile hike) and you may be fortunate to see seals or porpoise and it's the only place in the UK I've ever seen the Aurora Borealis from. Paddle with the kids along the shallow sea-edge, retreat for a picnic in the dunes on a blustery day, harness the wind with a spot of kite-boarding or jog down the sands a la Chariots of Fire before retreating into town for a well-earned hot chocolate. Bliss!
Backpacker Banter
Beaches are a speciality of mine being a surfer so here are my top 3;
Main Beach, Byron Bay (Australia) - Byron Bay in Australia is one of my favourite destinations on the planet and I'm always making excuses to return there! To be honest it isn't just Main Beach here which stands out, there are heaps of awesome stretches of sand around the town to suit everyone - from world class surf to nudist beaches!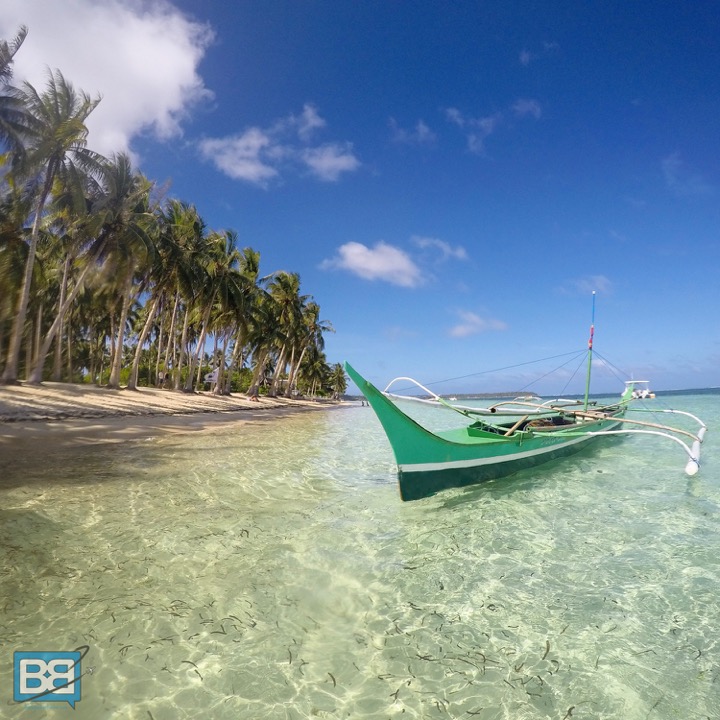 General Luna, Siargao (The Philippines) - I love Siargao, it's probably one of the most picturesque spots I've visited in the last few years. Again the whole island is peppered with incredible beaches (the neighbouring island Dacu is also incredible) but the palm tree fringed beach of General Luna with its natural lagoon is the perfect spot to chill in the water in your own island paradise. I've never seen more than 4 people on the beach at any one time….so it's luxury without the price tag!
Barefoot Manta Island (Fiji) - Fiji is known for its awesome beaches but Barefoot Manta was one of my favourites. Take a stroll around the headland, relax in a hammock, flat around on an inner tube with a cold beer amongst friends…take you pick! Then of course you could nip around the to the channel and snorkel with Manta Rays - a bucket list must!
Backpacks and Bunkbeds
1. Coogee (Australia) Over Bondi? Yes, for me most certainly. I just found Coogee to be that bit more local, more relaxing, cleaner and fun. That I 'lived' in Coogee for a month over Xmas in 2006 may have something to do with my favouritism, but there's no denying its a beautiful beach.
2. Unawatuna (Sri lanka) The first beach I visited on my gap year where I thought 'this is paradise'. While most travellers were opting for Hikkaduwa at the time of my visit (Hikaduwa is also a very nice beach), the calm and serenity of Unawatuna won me over. A bar named the Happy Banana also helped sway my decision.
3. Coffee Bay (South Africa) Golden sand, surf, wild dolphins coming and saying hello. A weekend spent sleeping at Coffee Bay backpackers was a highlight of my 2 month trip to South Africa in 2005. Well worth the 7 hour drive from Port Elizabeth.
Bren on the Road
For lounging and doing nothing, I'd go with Sunrise Beach in Dar es Salaam. It's backed by a resort, but is free to visit on weekdays and is your typical golden-sand, blue-water, nobody-around kind of beach that's a little off the beaten path.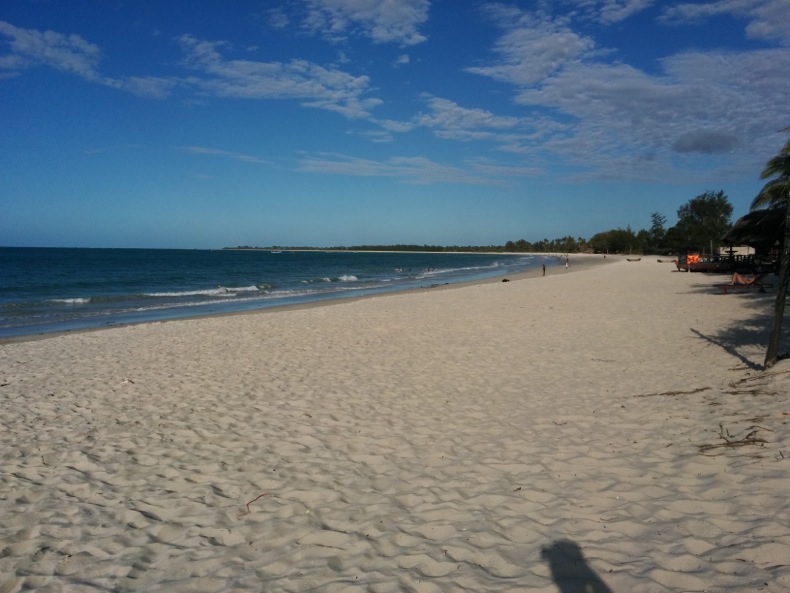 For busy and beautiful, I'd go with White Beach in Boracay. Lots of action, restaurants and tourists, but still one of the most gorgeous white sand beaches on earth. And for surfing, I'm sticking with my hometown favourite Piha Beach - black sand, but roomy and the surf is always awesome!
Bridges and Balloons
Our top 3 beaches are:
1. Ipanema, Rio de Janeiro, Brazil This has to be the best city beach we've ever come across, with a spectacular jungle mountain backdrop. It's the perfect place to people watch.
2. Gili Air, Indonesia This is a true paradise island just off the coast of Bali and a wonderful place to spend a few days relaxing by the sea. Expect white sand beaches and perfect turquoise water.
3. Sawmill Cove, Devon, UK Sometimes there's nothing better than a rugged British beach. You rarely get the good weather to go with it, but the scenery is breathtaking enough to make up for it all year round.
Bucket List Journey
Warm waters, brilliant turquoise blues and stunning backdrops are what I look for in the perfect beach. Narrowing it down to just three is tough, but the white sandy beach at Gardner Bay on Española Island in the Galapagos is the first stunner to make my list. The sunbathing sea lions welcome you at the landing as the sally light foot crabs and marine iguanas crawl upon the rocks.
Next is the powdery sand beach of Tulum's Playa Paraiso in Mexico. It;s hards to compete with this one as the mayan ruins act as the background for the pale blue waters.
Last, but not least, is Honokalani Beach in Waianapanapa State Park in Maui. This black sand beach can be found on the road to Hana and is more of a place to photograph or walk barefoot with the smooth pebbles under yours toes, rather than swim.
Crazy Sexy Fun Traveler
Being such a beach babe, it's very difficult for me to choose just 3 beaches out of the hundreds I've been to. But the first ones that come to my mind would be Isla Contoy island in Mexico (the most important nesting place of sea birds in all of the Mexican Caribbean), then San Blas islands in Panama and Koh Ngai not far from Koh Lanta in Thailand. Sand, sun and crystal clear turquoise water are all I need.
Cubicle Throwdown
Wickanninish Beach (Tofino, BC, Canada) - the perfect beach to watch surfers or storms rolling in. This huge expansive sand beach gets dramatically bigger when the tide is out, and you can stroll for hours along the shoreline or explore the rocky coastline. Trails wind through the forest behind the sand. Sunset with a campfire on the beach is one of my favorite places to be!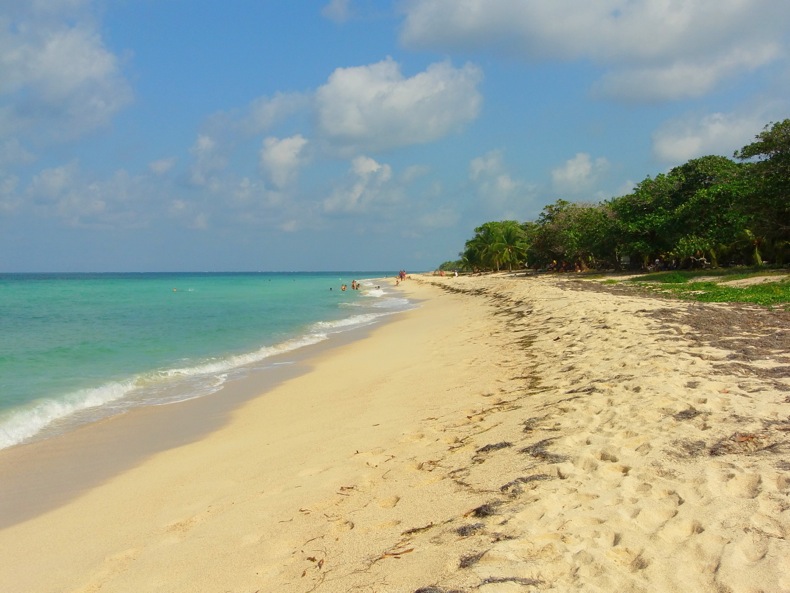 Camp Bay Beach (Roatan, Honduras) [see photo above] - a hidden gem away from all the cruise shippers, Camp Bay public beach is the quintessential Caribbean beach. It's quite a drive to get there, but it is rewarded by powdery sand, sparkling turquoise water, and no beach vendors harassing you to buy trinkets. String a hammock up between the trees and watch the locals kids fish with a soda bottle and line, or play in the shallow waves.
Cayo Coco Beach (Jardines del Ray, Cuba) - flamingoes! Need I say more? The crystal-clear azure water and soft white sand at Cayo Coco is a stunning place to get your tan on, or snorkel the coral reef and watch the fish dart around in their underwater homes. Relax under a palm tree or walk the beach at sunset for amazing views.
Divergent Travelers
1. White Beach on Boracay Island, Philippines - while this beach is often busy, it is never too crowded and it is absolutely gorgeous.
2. Any beach in the Maldives- this part of the World is a beach lovers paradise. White sand beaches and sandbars, clear teal water and hot sun. Plenty of underwater activity to gawk at too.
3. Pulau Redang off the coast of Terengganu, Malaysia. There are not a lot of tourists there and the islands are really lush. The beaches have white sand and teal waters.
Emily Luxton Travels
1 - Playa Blanca in Cartagena, Colombia. Just off the coast from the main land, this white sandy beach on Colombia's Caribbean coast is what travel dreams are made of. Camping on the beach in wooden huts, lazing in the sea to watch the sunset, drinking cocktails from fresh-cut coconuts... Bliss.
2 - Kassandra Peninsula, Halkidiki, Greece. Without a doubt the most beautiful blue sea I've ever seen in Europe.
3 - Turtle Sanctuary Beach, Perhentian Islands, Malaysia. The Perhentian Islands were my first real taste of backpacking and I loved them. All the beaches there were absolutely stunning, but the most memorable was the beautiful Turtle Beach, a tiny little white sand beach at the edge of the forest. It was gorgeous.
Enjoy the Journey
1) Half Moon Bay at the West End, Roatan, Honduras - You can't beat sipping on a Pirate's Grog Rum cocktail after scuba diving at some of the world's best dive sites. The uncrowded beach and clear caribbean sea provide the perfect place to cool off and relax.
2) White Beach on Boracay, The Philippines - Although Boracay can get a little crowded it's mainly local tourists from elsewhere in The Philippines so it keeps a certain charm. The white sand is unlike any other we've ever encountered during our travels. If you're looking for a picture postcard beach this is definitely it!
3) Padang Padang, Bali, Indonesia - Climbing down through a pathway carved through the cliffs makes the entrance to Padang Padang unforgettable. This small cove provides the perfect spot to catch a bit a surf and if you're lucky enough to be there for a full moon you'll find an intimate beach party pulsing to a gentle reggae beat until the early hours.
Finding the Universe
The best beach in the world is without doubt Anse Source D'Argent, found on La Digue Island in the Seychelles. This beach is the postcard perfect beach. Think coconut trees, giant granite boulders, incredible turquoise waters and powdery white fine sand.
Next up, I love Hellfire Bay, Australia. This is way down at the bottom corner of Western Australia in the Cape Le Grand National Park. A bit of effort required to get to, but the colors of the water and the sand are out of this world.
Finally, I have to say that for personal reasons the beach at Point Reyes National Park, California, has to be in my top three. Covered with elephant seals, and featuring brown sand against rugged cliffs, it might not seem like the most beautiful beach in the world, but it's where I got engaged to my wife, so holds a special place in my heart nonetheless!
Goats on the Road
1. Grand Anse Beach in Grenada is a stunning stretch of sand. The beach is 3.2 kms long, the water is impossibly clear. You can see our video here.
2. Koh Rong in Cambodia is incredible. We were there in 2008 when there was literally ONE bungalow on the entire island. From what I've heard, now it's quite developed.
3. Matemo Island / beach in the Quirimbas Archipelago of Mozambique is a picture perfect beach.
Go See Write
Camps Bay Beach: I loved every moment of my time in Cape Town and can't wait to go back. Camps Bay Beach is a popular spot for both tourists and locals and provides front row seats to Cape Town's fantastic sunsets.
Koekohe Beach: It's difficult to narrow down which beaches in New Zealand are the best because there's over 9,000 miles of coast and hundreds of stunning beaches. Koekohe beach has dragon's eggs littered everywhere though so for that reason alone, it's my favorite. Yeah, there's a scientific explanation for it but calling them dragon's eggs is way more fun.
Lucisca Beach: The nightlife in Hvar, Croatia, is worth the trip. A lot of the beaches in Croatia are small which makes them seem quaint and peaceful. Lucisca is no exception to that heavenly feeling and has a nearby cave to explore.
Have Baby Will Travel
Seven Mile Beach, Negril, Jamaica Negril has maintained its sleepy village feel, in spite of tourism continuing to boom in Jamaica. Seven Mile Beach is a beautiful stretch of family-friendly sand with a shallow entry that's perfect for children to splash in and parents to relax in.
Playa Pilar, Cayo Guillermo, Cuba This public beach on the tip of Cayo Guillermo is a wonderful escape from resort-land with gorgeous turquoise water, soft, powdery sand, and a small shack that offers a respite from the resort buffet. Take the public bus from resorts on Cayo Coco or Cayo Guillermo, and stay for an hour or all day.
Huntington Beach, California The powerful Pacific surf is significantly different from the tranquil Caribbean beaches we typically frequent, but the surging waves and cool atmosphere of Huntington Beach, aka Surf City, USA, made a real impression. Now my kids want to learn to surf!
Heather on her Travels
Greece has some of the most beautiful beaches in the world and when I visit the island of Zakynthos where my sister lives, we always try to find some new ones that only the locals know. My favourites on Zakynthos are:
Best for families: Gerakas Gerakas is a protected beach due to the turtles that nest there, which means that there is very little development nearby. You'll see the turtle nests protected by wooden frames and there are restrictions on the sun umbrellas and loungers to avoid destroying nests. If you want to find a less crowded spot, just walk along the soft sand to reach the end of the beach. When you've had enough sun, sand and swimming walk back up to the road where there are a couple of great tavernas and visit the Earth Sea Sky Centre to learn more about Turtle conservation on Zakynthos.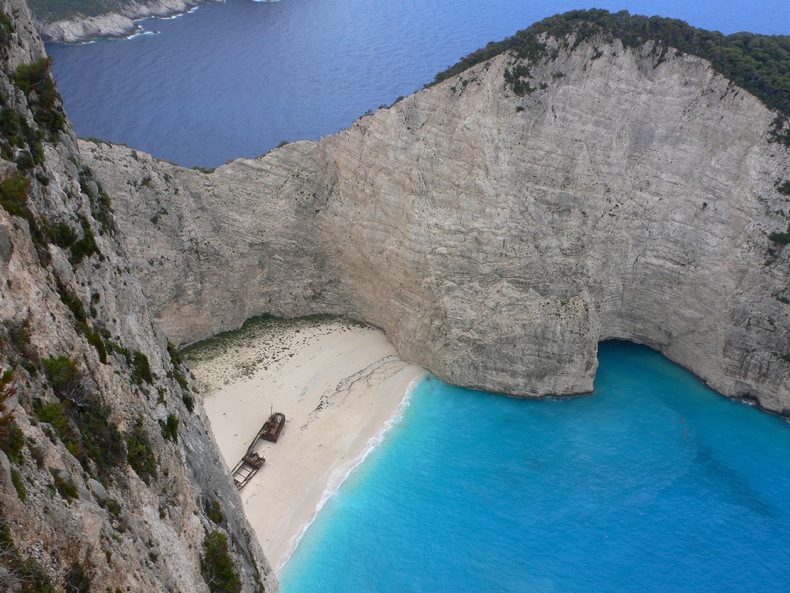 Best for photographers: Navagio [photo above] is one of the most photographed beaches in Greece and is also known as 'Smuggler's Cove' or 'Shipwreck Beach' due to the rusty old shipwreck half buried in the sand. Most photographs are taken from the viewing points on the cliffs above and you can only reach the beach itself on a boat trip. Once dropped off on the beach there's not much shade or any other facilities and the waves can be quite high. This is a great beach to photograph and visit for a while although not one to while away the whole day.
Best for clear water and long lunches: Marathias The tourists prefer sand but the Greeks love a pebble beach because the water is so clear for swimming. We always try to get to Marathias beach, which you reach along a narrow clifftop road from Keri, then walk down a rocky track. There are just a few sun loungers here but if you can get one it's a fun place to relax and swim as only the locals know it. The best thing is the fabulous Votsalo Taverna up by the road with stylish interiors, great food and a view over the sea – perfect for a long, lazy lunch.
Indie Traveller
Having travelled in so many tropical countries I now have a long list of favourite beaches, but there are a couple that are especially easy to recommend. I love the beaches of Tulum in Mexico. You'll find beautiful cyan colored waters here fringed by palm trees, though it's not as busy some other beaches in the Yucatan. In Indonesia it's worth going to the Gili islands, which are easily accessed from Bali and where its beaches offer views of two epic volcanoes. Though for that real castaway feeling my tip is to go to the Philippines, which has a seemingly endless choice of white sand beaches, some of them just barely discovered at all. Sabang on Palawan is one of my favourites there.
Keep Calm and Travel
Coming from a beautiful island...I'm all about beaches! Here are my top 3 favorites:
1) Anse Intendance Seychelles [picture below]: Spectacular turquoise sea surrounded by the forest. Warm waters and golden colors at sunset makes this the perfect beach!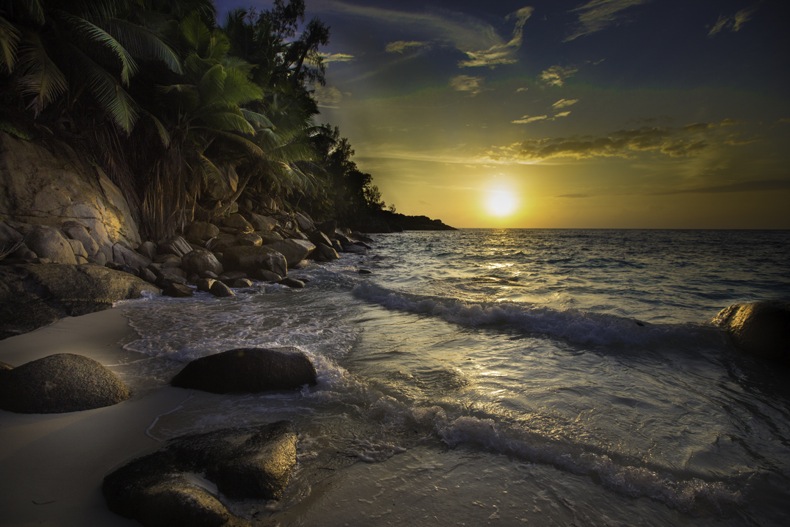 2) Gili Trawangan- Indonesia: A beach that looks like a painting during sunset. Engulfed by the coral reef which makes the sea so still that's almost surreal to watch.The view of the spectacular Balinese Volcanoes in the background perfectly completes the fairy tale feel of this magic place.
3) Oasi Biderosa: Rocks and white sand combined with all the shades of blue and turquoise sea in my beautiful motherland Sardinia! The beach is one of the few protected areas where just a set number of people can enter on any given day to help and preserve its natural beauty.
Leave Your Daily Hell
When people think of beaches, they generally imagine palm-fringed tropical ones. For me, the best one of these is Indonesia's Raja Ampat, which might just be the world's last paradises. Beaches don't have to be warm, however. For example, I definitely couldn't swim at Breiðamerkursandur, an iceberg-covered, black sand beach near Iceland's Jokusárlón Glacier Lagoon, but it was still incredibly beautiful.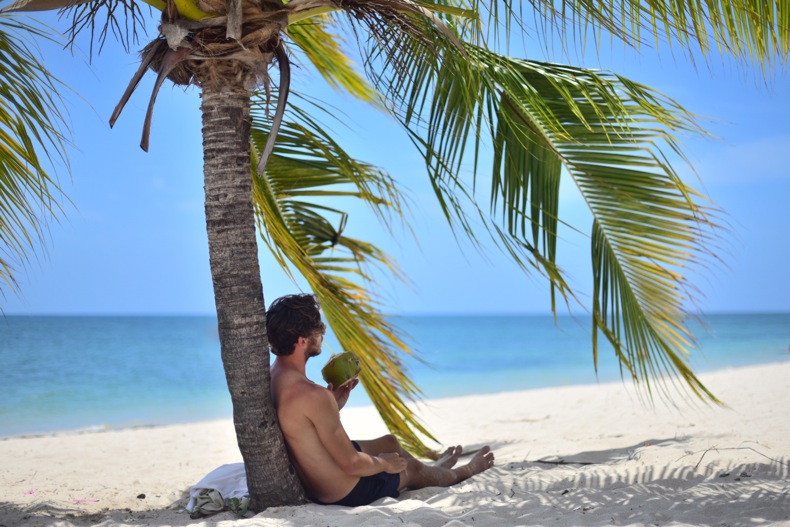 Finally, I love a great city beach, and for me the best one in the world would have to be Ipanema Beach in Rio de Janeiro.
Life Beyond Borders
Vagia Beach - Patmos Island - Dodecanese Chain - Greece OK, so it's pebbly, but it's secluded, not organised i.e.: no beach umbrellas or sun chairs, so less hordes of tourists. It's a gradual slope into the water and the waters are calm. It's perfect!
Assos Fishing Village - Kefalonia Island - Ionian Chain - Greece More a fishing village with a small sandy bay, again this is another place on a very touristy island that is not so popular with the tourists (it's very small), but popular with locals. Bring a chair, sit in a taverna looking out over the sea, or just plop a towel in a sandy corner and swim in the crystal clear waters whilst challenging yourself to swim to the castle-topped small island opposite.
Navagio / ShipwreckBeach - Zakynthos Island - Ionian Chain - Greece This has to be THE most visited beach in Greece; you know, the famous shipwreck beach. Accessible only by tourist boat, this packs in the crowds but I have to say, it's one of my favourites despite this. The waters rival that of the Caribbean in their clear aqua sheen, and it's possible to find a quite, shady spot under the cliffs.
Meander the World
Three best beaches I've seen? Bora Bora for that crisp white sand and stunning blue water with zero imperfections. The islands in El Nido, with golden sand beaches and vibrant corals surrounding the jungle covered karst mountains that rise dramatically from the warm waters. And for something completely different, Sombrio Beach and the Juan de Fuca trail on the extreme west coast of Vancouver Island, Canada. Cold waters and wild scenery with a backdrop of those famous Pacific Northwest windswept forests and driftwood clogged beaches.
One Step 4Wards
I was recently in Sierra Leone, a country that most people don't venture to. Outside their Capital Freetown, they have the most amazing beach, rain forest and mountains right up to the coast, it's called 'beach number 2' and it's one of the most spectacular sites I've ever been lucky enough to see, and even better, you'll have it pretty much to yourself.
Nomadic Notes
Pangandaran Beach, Java, Indonesia Arriving at Pangandaran Beach I was confused with its appearance as the sand is a muddy dark brown. Once you walk on it though you can see that the sand is as soft and clean as any white sand beach.
Long Beach, Phu Quoc, Vietnam Long Beach is - as the name suggests - a long beach on the island of Phu Quoc. The beach runs north-south and faces the west, making it the perfect sunset beach. Phu Quoc is starting to gain attention (and development) so the sooner you get here the better.
Unawatuna Beach, Sri Lanka It's hard to pick a favourite beach in Sri Lanka as there are just so many good ones. I've picked Unawatuna as it is a lovely beach and it makes for a great base to explore the historic city of Galle, which is close by.
North East Family Fun
Alnmouth Beach, Northumberland, UK. Alnmouth beach is one of Northumberland's hidden gems. With unspilt golden sands stretching for miles and spectacular views across the North East coast, you might even be lucky enough to find you have the whole place to yourself. Perfect for dog walking, a family day out or simply a place to escape and relax.
Tulum Beach, Mexico The beach that sits below the ancient Mayan ruins of Tulum is as picture perfect as they get. Crystal clear waters, white sand and palm trees form a perfect cove that is perfect when you need to hide away from the world.
King Edwards Bay, Tynemouth, UK. King Edwards Bay is a small but perfectly formed cove in the popular town Tynemouth. The climb down the 100 or so steps is worth it as you are sheltered from the breeze in this natural sun trap. Locals gather around Riley's fish shack where fresh seafood and shellfish is served both day and night. It's a beautiful spot to grab a table, enjoy a glass of wine and watch the sunset.
On the Luce
Cape Le Grand National Park in Esperance, Western Australia – pure white sand and bright blue waters in a totally unspoilt national park where it's easy to find a stretch of sand to yourself.
Cap Ferret near Bordeaux in France – a patch of golden sand that looks straight of the Caribbean surrounded by pine trees and with giant sand dunes nearby to climb.
Lulworth Cove, Dorset UK – a perfect horseshoe-shaped bay that looks like a bite's been taken out of the coastline. It's part of the Jurassic Coastline so you can find ancient fossils on the beach.
Ordinary Traveler
As a surfer and a beach connoisseur, I've traveled to some of the world's prettiest beaches. A few of my personal favorites include the Le Morne peninsula in Mauritius because of the beautiful sunrises and sunsets, Riomaggiore in Italy because of the contrast of the colorful houses against the ocean and Uluwatu in Bali because of the clear water and perfect surf.
Our Awesome Planet
My top 3 would be: Entalula Island, in El Nido, Pink Beach in Komodo Islands, and Koh Phi Phi in Krabi, Thailand.
Points and Travel
My 3 "must visit" beaches from my travels are:
7 mile Beach, Grand Cayman Islands. This one goes on for what seems like forever, but I guess they measured it and it goes on for 7 miles!
The Maldives, pretty much any where you can find a beach, it is gorgeous beyond words.
And last, but certainly not least is the Cerro Brujo Beach on Isla San Cristobal in the Galapagos. The only access is by boat, so obviously it is not crowded! It is "white sandy" and gorgeous. I just remember the seals frolicking in the water and watching them for hours!
Restless Jo
You might guess I'm fond of Portugal and one of the best I've found is at Zambujeira do Mar, on the west coast. Closer to my second home in Tavira, on the Algarve, the beach at Barril, with its' Anchor Graveyard is one of the best I've ever seen. Not at all macabre. You have to know you're asking an impossible question because there are fabulous beaches the world over. But I have to be a little partisan and go Northumberland. The coast up by Bamburgh and Dunstanburgh Castles are as good as it gets, and you have all that history too.
Rexy Edventures
Ah, sun, sand and ....sangria, it's definitely not the three words that immediately spring to mind when I think of beaches. With my adventurous spirit running through me, there's always something for those looking that that exciting thrill!
1) 90 Mile Beach, New Zealand - Did you know this is actually classed as a road in New Zealand?! With your 4x4 jeep, you can soar through the tide and watch with joy as you see the surf and sand get tossed around as the wheels slide swimmingly on this raw coast.
2) Rainbow Beach, Australia - The secret gateway to Fraser Island. Many people head to Fraser Island from Hervey Bay but Rainbow Beach offers a cheap alternative and what's more, you can camp out on there too and watch the whales go by at dusk.
3) Mantaray Island, Fiji - Ah, forget about sunning yourself on this idyllic island in the Yasawas Chain. You cannot get any better snorkelling through the colourful reef (actually better than Great Barrier Reef) and spotting turtles, rays, sharks and even Nemo himself. Just make sure you slap on the suncream!
She Gets Around
There is something special about finding your perfect beach, you might say a beach is a beach but oh no there are some truly heavenly places in our world. Here are my top three:
Anse Source d'Argent in the Seychelles - absolute heaven. Perfect turquoise waters, smooth silky sand and surprisingly low numbers of people. You can walk quite far out into the sea and still be only knee deep in water.
Nungwi, Zanzibar, Tanzania. The water is like milk and the sand soft underfoot. If you're lucky you will see some cows casually making their way down the beach and be able to watch the locals fishing in their traditional wooden boats.
Busua Beach, Ghana. Ghana's beaches are a worldwide secret that so few people seem to know about. Busua beach is far from Accra so many people don't make the trek along dusty roads to get there, but it is so worth it. You can see no one for miles and if your lucky will see turtles hatching on the beach.
So Many Places
Long Beach on Phu Quoc Island, Vietnam- After a few weeks of biking through Vietnam this was an amazing retreat from the "real world." I loved this beach because it was quiet and relaxed but long enough to go for runs on.
Gili Meno Island, Indonesia- It's a small island and isolated. The beaches aren't the best because of the large amounts of coral but the overall atmosphere is amazing and I absolutely loved the snorkeling. And while the beaches aren't great for walking there are plenty of thatched roof cabanas to relax under.
Copacabana Beach in Rio de Janiero, Brazil. There's really nothing like a beach in Rio, from the beautiful sunbathers and the gigantic waves to the touts selling anything you could desire, Rio's beaches should not be missed.
That Adventure Blog
My three favourite beaches are all in different countries but they all have one thing in common: they're pretty untouched and void of people! Oh and they're all sandy beaches too!
My ultimate favourite beach is Old Hunstanton beach in Norfolk. It stretches for miles and miles! My other favourite beach is in northern Peru and is just outside the town of Mancora. It's called Pocitas and again it stretches on for miles! You also get a beautiful sunset over the sea like you do in Hunstanton!
I also love the beaches in northern Spain particularly those between Isla and Noja. There's cliffs you can climb up on and get great views of the sandy sweeping bays and in the summer its perfect for a spot of sunbathing or surfing!
That Backpacker
I like my beaches to be unique and varied. If I had to choose my top 3 I would go with:
1) Cayo Coco, Cuba for warm crystalline waters and powdery shores that stretch on for miles,
2) Dead Sea, Jordan because you can't beat covering yourself in mud and then floating around with no effort, and
3) Ipanema Beach, Brazil for its buzz and postcard perfect slopes in the horizon.
The Boho Chica
1. Zighy Bay, Oman The private beach of the Six Senses Resort in Zighy Bay, Oman is one of the most beautiful beaches I've been to. It really feels like it's in the middle of nowhere (and it is) and you can swim, kayak and stand-up paddle board here. As it's only open to guests of the resort, it's very quiet and private, and is the perfect getaway.
2. Railay Beach, Thailand Railay in Krabi is known as one of the best beaches in Thailand and today it sees an increasing number of tourists in the summer. I visited several years ago and in winter, and had a long stretch of the beach just to myself for an entire afternoon. The water was so clear I could see all the way to my feet. I loved looking out across at the karst formations rising out of the sea.
3. Psarou Beach, Mykonos, Greece This was my favorite beach in Mykonos and it wasn't too crowded, being a little far from Mykonos Town. It's got a nice vibe with an afternoon party that happens at a trendy restaurant N'ammos right on the beach. The color of the water is incredible- it's this vast blue expanse flanked by hills on one side and white Cycladic buildings on the other.
The Constant Rambler
1. Maracas Beach in Trinidad (where Lauren is from) is a gorgeous beach with crashing waves and white beautiful sand. You can see the colorful fishing boats lined up against the shoreline with nets draped over them just waiting to go out. You can sit and sip a beer and enjoy a Trinidadian delicacy of Bake N Shark while you watch the tides go in and out.
2. South Beach (Kenin is from Miami) is our favorite beach for people watching and drinking fancy cocktails. The sunrises on South Beach are out of this world. Going to South Beach always gives us a sense of going home.
3. Marina, California would have to be our 3rd pick. The beach was not what put this on our list though. This is the fist beach where we saw seals in the wild. We also saw a whole family of sea otters playing here. This beach is gorgeous, but the wildlife is really what puts it on the map for us.
The Planet D
We love beaches and have been lucky enough to visit many beautiful ones around the world. It's the beaches with character or something unique that really stand out to us, so when it comes to choosing we'd have to go with Fraser Island in Queensland. The 75 mile beach is one of the most amazing sites we've ever seen. Having just come back from that trip, it's fresh in our minds and it's not only scenic, it's a great adventure to be able to drive along the dunes from top to bottom.
Our second choice is Koekohe Beach in New Zealand. Home to the Moeraki boulders, this beach houses fascinating formations of giant round boulders with patterns resembling a soccer ball. Scientists say they were formed by muddy sediments slowly forming the boulders thrugh erosion and wave action. We just think it's aliens.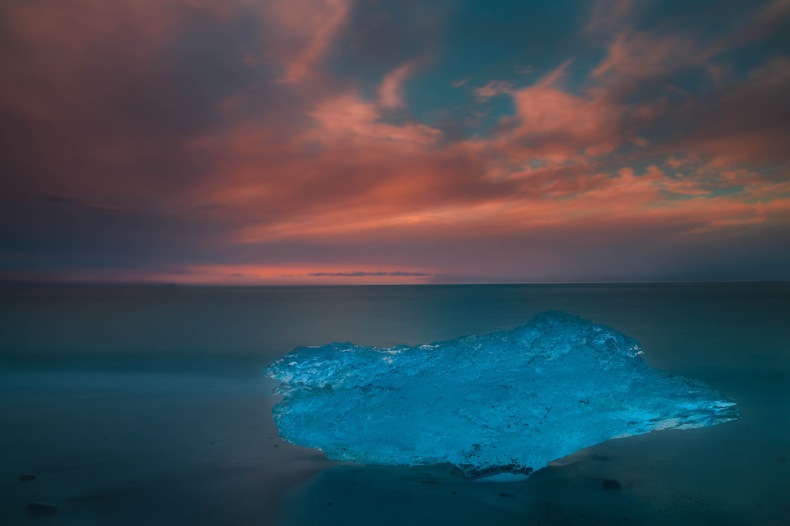 And finally the beach at Jokulsarlon Glacier Lagoon in Iceland [photo above] is one of the most fascinating beaches we've ever visited. It is there the icebergs crash against the waves and wash up on shore. The blue ice is in stark contrast to the black volcanic sand on the beach making for a magical view.
The Quirky Traveler
1. Boracay in the Philippines – I visited this island in the 80s and stayed in a little shack right on the beach. Every morning our breakfast was tied to a palm tree outside the hut, we swam and relaxed on soft white sand and it stays in my mind as the quintessential desert island beach
2. Myrtiotissa beach on Corfu – this was a real 'hidden gem' years ago, only accessible on foot, scrambling down a cliff, a tiny slip of sand and rocks with a little waterfall tumbling down. There's a road down to it now so it's much more accessible
3. Southport Beach – totally biased as Southport (Merseyside) is my home town. The beach is very long, the tide goes out over a mile, you can drive on it though it's not good for swimming as water is shallow. There's a Pier plus Victorian Pleasure Gardens and a Marine Lake for boating. There's also a fairground next to the beach – perfect fun for all ages.
The Travel Tester
Scheveningen Beach, The Netherlands - The city of Den Haag (The Hague) is the only Dutch city located directly at the ocean and they couldn't have picked a nicer spot for themselves, really. Since the 19th century, Den Haag's district Scheveningen grew from a fishing village into a bustling tourist destination and with a grand new boulevard by the hand of Spanish architect Manuel De Solà-Morales, it's now the place to be for fresh air and lots of fun seaside activities in The Netherlands.
Senigallia, Italy - The east coast of Italy is known for her many seaside resort towns, but none are so lovely (and so popular) as Senigallia. Even if you don't rent a sunbed at one of the hundreds 'bagni's', it's just great walking or cycling the 13km long coast line and peeking past rows and rows of vintage wooden beach houses onto golden 'Velvet Beach'.
Brighton Beach, England - Sure, a beach made completely out of pebbles doesn't make for the best sunbathing (the fact that it's located in the South of England also doesn't help much with that), but if Brighton was the first choice for royalty in the 18th century, there must be something nice about it, right? The main attraction is the large Palace Pier lined with thrilling rides, games, bars and restaurants, but also don't miss a visit to the Royal Pavilion and a stroll along the boulevard to pick up some delicious seafood at Jack & Linda's Smokehouse.
Tips for Family Trips
1. Outer Banks, North Carolina. The Outer Banks is over 200 miles of family-friendly beaches that has East Coast residents returning year after year for family vacations. We love to surf and body board and catch ghost crabs at night. I don't repeat travel often, but I keep going back to the Outer Banks.
2. Elbow Beach, Bermuda. I fell in love with the pink sand on Elbow Beach, Bermuda the first time I dipped my toes in. Crushed corals give a pink tint to the sand on this spotless beach that can be reached on a two-hour direct flight from the East Coast. Elbow Beach also makes my list because there are beautiful reefs just off shore and you can snorkel from the beach and see great marine life in the clear, turquoise waters.
3. Ngarunui Beach, Raglan, New Zealand. I could have picked one of the many black-sand beaches, but I loved the day I spent on this one. My husband surfed in the mild waves while I chased my toddler through the very gentle surf. This beach has such a gradual entrance we felt like we could run toward the ocean for miles. You can't go wrong with any of the beach in New Zealand, but this is one of the most beautiful.
Travel Dave
Koh Phangan is one of the most popular island destinations in Thailand due to the full moon party held every month on Haad Rin Beach, why not hop on over to the other side of the island to discover the more laid back beach location of Haad Yao.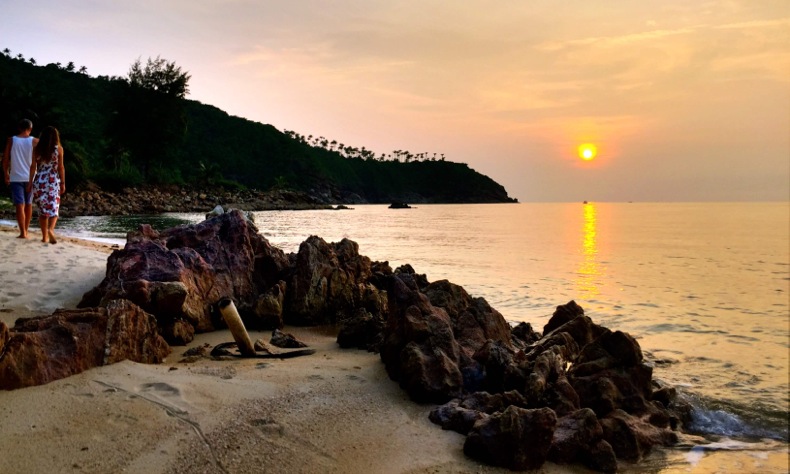 Haad Yao is my favourite beach location across the globe as it simply has everything you would want from an awesome local beach such as affordable beach bungalows right on the beach itself, the best massage huts looking at the ocean and some of the best fresh hand made coconut shakes you can find in Thailand. Many of the close by bars offer affordable snorkelling rental with loads of coral and sea life to explore as well as the perfect location to enjoy a incredible Koh Phangan sunset. Enjoy Haad Yao!
Travel Experience Live
When I think back about my previous trips, there are three beaches that particularly stand out from the rest. All three for various reasons.
The first one is the beach of Wineglass Bay in Freycinet National Park, Tasmania, Australia. That's arguably the most spectacular beach I've ever set foot on—it's also the only beach I've ever slept on!
Second is Banje Beach in Dubrovnik, Croatia, which has to be the most stunning city in southeastern Europe. The views from that beach of the Old Town of Dubrovnik are fabulous.
My third-favorite beach is Eggum Beach on the Lofoten Islands, Norway. This is especially memorable to me because it is located way north of the Arctic circle, yet it's a great beach for swimming and even surfing.
Traveling Canucks
1. Trunk Bay, St. John's, US Virgin Islands We visited the island of St. Johns while on a Caribbean cruise that stopped at St. Thomas. The beach is relatively easy to reach but you must take a ferry to reach St. Johns. The sand is a perfect silky white and the warm waters are a vibrant turquoise and deep blue - it's exactly the kind of Caribbean beach you've dreamed of.
2. Perhentian Islands, Malaysia Located on the northeastern coast of Malaysia, about 10 nautical miles off the coast, the Perhentian Islands are home to some of the most spectacular beaches on the planet. There are no roads on the two islands, so the islands remain relatively quite and undisturbed. We were able to snorkel with sea turtles and reef sharks only 30 feet from the porch of our wooden beach hut. Paradise.
3. Laughing Bird Caye, Belize This tiny island is located 11 miles off the coast of Placencia in the Belize Barrier Reef, the second largest reef system in the world and a designated UNESCO World Heritage Site. What makes this beach special is that it's on an uninhabited island, so visitors are treated to their own private island for the day. You can snorkel or scuba dive directly from the beach.
Traveling9to5
Ipanema, Rio de Janiero - This beach is full of life. From the moment you step onto it you can feel the Brazilian culture. With olorful umbrellas covering the beach, locals runing, walking and playing various sports in the sand, you won't ever want to leave.
Puerto Egas, Galapagos Isalnds - Here you share the beach with numerous sea lions who aren't afraid to come up and say hello. Jump in the water and you will be snorkeling with sea turtles and tropical fish. This beach is truly one of a kind.
Anakena Beach, Easter Island - This is by far the most picturesque and beautiful beach we have ever been on! You ofcourse have your fine white sand and crystal clear waters waiting for you, but here you have the famous moai standing tall on the beach behind you. Being on such a stunning beach, on Easter Island in the middle of the ocean is a surreal must see experience!
Traveller Soul
I have been very fortunate to have been able to travel around the world and have seen some amazing places, including soft-sand beaches in idyllic locations. Here are 3 must visit beaches to add to your bucketlist: Whitehaven beach on Whitsunday Island in Queensland, Australia. Playa El Mahual in La Libertad, El Salvador and last but not least, Playa Espadilla sur in Manual Antonio Park, Costa Rica. They have made a long-lasting impression on me and i would go back there in a minute!
Travelling for Fun
Copacobana, Rio de Jainero - Probably the most famous beach in the world lived up to it's billing for me. It wasn't that the sand was perfect it was the setting. In the middle of the city with the Sugarloaf and Rio behind you. Amazing!
Galapagos - Any beach here. Seals, iguanas, boobies (the blue foot kind), turtles need I say any more?
Streedagh Beach, Ireland - Being Irish I may be biased but this sandy beach that is several kilometers long onto the Atlantic is great. Whether on the few sunny summer days surfing or the wild storms in the winter it is one of my favorites.
Travels of Adam
Gokarna Beach in India — South of Goa, the beaches of Gokarna are significantly less crowded, less touristy and infinitely more calm and peaceful. A perfect place to escape from the world.
Bamboo Island in Cambodia — Most people don't consider the beaches of Cambodia when traveling there, but the islands there are largely less developed than neighboring countries and often just as beautiful.
Manuel Antonio in Costa Rica — One of Central America's most beautiful beaches, located in a national park where you can spot monkeys and raccoons alongside tourists and locals, all sharing the pristine waters and beautiful sand of the beach.
Travel with Bender
Sarakiniko, Milos, Greece The only way to describe this beach is a barren moon landscape. The white wind-eroded rocks created smooth curves and long lines in a vast contrast to the light blue of the Mediterranean. Arguably the most beautiful beach in Greece.
Boracay, Phillipines Voted one of the best beaches in Asia and the 2nd best beach in the world by TripAdvisor you know this beach is one you just have to visit on your travels. White sands, turquoise water and convenient beach side restaurants that go for miles, where your feet never have to leave the sand.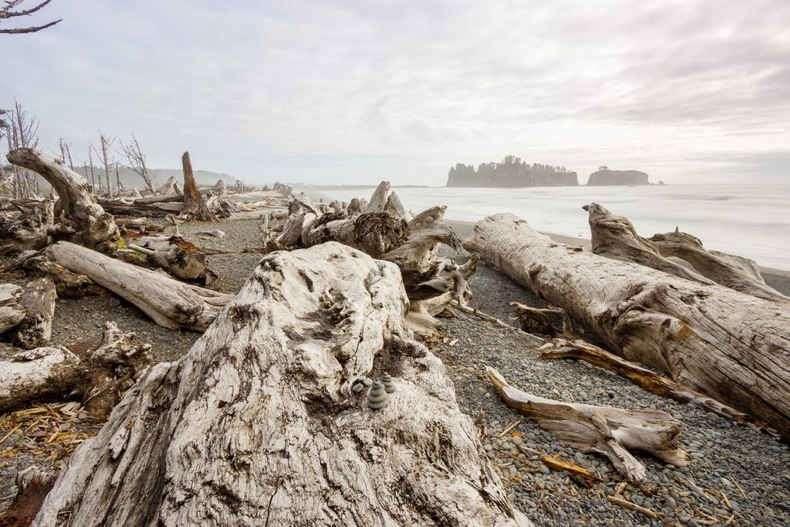 Rialto Beach, Washington, USA Not well known for sun baking, but more for it's other-worldness. We voted this one the freakiest beach we have ever been to. It's a coastal forest with a spooky tree graveyard littering the shoreline.
Bonus: Maho Beach - A must visit beach for everyone. Low flying planes come in for a landing right above the beach and you can stand there and almost touch them!
Twenty Something Travel
It's really hard to pick but I would have to say Castaway Island in Fiji is the most tropical and perfect beach I've ever seen. I also loved the beaches in Ko Lanta, Thailand and Sihanoukville, Cambodia.
Two Monkeys Travel Group
We've been to a few beaches in the past couple of years and we never get tired of white sand and clear blue water! Our favourite beaches this year have all been in North and Latin America.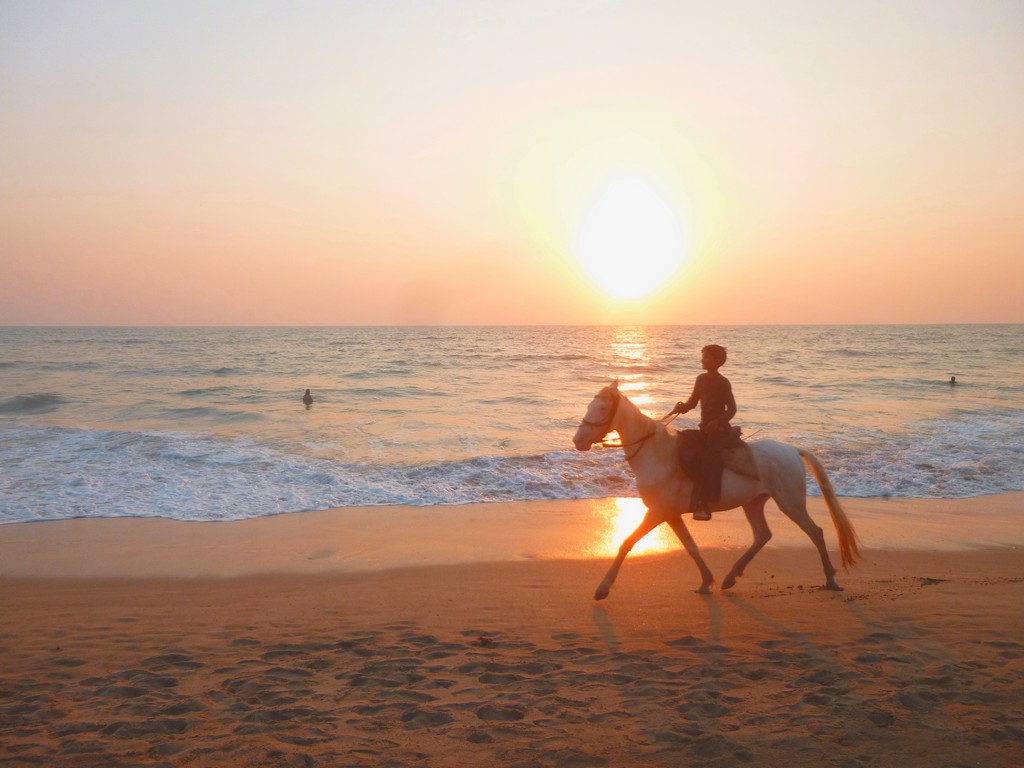 We started our year well, with a sail boat trip to the San Blas Islands, desert island paradise with nothing but palm trees and fresh seafood, where we got engaged! On a recent trip to Florida, we made stops at Sanibel and Naples, both amazing in completely different ways. Naples the more affluent and luxurious location, where you can walk out of your 5 star hotel and go paddle boarding amongst the alligators. Sanibel is a little more reserved, with a low key, beach hut style about it, and more budget friendly options. Both have incredible beaches, with white sand, clear water, nature and wildlife all around, in every direction.
Uncornered Market
Shoal Bay Beach, Anguilla -- wide, white sand, and ranging blues -- lives up to the hype of being the best beach in the Caribbean and among the top five in the world.
Tulum – often among or at the top of "best of beach" lists in Mexico – also surprised us when we visited, particularly given its placement in the neighborhood of the heavily trodden.
Finally, we'll land in Thailand, where we visited a host of beaches, especially in our early travel days. We'll give a nod to Koh Lanta, which at the time was not much of a party spot, but the laid back that we were looking for while traveling and working on the road.
Vagabond Way
Champagne Beach in Vanuatu - the white sandy beach cupped into an teal blue bay with green mountains raising around it. Stunning.
The Boulder Beach Penguin Colony in Table Mountain National Park, South Africa. No where else have been able to be in a penguin colony like this! A must do experience.
Cable Beach in Broome, Western Australia. With miles of white sand against a red ochre cliffs, take a hike and then grab a blanket to watch the sunset at this spectacular location.
Velvet Escape
Whitehaven Beach (Queensland, Australia) is arguably the most visually-breathtaking beach I've ever been to. The beach forms a wide arc with an inlet on one end, with sand so white, you'll need your sunnies to protect your eyes from the glare. The sea is an astounding spectrum of turquoise and blue. The sand on the beach is said to be 99.9% silica, some of which was used to make the lens on the Hubble telescope. The sand, which always feels cool even on a hot day, has a very compact structure, kind of like moist salt, and when you walk on it, the sound of each footstep is similar to the barks of seals. Blue-spotted stingrays, baby sharks and schools of colourful fish can often be seen swimming close to the shoreline.
The Perhentian Islands in Malaysia are another favourite of mine. The islands are often included in 'most beautiful islands in the world' lists and it's not hard to see why. My favourite stretch of white sand is Long Beach on Perhentian Kecil ('Little Perhentian'). The colours of the water, ranging from emerald to turquoise, are simply stunning. Large rocks, visibly covered by corals, pierce the surface of the glass-like water whilst at the water's edge, elegant palm fronds poke out of the dense tropical jungle. The water harbours a rich variety of corals and marine life, from clown fish to turtles.
Another of my favourite beaches is Le Morne on the southwestern tip of Mauritius. This glorious stretch of soft white sand fronts a shallow lagoon (which is one of the best places on the island for wind and kite-surfing). Due to its sheltered location, the crystal-clear water is calm and perfect for swimming.
Wanderluce
I love a beach with a difference like the volcanic black sand beach in Lovina, Bali. It's beautiful, and due to the, ahem, slightly older profile of tourist -- quiet too! Palolem beach in Goa is also a little quirky, especially if you like your waves thundering and your sun-spot with a side of calf.....cows regularly perch up alongside you on the beach. It's kinda magical. Truly, though, nothing beats Freedom beach in Koh Tao. It is without question, my favourite beach in the universe. With trees adorned with shells growing out of the sand, and an amazing rasta bar perched up high -- this was my go-to beach when I lived in Koh Tao.
Wildjunket
1. Any beach on Tivua Island, Fiji. Tivua is an uninhabited island near Nadi, the capital of Fiji. Despite its proximity to civilization, it's still relatively remote and untouched, with pristine waters perfect for swimming.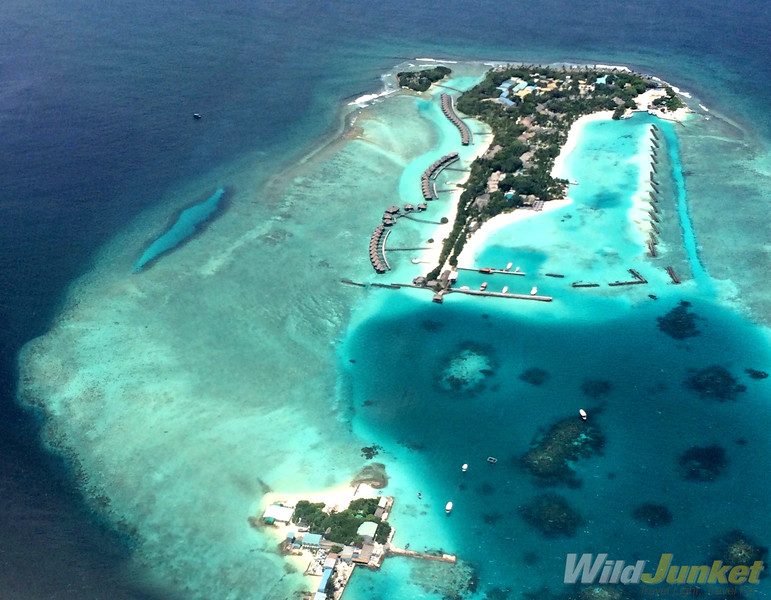 2. Furanafushi island, Maldives [photo above]. This island is home to the Sheraton Maldives and is fringed by spearmint water and coral reefs. You can swim off any beach on the island and you'll find transparent clear waters with manta rays and nurse sharks swimming around you.
3. Tortuga Bay, the Galapagos Islands, Ecuador. The Galapagos are definitely my favorite place in the world to see wildlife - but besides unique creatures, it's also home to some of the most beautiful beaches I've seen. The best on the island of Santa Cruz is Tortuga Bay where you can lay on the powdery white sand and swim with water lizards or sea lions.
With Husband in Tow
We spend most of our time in Southeast Asia, a region known for its beaches. When it comes to the best beaches, though, it depends on what we're looking for.
In Thailand, sometimes we are looking for a bit of excitement and a great Sunday Brunch. In that case, we head down to Koh Samui for a weekend. It's the best place to unwind in a luxury villa. We also lived in Bali for 18 months, and as much as people love to go to Bali for the beaches, there's only one beach that I enjoy there. Although Nusa Dua is the most resort-filled area of the island, has the best beaches on Bali if you want to just lounge around. But, the absolute best beach we've ever experienced in all of Southeast Asia is in Myanmar. It's not a well known area, but it will be, once people realize how amazing Ngapali really is.
Y Travel Blog
Railay Beach, Krabi Thailand. I've heard it's a lot busier now and a tad spoilt, but when I first visited in 1999, Railay was the beach of my dreams and I fell in love. You had to walk through a cave to get there and it was so serene and stunningly beautiful. Our days were spent rock climbing, swimming and snorkelling, and lazing about on the beach. Heaven.
Whitehaven Beach, Queensland You've probably seen a million pictures, yet nothing prepares you for how stunning this beach is with its pure silica white shifting sands and turquoise water.
Nungwe Beach, Zanzibar Island Wow! Water so luminous it hurts your eyes! Nungwe Beach is super chilled, yet gives you options with seafood restaurants and a couple of bars on the beach and a few games of afternoon beach volleyball. . It's a magical place to do nothing but play. Sunset is the magical time when dhows sail across the brilliant red orb as it dips below the horizon.