New Year, New Hobby: Essential Tools For Getting Started With Woodwork
A new year's resolution or hobby is pretty commonplace today, people generally look to improve their health or learn to do something new. We've spent this January considering woodwork as an exciting new hobby but it can be difficult to know where to begin.
For starters, you will need some tools to make any headway and space to do the work. We've been doing a little research and have put together a helpful list of essential tools you'll need to get the ball rolling. We hope this helps you with your woodworking journey. We've taken inspiration from The Weekend Woodworker who has been doing this as a hobby since he was 12 years old.
Table Saw
Table saws are sharp circular saws that are fixed to a stand with a strong motor that allows you to perform quick powerful cuts on a huge range of material. You're able to cut both straight edges and produce mitred edges for joining wood. You get lovely clean cuts because the fact that the saw is fixed into place makes it easy to feed items into it.
Evolution 1500W 240V 255mm Table saw R255MTS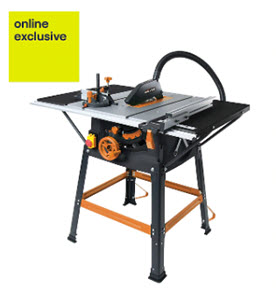 All of our power tools today have been chosen from B&Q as they have a fantastic range. The table saw we've chosen is this one from Evolution. It uses patented Evolution technology to allow you to easily cut through numerous materials with its 3250 rpm 255mm saw. It is corded and has an electronic braking system for peace of mind as well as a blade guard and a spindle lock. This great saw has a rating of 5 stars and is only £150 right now on the website. An absolute must for any new woodwork workshop.
Mitre Saw
A mitre saw is a specialized power tool vital in woodwork as it allows you to make cuts at many angles so you can join edges or make skirting. Compound mitre saws are fixed with a pivoting arm while sliding mitre saws slide back and forth so you can work on larger pieces of wood, plastic or metal.
JCB 1500W 240V 210mm Sliding mitre saw JCB-MS210-SB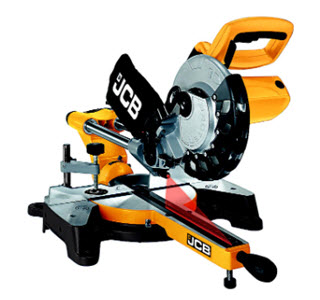 We've chosen a sliding mitre saw from JCB. We like it as it has a laser for more accurate cutting and 4 mitre cut settings. The blade runs at 4500 rpm making for an easy clean cut. The maximum cutting length is 220mm at 90 degrees. Again for safety, you have a blade guard and a spindle lock. This model is £110 at B&Q.
Random Orbit Sander
A random orbit sander is a handheld sander with a round sanding head that moves variably. They are used to produce a soft smooth finish to your woodwork.
JCB Corded 320W 230-240V Random Orbit Sander JCB-RO125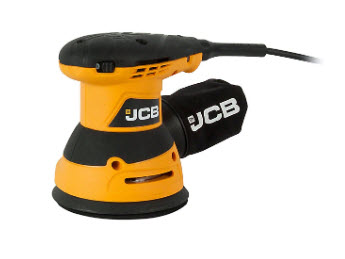 For the second time, we've chosen a JCB tool. Not only does it come with three different sandpapers and variable speed, but it also has great reviews and is fantastic value for money at just £35. It also has a dust bag for keeping it clean and the anti-vibration handle stops your hand and arm from becoming too tired.
Drill And Impact Driver
A combi drill and impact driver is an important tool that is used for making holes in materials or driving fasteners. Some also have a hammer function. A good quality drill is a great investment for your toolbox and will speed up many tasks.
Dewalt XR 1.3Ah Li-ion Drill driver & Impact driver 2 batteries DCK211C2-BQGB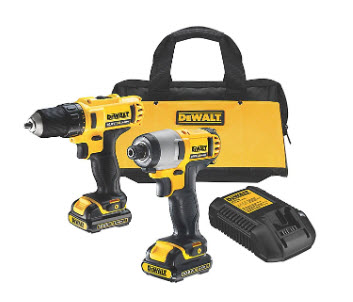 We've chosen a DeWalt drill and impact driver this time. It's a 3 in 1 kit that can be used on wood, metal and plastic. The drill head features 3 drilling functions, drilling, screwing and impact drilling. A huge range of bits are provided in this kit and can be easily interchanged to fit the task at hand. It has a maximum drilling capacity of 22mm in wood and 10mm in metal. It will cost you £130 and has 4.5 stars out of 5 on the B&Q website.
Jigsaw
Jigsaws are needed for making smaller more detailed cuts. There are handheld and include a small straight-edged saw blade which smoothly makes both straight and curved lines. A variable-speed function often makes the cutting even easier by enabling you to adjust for your needs.
Bosch 500W 240V Jigsaw PST 7200 E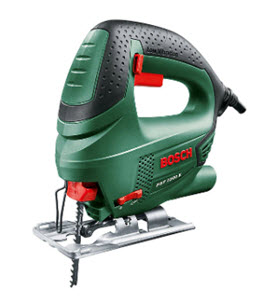 We like this Bosch jigsaw, it is such a reasonable price at just £37 and does the job just as well as some of the more expensive models. Its lightweight design makes it easy to handle with great accuracy and the maximum cutting depth for wood is 7mm in wood and 4mm in metal. You'll never run out of uses for this handy little tool.
Circular Saw
Circular saws are used to accurately cut sheet materials with a round blade and evenly spaced teeth. It's an important versatile tool needed for many projects. The blade spins around this handheld device making rip cuts, crosscuts and bevels.
Makita 1050W 240V 165mm Circular saw HS6601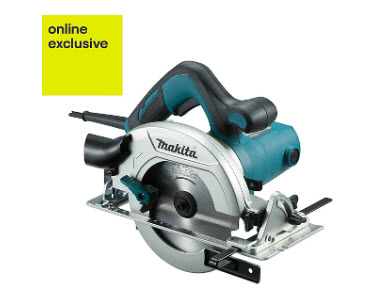 This Makita circular saw is the perfect choice for your home woodwork workshop. It is a compact saw at only 165mm which makes it less tiring to handle but will defiantly be sufficient for smaller home tasks. The saw goes at 5200 rpm and has a 54.5mm cutter depth at 90 degrees. Other bonuses are the depth adjustment and dust nozzle to keep everything clean. Perfect for all your woodworking needs.
On a side note, we feel the need to point out that all these tools can be both very dangerous and incredibly noisy. It is therefore important to ensure you have the correct safety gear on before you begin any tasks. At the very last safety goggles and ear protectors should be worn. You can also find these with B&Q and the prices start from just £1.50.
We hope we've helped you get your head what you'll need before you head out on your woodworking journey. Make sure you check back with us before you buy anything as we get voucher codes and offers coming in all the time and you never know how much you could save if you head to the checkout at the right time.