Pierre et Vacances: February Half Term And Early Summer With Your Family
Having a ski trip to look forward to in the February half term is a great way to take the edge off the first 6 weeks of the year, which are usually dark and cold and filled with a gloom after the bright lights and festive cheer of Christmas and New Year.
The entire family will be eagerly awaiting the day you leave to finally hit the slopes, dreaming of the fun and crazy antics in the snow, it's a great bonding experience for both the young ones and the old ones. We've got excited this week and have had a look at some of the offers Pierre et Vacances currently have.
Premium Residence Les Fermes du Soleil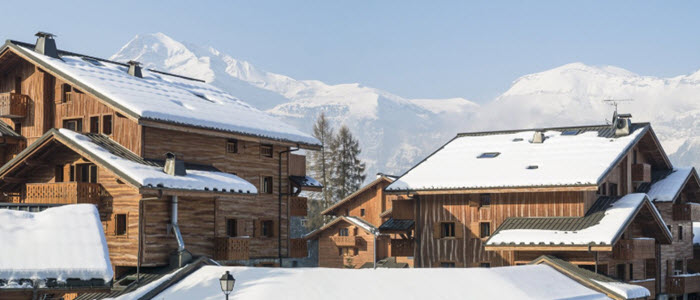 Our first chosen residence is the fabulous Fermes du Soleil which is located high up in the Alps on the family-friendly Carroz d'Arâches resort. This resort is nestled within an authentic French village giving you a real taste of life up in the mountains. Each chalet is constructed of wood and designed so it blends into the environment perfectly keeping the atmosphere.
The resort has all the modern facilities you'd want and more including a well-being centre, deep nature spa treatments on offer, indoor pool, sauna, whirlpool and most importantly pets are even welcome. The communal cabin features a roaring fireplace that is always on the go welcoming and warming you as you return from a day outside in the snow. You can book a cabin for February half term for four people and 7 nights for just £1923 now!
Residence Plagne Lauze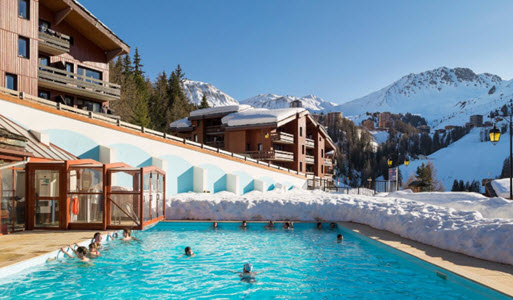 The Residence Plagne Lauze is located just 250 metres from the slopes at the very heart of the popular Paradiski ski area. The resort is built so it resembles a Savoy village and offers residents panoramic views of the beautiful snow-capped mountains and lush forest that surround it. Each morning you can take in the heated outside swimming pool and take in the stunning views before walking the short distance to spend the day enjoying exciting snow sports and other ski-themed entertainment. Kids can enjoy time at the nearby crèche leaving parents free to enjoy a bit of adult time.
Pierre et Vacances have 5 chalets on this resort, the resort itself features a well-being centre with sauna and spa facilities, as well as a squash court and games room complete with wooden games. Sledges and snow scooters are also available with activities to keep kids entertained being put on during the holidays. All this is on offer for just £998 based on 2 people booking for 7 nights.
Hôtel Grand Pas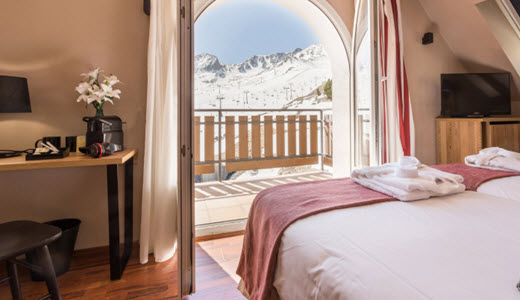 Hotel Grand Pas is located even closer to the slopes at just 50 meters away from the Grandvalira ski resort. The hotel feature 99 light and airy rooms, each with its balcony and view of the Pyrenean Mountains. There is also a dedicated space for the children to have fun and be taken care of, giving the adults the freedom to enjoy the fantastic skiing facilities as well as the wellbeing centre and indoor pool.
Breakfast is included in the price of the rooms so this takes another worry off your mind and for lunch and dinner there is a fabulous buffet restaurant located on-site. You can book activities such as snowshoeing, dog sledging and even igloo building. Book now for February half term and you'll 10% off this wonderful hotel. A 7-night stay in a standard double room is now £1546 down from £1718.
Premium residence Les Terrasses d'Eos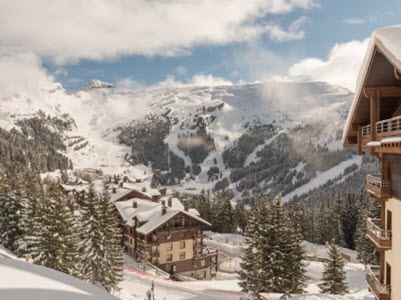 Les Terrasses d'Eos is a 5-star resort located above Flaine in a glorious spruce forest. The apartment accommodation is located a short 15 mins from the resort centre where you'll discover a whole host of activities for the entire family. Come with your family this February half terms and the kids can live their best lives at Ski school while their parents enjoy some much-needed adult time on the slopes.
The resort also features both indoor and outdoor pools, a hot tub, sauna, well-being centre and Deep Nature Spa. Kids will be well taken care of, taught to ski, given lunch and even entertained in ski school. They'll have the time of their lives. Book one of these outstanding apartments today for only £2672 for 4 people to stay 7 nights. That's such a bargain for such a treat.
Residence La Rivière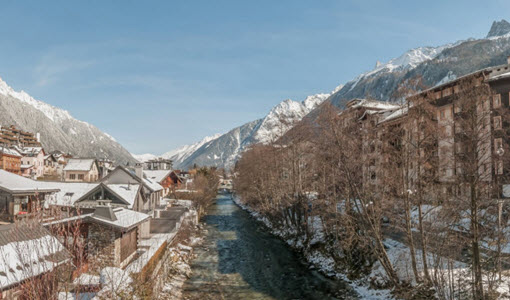 Our last choice is the Residence La Riviere, which is located close to both the resort Chamonix and the town Chamonix. This is right the base of the glorious Mont Blanc. You'll find yourself just 300m from the Aiguille du Midi ski lift and close to the shops and walkways of the town. The accommodation is a collection of stunning apartments some of which can house up to 7 people.
Whilst you stay you can enjoy many fun activities such as ice hiking, helicopter and hot air balloon rides, paragliding, ice skating and dog sledging and that without even considering all the fun to be had on the slopes. The resort centre has a well-being centre and a swimming pool for relaxation.
Book an apartment for 4 people for 7 nights now with Pierre et Vacances and save 10%. This puts the price at £890 when it should be £989. Another fantastic offer to book and have the whole family look forward to this New Year.
Each of these holidays and prices are based on a booking for February half term between the dates of 15/02/2020 and 22/02/2020.
If you don't fancy a February holiday then you can also save up to 30% off summer holidays if you book right now! This is for holidays booked between April and October and again there are some fantastic offers and huge savings to be had.
Residence Asterias Village Resort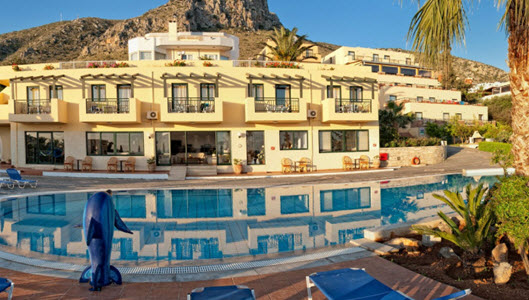 This first summer resort is a large lively place which is very popular with families. You can save 20% when you book for a family of three for 7 nights, this takes the price from £620 to just £498. It's located in Petraki, Greece and the facilities include an outdoor swimming pool and half board basis.
The beach is just a short 2km wander away and there is also a golf course 7km from the site. Other activities include a nearby waterpark that provided fun for the whole family with slides and a wave pool. The surrounding towns are filled with bars, restaurants and cultural sites that you won't want to miss!
Premium residence Regency Country Club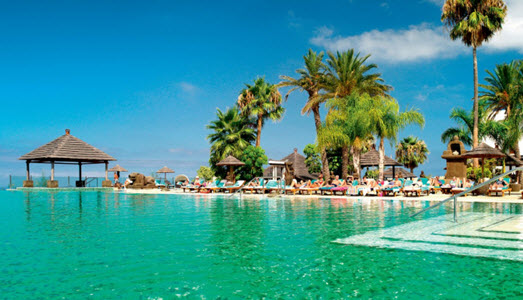 The Regency Country Club is another hugely popular resort available from Pierre et Vacances. This one has four stars and is located in Chaoyfa, Spain just a 5-minute drive from the stunning Los Cristianos beach. Book now for summer and you'll save a whopping 30% taking the 7 night stay down from £1174 to just £822.
The resort features an outdoor pool with children's pool, whirlpool, sauna, well-being centre and a half board basis. There is also a fabulous entertainment program that runs day and night all year round so you'll never have a dull moment. Check out this wonderful resort today!
We hope you've taken a liking to one of these resorts but if you've not been convinced there are so many more options on the website for you to look at. Have a browse today and save up to €500 when you book a half-term family treat or up to 30% when you book your early summer holiday with Pierre et Vacances.