Five Interesting Places To Visit And Stay In A Premier Inn
While going abroad on holiday has many appeals, not least the weather, there are so many hidden gems right here in the UK that are on our doorstep just waiting to be explored.
What's more, there are more than 800 affordable Premier Inns across the UK and Ireland, waiting with open doors, comfy beds and a fantastic full English breakfast, just waiting for you to book in and enjoy the hidden local gems.
Why book with the Premier Inn?
Other than the fact there are more than 800 hotels dotted around the whole of the UK and Ireland, meaning pretty much no matter where you head off to you are within driving distance of one, the chain is well known for their spacious hotel rooms and king-size Hypnos beds – one of the best we've stayed in over the years.
The Premier Inn also partner with some of the best restaurant chains around the UK to provide the very best food and drink too, including Thyme, Brewers Fayre, Beefeater, Table Table and Whitbread Inns.
And with rooms starting from just £35 and kids under the age of 16 staying free, you'd be silly to not consider booking a Premier Inn hotel for your mini break within the UK.
Where do you start when wanting to book a mini break in the UK?
Whether you're looking for hidden beaches, rich history and culture, a spot of shopping or an adventure along the way, you don't have to look far to find the gems that are right here in the UK.
We've gone through many recommendations, locations, offerings and more to compile the below list of five areas in the UK to visit and explore, all with the option to be able to stay at a nearby Premier Inn in order to keep the costs down and not break the bank, allowing for more money to spend on the experiences and memories…
St. Austell, Cornwall Premier Inn: St. Austell Hotel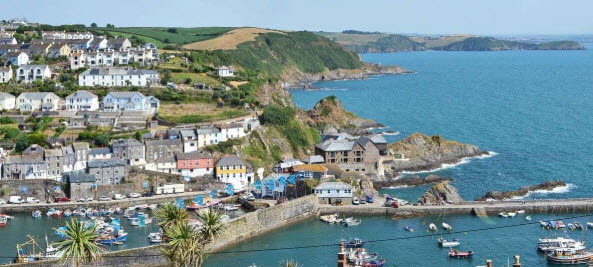 First and foremost, we can't talk about a visit to St Austell without talking about a visit to the Eden Project; a great day out for singles travelling alone, couples wanting to explore and families looking to entertain kids of all ages.
Nestled in a huge crater, the Eden Project is an educational charity that was set up with the aim to educate and work towards a better future. Large Biomes house the largest rainforest in captivity,
providing entertainment, concerts, educational sessions, exhibitions, contemporary gardens and more all year round for tourists to visit, bask in and learn from.
Ticket prices vary from free (for children aged 0 to 4) and £28.50 for an adult, while a ticket for a family of four costs £75; but book online in advance and you can save an extra 10%.
There are many other great reasons to visit St Austell specifically; not least that it's one of the largest towns within Cornwall, but it's ideally situated. Bodmin, Truro and Falmouth are all within 30km of St Austell (less than 19 miles),
It's also just a little over half an hour to visit the Roseland Heritage Coast in Padstow – a National Trust peninsula that's made up of cliffs, beaches, woods and creeks. In a bid to get the community involved in preserving the beauty of the natural land, the area regularly hosts beach cleans where tourists and locals can do their bit for the local ecosystem, for local tourism and for the planet.
For those hoping to see a little sea life in its natural habit, being so close to the sea in all directions has its advantages. A little over an hour away, a drive down to the coast of Porthgwarra offers opportunities to see dolphins between the months of April and November, and seals and their pups can be spotted near Falmouth, especially during August.
Belfast Premier Inn: Belfast City Cathedral Quarter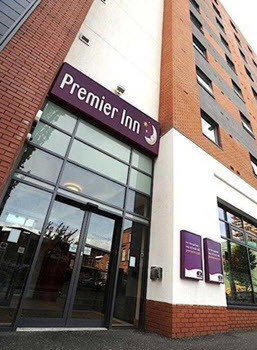 Before delving into the hustle and bustle of Belfast's lively nightlife, your first stop has to be Titanic Belfast, and among that you should prioritise taking part in the one-hour award winning self-guided walking tour that gives you the chance to walk where the men who built RMS Titanic once walked.
Laid out across nine interactive galleries, and taking on average one and a half to two and a half hours to get through (although you can stay as long as you wish, within opening hours), tickets vary from free (for children aged 0 to 5) to £19 for a general adult admission ticket – although families can expect to pay a reduced rate of £46.50.
There are different experiences that you can book onto when visiting Titanic Belfast too, for those who wish to divulge in more history and culture, including food tasting hours and musical afternoon teas.
Delve further into history by visiting Mount Stewart, the family home of the Marquesses of Londonderry, voted one of the top 10 gardens to visit in the world. As well as being the family home filled with much to see, there's also stunning gardens, a beautiful lake and lots of woodlands.
You can also take a free public tour around Belfast City Hall, first opened in August 1906; one of Belfast's most iconic buildings. Within the grounds, you can also visit many monuments and memorials, including the Titanic Memorial Garden, and night time the illuminations show the building in all of its grandeur.
If you want to immerse yourself into Belfast's vibrant nightlife scene, you must visit The Crown Liquor Saloon; a gem dating back to the Victorian era, a grade A listed building and the only pub in the UK owned by the National Trust.
Galloway Forest Park, Scotland Premier Inn: Ayr A77/Racecourse Hotel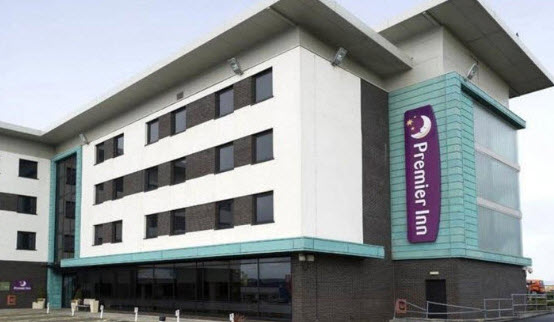 Britain's largest forest park and named the UK's first Dark Sky Park, the Galloway Forest Park was established in 1947 and is often referred to as 'The Highlands of the Lowlands'.
While there are many things to see and do within the park, such as swim and cycle, walk, hike or drive through the forest and visit any of the three visitor centres, the true gem and key attraction is the opportunities for stargazing. It's estimated that, on a clear night, there are more than 7,000 stars and planets that can be seen with the naked eye; but more than that – you can see the bright band from the Milky Way.
Additionally, you can book in to visit the Scottish Dark Sky Observatory, which features a 20" Corrected Dall Kirkham telescope, set in a 5-metre dome, with an additional 14" Schmidt-Cassegrain telescope available for those looking for a more hands-on, open air experience observing the sky. Prices to book in, explore and look through the telescopes vary from £10 (for children aged 4 to 16) to £16 for adults.
What's more, the Northern Lights can quite often be seen as far down as Scotland, although it's hit and miss whether you will see them – it's not something that occurs on set dates and at set times. If you're fortunate enough to see them, you're in for a great night. But if not, the Milky Way alone is something to add to your bucket list.
During the day, as the stars aren't yet visible, you can also visit the Red Deer Range, where you can witness roughly 60 red deer living in their natural habitat, and for the bird spotters, there's plenty to see when you look up, including buzzards.
Bath Premier Inn: Bath City Centre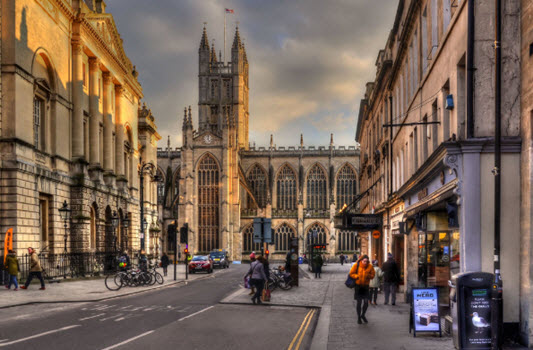 Founded by the Romans who turned the natural hot springs into a thermal spa, Bath played a pivotal role in the wool industry back in the Middle Ages, and by the 18th Century, under the rule of George III, the city was developed into an elegant destination with neoclassical Palladian buildings that were designed to blend in with the Roman baths.
There are many Roman remains to be seen throughout Bath, but you definitely need to add a visit to the Roman Baths museum to the top of your list. At the heart of the City of Bath World Heritage Site, the Baths remaining incredibly well preserved for one of the greatest religious spas of the ancient world, and the city's thermal springs still continue to rise through the site.
The museum collection also allows tourists to walk on original Roman pavements, visit the ruins of the Temple of Sulis Minerva and get up close to the gilt bronze head of the Goddess Sulis Minerva.
Once you've done all the exploring you can manage, head on over to Thermae Bath Spa, set within a Grade I listed building, offering thermal baths, a variety of spa treatments and packages, as well as an open-air rooftop pool that offers the most stunning views of Bath and the surrounding hills.
Finally, if you decide to go to Bath in the lead up to Christmas, you MUST visit the Bath Christmas Market, an award-winning Christmas market that can be found within the city for 18 days (between November 25 and December 15th), attracting an estimated 400,000 a year. Featuring roughly 150 chalets offering food, drink, handmade presents, jewellery and much more, there's something for everyone. The site opens at 10am every day, closing between 6pm and 8pm, depending on the day of the week.
Stratford-upon-Avon Premier Inn: Stratford Upon Avon Central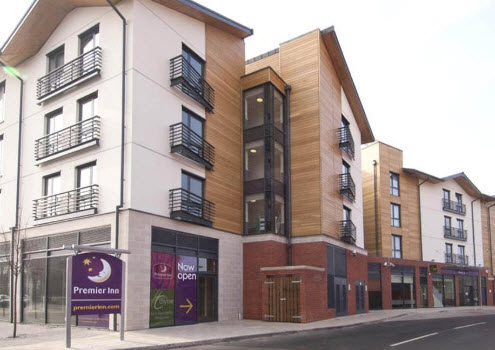 Shakespeare is an English poet and playwright who lived between 1564 and 1616, known the world over for the likes of Hamlet, Romeo and Juliet, Macbeth and Othello, to name but a few. Shakespeare was born in Stratford-upon-Avon and people travel from all over the world to visit the town, with the aim of visiting Henley Street where he lived. Charles Dickens, Thomas Hardy and John Keats are all known for making the journey themselves, along with between 2.5 million and 3 million tourists who also visit each year.
It doesn't end there though; also in Stratford-upon-Avon you can visit the cottage that Ann Hathaway once lived in. Not much is known about Ann, other than she was the wife of Shakespeare and the cottage was home for 13 generations of her family up until 1911. While not much is known about Ann, the cottage give a glimpse as to what life was like during the 15th century, and features stunning gardens spanning nine acres, woodlands, orchards and a sculpture trail featuring sculptures inspired by some of Shakespeare's most famous plays.
Both of these buildings are owned by the Shakespeare Birthplace Trust, who also own Shakespeare's New Place, Hall's Croft and Mary Arden's Farm. Anyone wishing to visit can purchase a 'full story ticket' for between £14.50 (for children) and £22.50 (for adults), offering visitors unlimited visits to all five properties spanning a 12 month period from when the tickets are purchased. Considering tickets to visit just one property just the once vary from between £5.50 and £17.50, we definitely recommend you purchase the 'full story ticket' and gain access to all five properties, even if you just visit the once – you'll be making huge savings.
If you're going to travel to Stratford-upon-Avon for the sake of visiting the birthplace of Shakespeare, you can't then not attend the theatre, whether you're there to see a play put on by the Royal Shakespeare Company or not. We highly recommend a visit to The Attic Theatre; it's the oldest theatre space in the town and can be found in a 15th century timber yard, Cox's Yard. Home to Tread the Boards Theatre Company, it's also been named the top fringe theatre in town. Many plays have been performed here over the years, including Pride and Prejudice, Alice in Wonderland, The Importance of Being Earnest, and some of Shakespeare's plays too, of course.