Spring Wedding Cakes Made To Order From M&S
If you find yourself reading this then I imagine congratulations are in order? A show-stopping wedding cake is such a vital part of the day, it looks fab when placed at centre stage during the wedding breakfast and is great for giving to the guests as a take-home after all the celebrations are over. It's the choosing that can be hard.
Gone are the days of the pure white iced fruit cake decorated with flowers, although you can still have that if true tradition is your ideal, today you can choose from classical or contemporary, iced or naked, quirky or romantic, sweet or savoury. Marks and Spencer have a wonderful collection of hand-decorated cakes for the big day and there is one to suit every taste. They are often made to order so it's best to book them now if you're getting married in the spring and haven't already sorted it.
We've been having a look at some of our favourite from the diverse collection. Do let us know which ones you like the look of? Perhaps you've already had a wedding cake from M&S if so was it any good?
Traditional
Blushing Rose Wedding Cake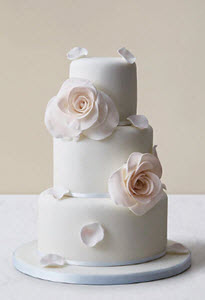 Our first traditional wedding cake is this elegant offering with a romantic full bloom rose design. Each delicate rose is a soft blush pink colour and there is also petals cascading down the tiers. The sponge or fruit cake is layered with buttercream and the three tiers will server 96 guests with no problem. You need to order with at least 21 days to go until the cake is needed and it will set you back by just £199, that's around £2 per portion.
Embroidered Lace Wedding Cake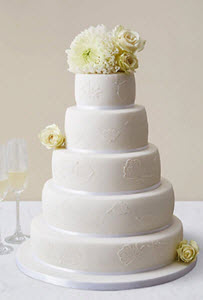 This impressive cake has five tiers, each a different flavour and is hand-decorated with exquisite lace flowers. The largest tier is your fruitcake with a layer of almond marzipan, then you also have a layer of vanilla sponge with buttercream, a chocolate sponge with a layer of chocolate ganache, lemon sponge with lemon buttercream and lastly a carrot cake with a layer of cream cheese buttercream.
All the tiers on this impressive cake will serve a massive 150 people and it will cost you £349 and again you need to order at least 21 days before you need it. That works out at £2.32 per piece.
Pink Shimmering Hoop Wedding Cake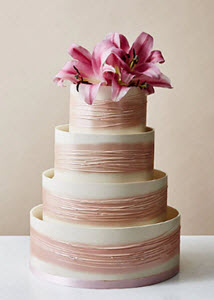 Our last traditional cake is this Shimmering Hoop wedding cake with chocolate sponge and chocolate ganache layer across four tiers. We love the look of this one, it's sweet and charming. The white chocolate hoops keep the cake looking sleek and tidy and the flowers on top give it a real flare. You'll feed 110 guests with this cake, its price tag is £249 which means each piece will cost £2.26. Again you need to order at least 21 days in advance.
Cotemporary
Naked Vanilla Wedding Cake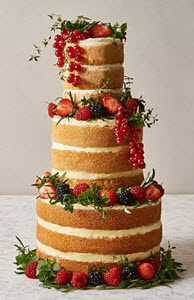 The naked cake has become a huge trend in wedding parties over the past decade, probably in part due to their versatility. You can set this cake up and then adorn it with whatever takes your fancy. Fruit, flowers, truffles can all be used to decorate this simple vanilla wonder. It has three tiers and will serve 42 people easily. At £125 for the whole cake that's £2.90 per piece.
Colin the Groom and Connie the Bride Wedding Cake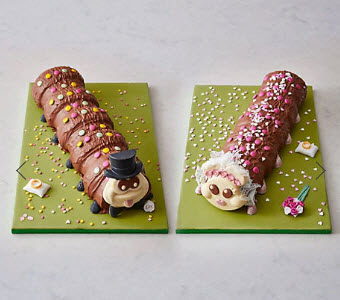 We have fantastic news ladies and gentlemen, Colin the Caterpillar has found himself a wife in Connie. We are all familiar the iconic Colin the Caterpillar birthday cake but now we can have him in wedding cake form and he's delightful. We love the little touches like the ring cushions and the bouquet. Each cake feeds 40 people so with the set you can serve 80 guests. They are great value as well at just £50 per cake so only £1.25 per piece.
Birdcage Wedding Cake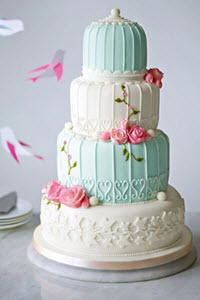 How gorgeous is this birdcage cake? It's another huge 4 tier cake with mixed flavours of fruit, vanilla, chocolate and lemon. All the icing is hand decorated and creates a cute birdcage design decorated with small flowers. This showstopper needs to be ordered at least 21 days before you need it and it will cost you £349 which makes each piece £2.32.
Savoury cakes
Tiered Celebration Pork Pie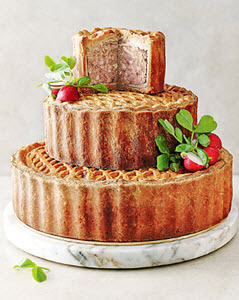 Another huge trend for wedding cakes has been a savoury cake. Great for people that just don't have a sweet tooth and if you're thrifty something like this giant pork pie could double up as the evening food for your big day. Made up of three tiers of hot crust pastry pork pie it will easily feed 30 to 40 people. Perfect as an alternative choice next to a regular wedding cake a pork pie and sure to be a talking piece. You only need to order this 5 days in advance and it will cost you £99.
Artisan Cheese Cake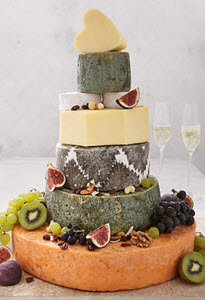 If you don't fancy a regular sponge cake or don't care for traditional fruitcake then why not go all out and get an artisan cheese cake? You guests won't be able to stop commenting on this impressive tower of cheese. To spruce it up you simply need to surround the cheese with fruit, crackers, bread, chutney and butter. We love the heart-shaped cheese that sits on top of the tower. It's made from all British cheese and feeds up to 120 people and is only £250, this is just £2.80 per serving. If you fancy a cheese towel but don't want to get rid of a more traditional wedding cake then there are smaller options that you can choose to go alongside a regular cake.
There you have it ladies and gents, we hope we've given you some inspiration for your wedding day and the type of cake you're after. There is so much more on offer if you don't like the look of any of these so remember to visit the website and search for yourself. You can also buy separate slice bars if you like a cake but have a couple more guests then the cake feeds as well as being able to order some taster cakes so you can try before you buy.