Top Bikes And Scooters At Halfords
Are you considering getting a new bike or scooter for Christmas or maybe the New Year? If you are then Halfords is a great place to start looking. They stock a huge amount of models for every type of cycling or scootering. Take a look on the website and you'll find bikes and scooters for the entire family, men's women's kids and baby seats for really little ones can go on the back and ride along too. You'll also find any number of styles from classic to model to fold up and even some electronic ones to make the ride easier.
We've had a look through some of the most popular cycles and scooters and have picked a few of our favourites. Stick with Halfords and you'll have found your dream vehicle and be riding away on it in no time. Have you recently bought a bike or scooter from Halfords? If so which one did you go for?
Pendleton Somerby Hybrid Bike - Midnight Blue

We've decided to begin this little selectin with a classic bike design from Pendleton. We love the midnight blue colour and traditionally shaped frame which makes it easy to get on and off. The leather seat is super comfortable and the 7 gears mean you will always enjoy an easy ride. Right now you can save £56 on the Halfords website
Voodoo Bizango 29er Mens Mountain Bike

This mountain bike is built for both speed and the smoothest ride possible. It has 11 gears and a system that makes a transition between them easy and effortless. We love the sturdy frame and red colour. Save £75 right now and bring home this bike for £650.
Boardman MHT 8.8 Womens Mountain Bike 2018

This adventure bike is a little pricier than some of the other offerings in this list, coming in at £765 but it is worth every penny. Its design allows for a more comfortable upright riding position and the 20 gears give you so much freedom when cycling on any terrain.
Raleigh Evo-2 Folding Bike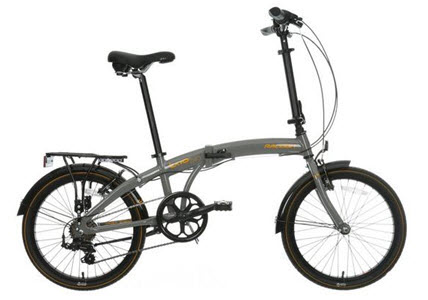 For those of you who need a more space-saving bike Halfords have a large selection of folding bikes. We love this grey one from Raleigh, it comes in a just £250 and folds up neatly to just 65cm high. If you journey to work includes a trip on public transport such as the tube then don't go anywhere without this lightweight cycle.
Boardman HYB 8.9E Mens Hybrid Electric Bike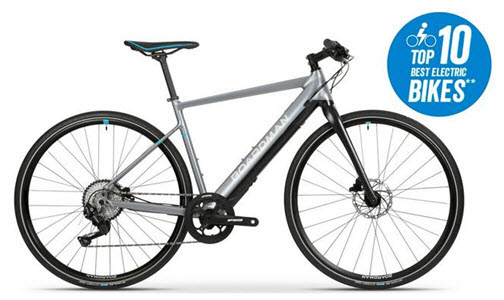 An electric bike can take the pressure long or all-terrain journeys, we think they're a great idea. This model from Boardman has been named one of the top ten electric bikes and is currently £1,980 which is a massive of £220. Download the FAZUA app and take advantage of GPS tracking, speed and the status of the battery.
Micro Speed Scooter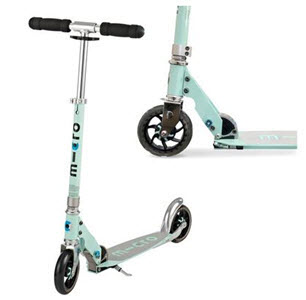 We love the colour and functionality of this mint green wonder. It features extra-large wheels for a smoother ride and folds right down for easy storage. It's lightweight so you can easily carry it around. The large footplate and shock absorbent for comfort and the adjustable handlebars means it can be altered so anybody can ride it.
Wired XL Electric Scooter with Seat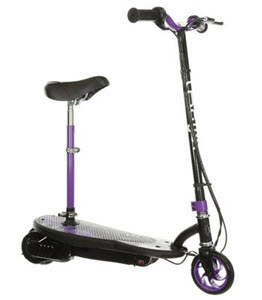 If you like to travel via scooter but still want to take a seat then this scooter from Wired is for you. Priced very reasonably at £119 this scooter is has a 40 min battery life so is only for shorter journeys. To ride you simply sit down twist the handle and go. Easy to control, you can reach speeds of 16 miles per hour. You have an adjustable seat height for comfort and will have to charge this scooter for 8 hours to gain full battery life.
Kids
Apollo Mermaid Kids Bike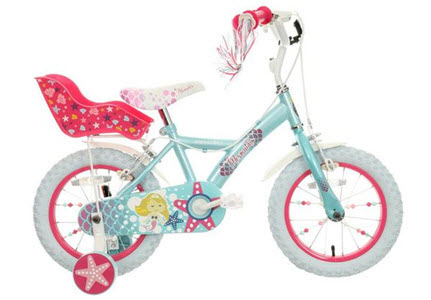 Little girls will go mad for this mermaid bike from Halfords. It's currently in the sale and is now only £76. That's a saving of £19 off the regular price! It features a delightful scale pattern on the frame along with streamers attached to the handlebars and a dolly seat on the back. The chain is fully encased for safety, protecting little fingers and the stabilisers that come attached can be easily removed once you feel your child is ready. Suitable for kids aged 4 to 6.
Apollo Monster Truck Kids Bike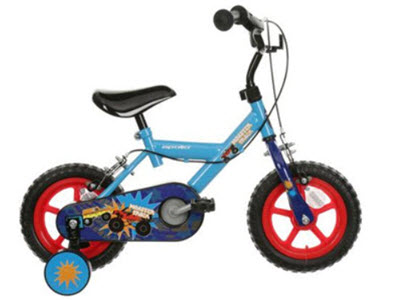 Aimed at little boys between the ages of 3 to 5 this monster truck themed bike is sure to be a hit. With its bright colours and monster truck inspired graphics, it is so much to ride for any little person just learning.
The stabilisers come as standard but can be removed if you feel your little guy has whizzed past the point of needing them. The chain and fully chain guarded to ensure complete safety at all times. You can bring this little treat home now for only £44 which is a saving of £11 at the RRP is £55. Get one now and it will make a fantastic Christmas gift.
Trunki Small Folding Scooter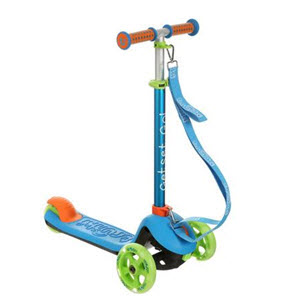 This scooter is new to Halfords and not only is it already selling fast but it's also now in the sale with £20 knocked off the price making it £59. It is brightly coloured and fully folding for ease of carrying when you can't ride. It comes with a free carry strap and protective bag it can be thrown over a shoulder or even a pushchair. It is suitable for kids ages 3 and is super easy to control with its lean-to steal technology. Head on down to Halfords today and pick one up for a special little boy or girl this Christmas. You'll put a smile on their face.
This little list is just a few of our favourites from the cycling selection. There is a ton more makes and models on the website if we didn't pick something that tickled your fancy. If you decide to purchase a new bike or scooter then please check back in with Money Saving Heroes before you head to the checkout. We pride in saving our customers a shed load and love finding Halfords vouchers and discount codes.