Winter Coats For An Early Christmas Present
A good quality winter coat is a must-have item in this country and with the weather being so unpredictable several coats with varying degrees of warmth and water resistance is often a good idea. It can be so hard to find one you love in the shops or online that meets all of your needs.
We've decided to do a little browsing for you and found some all-weather coats that we love and we hope you do too! Each of these coats would make a fabulous Christmas present for someone you love but they might need it now as the weather outside is already frightful.
Petite Grey Funnel Neck Coat from Wallis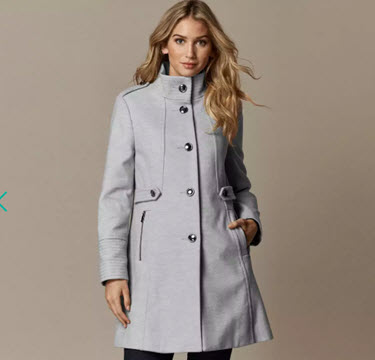 The first coat we chose was from Debenhams by Wallis. We were charmed by this cute funnel neck coat and could easily envision stepping out for early Christmas drinks or a wander around the Victorian markets mulled wine in hand.
No need for a scarf and with this more formal cut you can add a touch of class and style to even the most casual of outfits. The colour will brighten you up and will go effortlessly with almost anything. Grab one today or give the hubby a nudge and let him know it's now in the sale and going fast.
Waterproof Insulated Jacket from Romina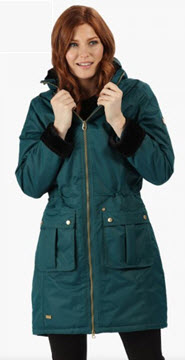 If you're interested in the great outdoors and need a more functional coat than Regatta is a great place to search. We love how this Romina Jacket because it still oozes style whilst at the same time delivering great functionality. The faux fur lining in the hood and cuffs adds a touch of luxury whilst durable water repellent fabric keeps moisture out and Thermal Guard Insulation keeps the heat in. This coat has everything.
We love the mid-thigh length as it is super flattering at the same time as keeping you snug. A bonus is discovered behind the front pockets where you can find handwarmer pockets. Dreamy, right? What's more, if you can believe it, is that it's now over half price and under £50. At this point, it would be rude not to. The perfect gift for a friend or yourself this Christmas
Waterproof coat from Coast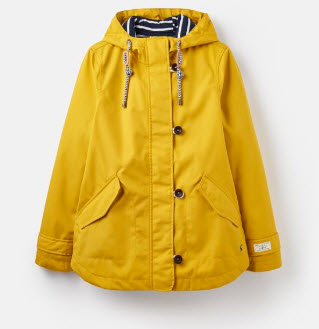 Joules are known for their high-quality coats and this nautical-inspired rain jacket in antique gold or yellow if you prefer is no exception. Be the most stylish person in every thunderstorm and stay nice and dry every day.
Part of the delightfully named Right as Rain collection Joules boosts that this is one of their most sort after styles. The cut is flattering to almost any shape whilst the durable water-resistance fabric is also super breathable. We've already had a few pretty wet days so if you are considering this for a Christmas gift it wouldn't hurt to gift it a little sooner.
Grey Padded Snow Jacket from Brunotti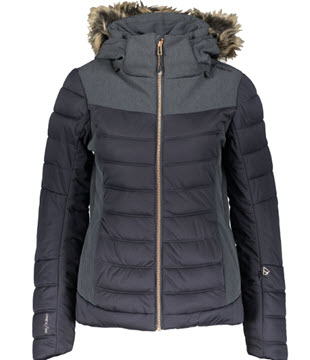 TK Maxx is a treasure trove of fantastic designer items with huge discounts. This jacket follows that system perfectly, it is from Brunotti and with £95 off the recommended retail price it now has well over 50% off.
We love the padding on this snow coat, ensuring the chill won't reach you no matter how cold it becomes outside. The mixture of matte and shiny fabrics give a stylish finish and the high neck ensures the wind chill is kept minimal.
Whether you're hitting the ski slopes this winter of simply just hitting the high-street this jacket will keep you snug as a bug in a rug.
Lightweight Waterproof Coat by Portwell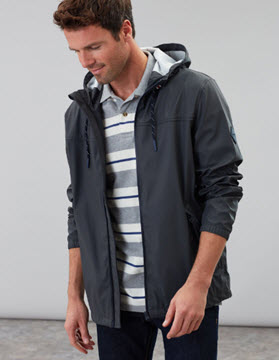 The first of our men's coat is our second coat from the fashion powerhouse that is Joules. The website speaks very highly of this particular garment calling it their best waterproof ever! They promise this coat will not only keep you warm and dry but stylish too thanks to the carful tailoring and attractive matte fabric.
It's the little details that count and this coat features waterproof rubberised fabric and zip, taped seams and elasticated cuffs plus a handy inside pocket. Add this all together and it's easy to see that not a drop of liquid is getting in this bad boy. Treat the man in your life to a waterproof wonder today for Christmas.
Dark Olive Shower Resistant Padded Jacket from Mantaray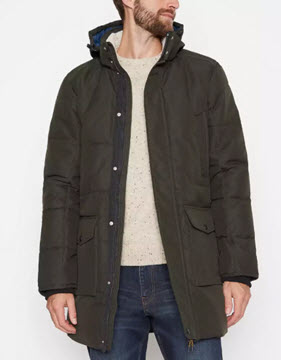 Mantaray is a clothing brand that is all about taking on the great outdoors and you can see this in the design of this coat. In a great natural olive colour with a cheeky check print on the inside fabric. This coat is fun as well as practical. Understanding the unpredictability of British weather, it is also shower resistant meaning you stay dry from unexpected rain.
We love this coat and think it is a great all-rounder for almost any winter day. It now has 20% off so there has never been a better time to give an early gift. Just be sure you order while they still have your size in stock as it is expected to sell fast.
Navy Wool Double Breasted Overcoat by William Hunt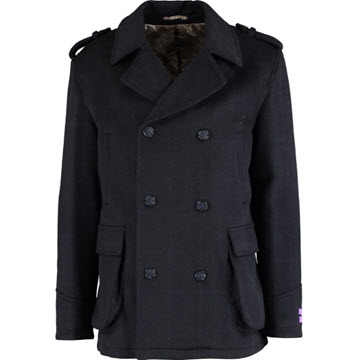 Another breathtaking find from TK Maxx, this William Hunt overcoat has a huge reduction of £350 and is now under £100. More formal than our other men's choices with a double-breasted front and peak lapels this is perfect for all those Christmas parties and drinks over the festive season. Accessorise with a nice scarf and a pair of gloves and you can smarten up any classic jean and jumper combo.
Grab this coat for someone you love today and you don't even have to let them know about the massive discount you've bagged. It's a winning situation.
We hope this list has helped you to decide exactly what you need from this year's winter coat. There are just so many styles, colours and functions to choose from and that's without considering a budget. Please be sure to check back with us for the latest in fashion, home and lifestyle reviews and lists. We love helping you find Christmas gifts for your loved ones.