Food and drink
Hands up if you love to eat and drink! Food and drink options have endless possibilities and can be tailored to suit everybody (after all, we all have to eat right), from low calorie to gluten free, binge worthy to vegetarian. What's your diet like?
Hear at voucher codes pro we love our food and there is always a cheeky pack of hobnobs hiding on someone's desk, we are also passionate about saving money and the weekly food shop is one of the best examples of how we can help the people of Britain save money long term rather than just with a one off purchase.
A brief history of food and drink
The first humans- Picture this, the dawn of time and cavemen are running around, clueless with crude weapons in an attempt to get their hands on a gigantic woolly mammoth. Then fire is invented and food gets a little better.
The Egyptians- One word, boring! These feline loving people sustained themselves primarily on a diet of bread and beer, now I'm not complaining about the beer but the bread was so full of sand from the dessert that over time teeth were just worn away! No thanks.
Medieval times- ah, the time of feasting was upon us during this period, every little victory and celebration was paired with food and drinks, lots of it. These guys knew how to party!
The Victorians- The food during this time was rich and plentiful for the rich and plain and boring for the poor. However the good old English institution, tea, was now widely available. So at least all could enjoy a nice cup of rosy.
The War- Not a good time for a food lover such as yourself to be living in Britain I'm afraid. However despite the low supplies the rationing was a success and no one went hungry.
The Fifties- The first food delivery service was introduced in Chicago, bringing pizza right to the people, it wasn't long before others followed suit. Yummy!
Today- We live in a bountiful and cultured time's ladies and gents! Today the supermarkets are open 24 hours a day and you can have anything delivered to your door with a few clicks. Specialties from every corner of the globe can be cooked up in your living room with the help of Jamie Oliver and Nigella Lawson. Yes we have access to more ingredients and knowledge than ever before! I'll raise a toast to that any day!
Our retailers
Tesco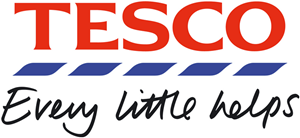 This gargantuan retailer began its life as a humble market stall in the east end of London, ran by Jack Cohen. It didn't take long for this business to thrive and now it has 3300 stores in the UK alone, these premises are made up of megastores and Tesco metros and provide employment for 310,000 colleges. Great deals can always be found in store and online and the introduction of the Clubcard in 1996 means you can now get fantastic discounts whenever you enter the store.
Ocado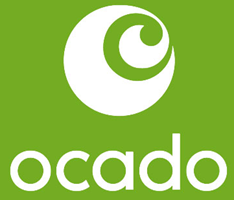 The first of its kind, this supermarket operates solely online. Their story began in 2000 so this company is still fairly new, however that hasn't hindered them and right now over 150,000 households have their shopping delivered by Ocado every week. The website is chock full of half off offers, multi-buy deals and the smart pass means your delivery charges are considerably less.
Majestic Wines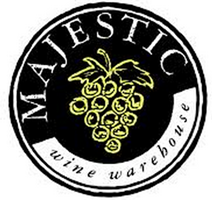 The year was 1980, the place, London's green wood. This is where majestic wines was born, with just a single shop. Since that day this expert wine merchants has expanded at amazing speed and now boosts well over 150 stores nationwide. A new website was introduced in 2013 and it is wonderfully designed to ensure the customer always finds what they want. The more bottles you buy the biggest savings you are likely to make so get your party hats out.
What is going to be hot this season?
It's a monster mash
Halloween is on the horizon and that means one thing to any foodie, Pumpkins! This orange gourd signifies more than just the scariest holiday of the year, it also nods its head to the colder weather. This means root vegetables, soups, dumplings and drinks that are mulled to perfection. Check out this little recipe, combining three of the best autumn staples, pumpkins, beer and pie!
Drunken pumpkin pie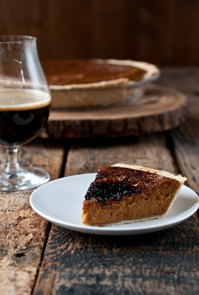 This warming beauty is a wonderful concoction of deep dark ale, fresh seasonal pumpkins and of course crumbly buttery pastry. Make it spooky by popping jack-o-lantern features on top of the pie using leftover dough or just enjoy a bit of craving for the kids. This pie goes down a treat with a nice beer, again use the leftovers.
Keep an eye out here for some templates as they are on the way to the site! Find the ingredients and recipe here.
Remember remember!
Bon fire night is always hot on the heels of Halloween and for good reason! This holiday is all about friends and fun. Children and adults alike, surrounding this giant pyre, waiting for fireworks and becoming entranced by the flames. All wrapped up warm against the late autumnal winds. This chilling celebration needs a warming snack, something you can clutch close to thaw those fingers.
A blooming good chilli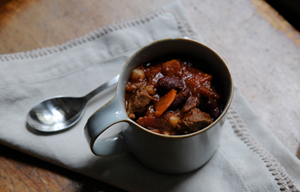 This night need a dish that can sooth you from the inside with heat coming from the flavour and not simply the temperature! Chilli is the perfect one pot wonder, served in bowls you can hold and with cheeky dashes of both coffee and beer to ensure jack frost is far from your mind in no time, It's all about guy Fawkes really! Find the recipe here.
Deck the halls
Oh Christmas time, if there is one time of year that is pretty much all about food this is it. Christmas dinner is a military operation and I don't think you really grasp this concept until you become a mum. All the prepping, planning shopping and then cooking, and that's just the food, never mind all the gifts, games and decorations.
So, the day has gone off without a hitch. The little ones are content to play with their new found treasures and the men are sleeping through the Queens speech, but a mother's work is never done and you know they will all be peckish in a few hours. What do you do?
Turkey noodle soup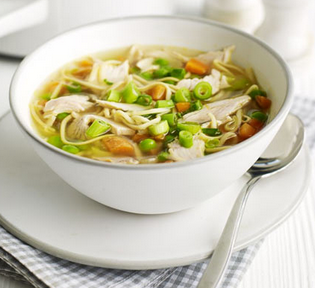 Maybe not the most traditional of Christmas day suppers, although if we are being honest with ourselves we all just dish up a second dinner. This soup is light, yummy and perfect with some warm buttery bread to soak up the juices. Be sure to leave enough room for another mince pie and a glass of red wine. Here is the recipe.
All the ingredients for these recipes can be found with the above mentioned retailers.
Let's eat!
Blogs that may interest you!
Unfortunately there are currently no food blogs live on the site, our resident foodie keep lapsing into food comas and hasn't got round to it yet, we can assure you lots of research is being conducted though so keep your eyes peeled and your mouths open.
For more inspiration you can always pop to our Pinterest page Yummy and have a browse.