Great Sky deals in time for Christmas
Sky TV was founded 25 years ago in 1994 ad since then they have become a powerhouse when it comes to home entertainment. They provide TV and broadband services alongside phone services both fixed-line and mobile. You can put together packages that involve all or just one of these services and each one can be tailored to your particular wants and needs.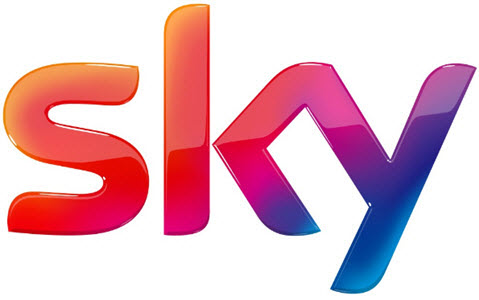 Sky is known for its amazing choice as well as their unbeatable offers. We've spent a little time on their website searching for the best offers currently available and were pretty impressed with how much you can save right now, just in time for Christmas.
Introduce your friend to Sky and get a £75 prepaid gift card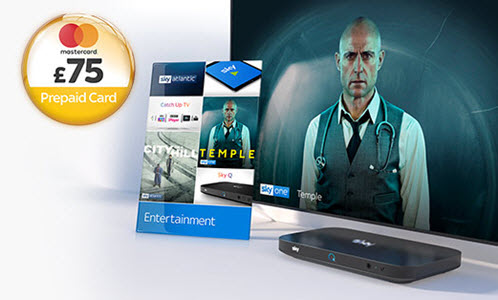 The first offer we want to make you guys aware of is the introducing a friend offer. Bring someone new into the sky family and you both a pre-paid MasterCard with £75 on it. That's a bonus of £150 in total. These cards can be spent as money in almost any shop or store and you can spend it as you see fit. Get your nearest and dearest involved today and reap the rewards.
50% off Sky Tv Packages

Big savings can be found at Sky right now. In fact, many packages and bundles have up to 50% off. These are insane savings and package start from just £22 per month. If you plan it right then your bundle could save your household as much at £38 per month. Signing up much be at least an 18-month contract. You simply start with the Sky Entertainment package and can add all the things you want such as sport, movies or kids.
Sky Q
The full package will leave you with a choice of 300 TV Channels and 40 catch up channels. You can also add the Sky Q experience. Getting a Sky Q Box installed gives you can use the voice control functions to manage your viewing, pause in one room and pick up where you left off in another, unlock ultra HD and get the most channels in the crispest detail and the strongest Wi-Fi.
You can also record and store up to 500 hours of footage and have all your TV in one place with Sky and Netflix in one place. Sky Q is usually £13 per month extra on top of your package, it is currently only £6.50.
Tv and Superfast Broadband Offers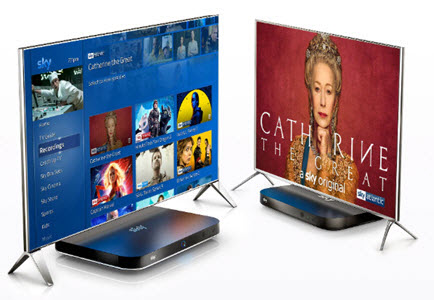 If Superfast Sky Broadband plus the Sky entertainment package is what you're after then you save £10 per month right now. The package is just £39 rather than £49.
Superfast Broadband and Sky Sports are currently £54 a month for 18 months, that's a saving of £25 as it is usually £79. For this price, you get access to all 8 Sky Sports channels.
The Blockbuster and Sports bundle is only £59.50 and you get Superfast Broadband, Sky Cinema plus Sky Sports. This is a massive saving of £30.50 at it's usually £90
The Mega Bundle plus broadband is £70.50 per month and includes movies, sports, Sky box sets and Netflix all in one place alongside Broadband. This is a saving of £41.50 as the usual price is £112.
Ultimate on demand plus broadband included all the Sky box sets plus Netflix and obviously broadband. This is all yours for the £45 which is a savings of £16 per month on the £61 regular price.
Sky Cinema by itself is only £9.50 per month rather than £18 and Sky Sports is £15 rather than £30. Netflix on Sky Q is £6 rather than £12. As you can see each package has an impressive 50% off. Find all of these offers right here.
What's on?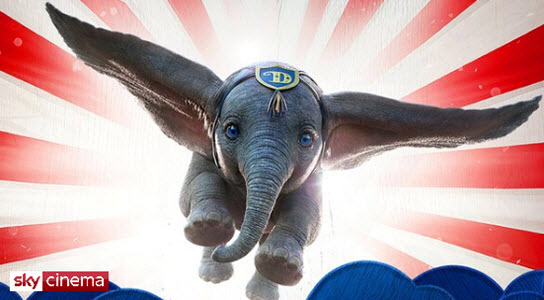 There is such a huge choice with Sky right now with over 1000 movies to choose from. Sky Cinema alone promises a new premier every day during December. Split into categories such as returning favourites and Christmas there is something for everybody.
Snuggle up to an old classic such as Die Hard or The Matrix one evening and then enjoy some new and exciting the next, such as Captain Marvel, Crazy Rich Asians or Tim Burton's Dumbo. The Christmas movie selection is second to none. Scrooged, It's a Wonderful Life, The Polar Express and A Muppets Christmas Carol to name a few.
The choice of children's movies is also large with an abundance of family films on demand and availability. These include Disney classics such as Mulan, Tangled and Snow White and the Seven Dwarfs as well as other Family classics such as Open Season one, two and three, The Witches and A series of unfortunate events.
Sky Entertainment also has a mixture of new and exciting shoes alongside old favourites. With so many channels to choose from, there is a lot of choices when it comes to on-demand shows including Sky Originals such as Chynoble, Catherine the Great and Britannia. The new season of The Good Doctor has just dropped and you can catch up with the highly anticipated Temple. In The Long Run, brings the comedy along with Russel Howard and his hilarious The Russel Howard Hour. Let's not forget the latest season of the award-winning True Detective.
There is so much to choose from it's impossible to name them all. If you get Netflix on Sky Q you have even more choice, such as the new movie El Camino a spin-off from Breaking Bad and the groundbreaking drama with Olivia Colman The Crown. There is something for everyone. Please make sure you check in with us before you upgrade your contract, you never know how much you could save.