Top Ten Educational Games For Kids At The Works
Keeping young minds developing and learning is such an important job. It is well known that children learn through play, that is their work and how they advance their development, mastering new skills as they go along. Games can be a fantastic and fun way to help aid this process and they keep kids entertained on rainy dank days when you simply can't bring yourself to leave the house.
The Works have a great selection to choose from that are suitable for all ages and help practice many skills from problem solving, dexterity, counting, spelling and strategy. There is currently a sale on which is slashing the prices by up to 80% so now is the time to fill up the games cupboard to help get you through the winter months. Take a look at some of our top picks and see if you like the look of anything.
Tangler Family Game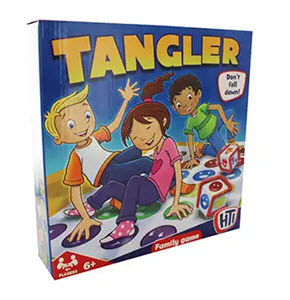 The first game on our list is a budget-friendly version of Twister, the game where you roll the dice and get a colour circle to place your body part on. This is harder than it sounds and can leave you all knots with both yourself and with the other you're playing with. For the kids, it helps them develop social and problem-solving skills as well as getting them to move their bodies which is always good. It's now half price at The Works and only £3.50!
Head 2 Head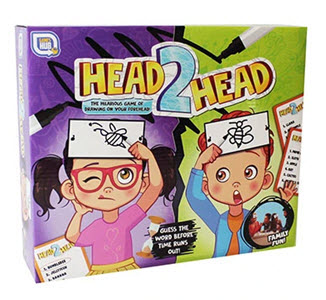 A bit like Pictionary this game is all about drawing the items you get given and your teammates guessing the correct answer before the timer runs out. Kids will delight in the drawing, laughing out loud when they are not very good and screaming the answer when they know. Great for dexterity and imagination this game is also only £3.50 and is half price right now.
Mumbo Jumbo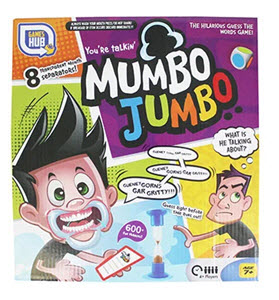 Mumbo Jumbo is The Works answer to Speak Out. It involves splitting into teams and taking turns reading saying from cards. Sounds easy right? Well, you have to read the phrases out load whilst wearing a mouthpiece that makes that rather challenging. Another game that will have kids rolling on the floor laughing as they're struggling to figure out what you're saying. There is even a round of dare cards that give you other challenges to do while wearing the mouthpiece, such as knocking on your neighbour's door and asking for things. A really good game for teamwork and problem-solving. Like the others, it's half price and £3.50.
Mini Wooden Tumbling Tower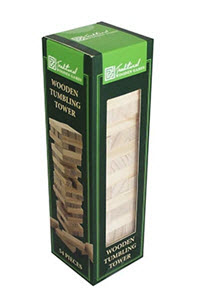 Gaming pros will recognise this little tower as Jenga and they'd be right except its The Works budget version again. To play this game you have to gently remove a block at a tie replacing it on the top of the tower without toppling the structure over. This is great fun and most defiantly harder than it seems. Children get to practice many skills such as problem-solving, concentration, dexterity and they also get an understanding of how buildings work. Add this game to your basket today for only £3!
Harry Potter Cluedo Board Game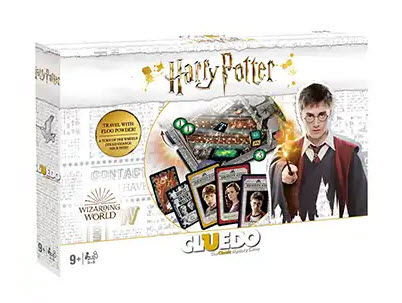 Cluedo is a great brain training game for older kids and this version has been given an uplift to keep the younger generation interested by introducing a Harry Potter theme. A student has gone missing from Hogwarts, to win the game you must travel around the board asking questions and figuring out which student committed the crime, where and with what object or item. It's a fantastic strategy game and gives the brain a workout. This version is currently only £25.
Wooden Marble Run Game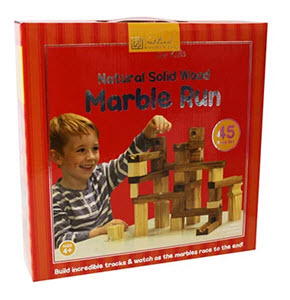 This is more of a one-player game rather than a family game but is still able to give hours of creative fun that is very educational. To play you simply build a structure that allows your marble to travel and drop and roll through until it's got to the end. The possibilities are endless and fans of construction will be fascinated by this fun game. Made entirely of wood this 36 piece game is now only £15.
Wooden Magnetic Hook a Fish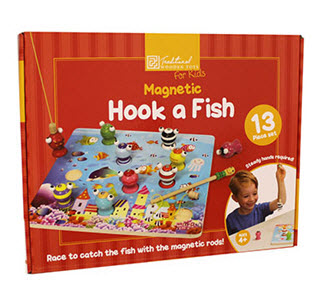 Another fantastic wooden game this Hook a Fish challenge is perfect for honing hand-eye coordination skills as well as improving aim. To play you just grab a fishing rod and attempt to hook a fish. Make sure you have a steady hand before starting. Ordering this game will only cost you £8 right now.
Monopoly Star Wars Open and Play Game Case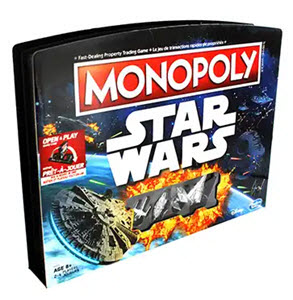 Monopoly has been a great game for kids to play for generations and over the years there have been many versions of the game but the version we love the most is this Star Wars one. The aim of the game is to collection squares, build property and bankrupt your competitors winning all the spaces on the board. Save 20% right now and pay just £20 for hours of family time fun.
Race to Base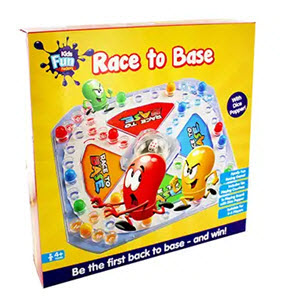 This game aims to get all your four pieces across the board and back to the beginning before anyone else. The dice is locked in a popping prison at the centre of the board so to see how much you can move each turn you simply need to give it a pop. Another game that is on sale for just £3.50 at The Works.
Cbeebies Memory Match Puzzle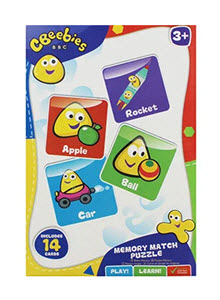 Our last game is this memory match puzzle which is aimed at smaller children and as the name would suggest is great at exercising memory. To play you simply lay the cards out front side down and you have to turn them over until you match them the images up. It's as easy as that and only £2 right now!
This is just a little list of some of our favourite educational games for kids, The Works has much more choice then this along with so many fun educational workbooks and children's fiction. Take a look today and make the most of our exclusive The Works discount code. Saving you 25% off when you spend £20.