Board Games For Christmas 2019
Is there anything better than a good old board game with your family or friends at Christmas time? We think not. Board games have been a way to connect with your loved ones almost since the beginning of time. Everyone has their favourites and the classics will never go out of style but new and exciting ones are also being released each year.
We've compiled a list of some of our favourites, old with a twist and new. You must let us know what board games get your family going as we are always looking for new ideas and ways to bond at Christmas time.
5 Second Rule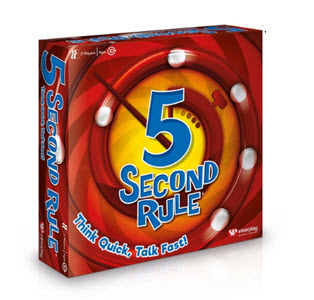 The rules of this game are simple, you will be asked to name three of something and you will then have 5 seconds to answer. Sound easy but 5 seconds is not a long amount of time and it's harder than you might first suppose. Hour of fun can be had with this concept and the entire family can get in on the action. You will be timed so there's no cheating just be careful you don't guess anything stupid. We found it at Smyths Toys for only £9.99.
Pie Face Sky High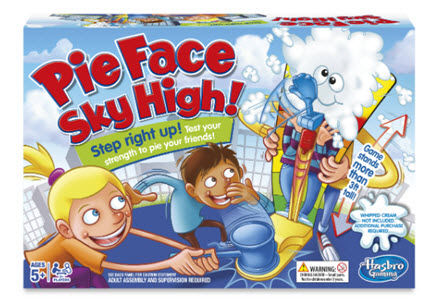 The original Pie Face game was a pretty big deal a couple of Christmases ago with Kids loving getting themselves and their parents faces covered in whipped cream. Pie Face Sky High is fairly similar but it's been vamped up so the cream now has to travel a lot further before it reaches your face. This helps with the drama and suspense. The great news is it's now only £7 at The Entertainer so you've got no excuse for not slipping one in your basket.
Get a Grip Game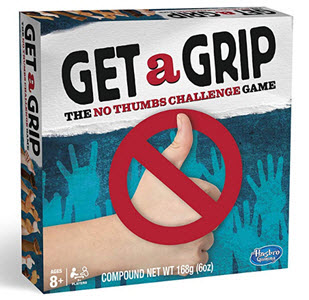 This game is based on the popular No Thumbs Challenge in which people have to complete challenges without using their thumbs. To play you pick a card and it will give you a draw it, sculpt it or do it card often excluding an important body part from the mix. Complete the task to win a card. The first person to get three cards is declared the winner. It's a great way to practice your problem-solving skills and will have the entire family laughing as you attempt to get a card. It's now only £7.08 at Amazon.
Monopoly Christmas Edition Limited Edition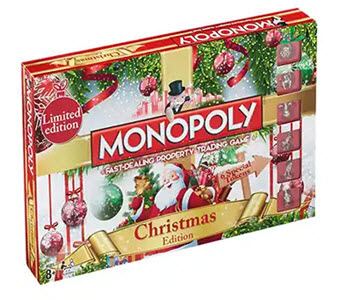 It's not a list of board games without including a version of Monopoly. Hands down the most iconic family board game of them all. It has been bringing families together and tearing them apart since 1935. As this is a festive rundown we've gone with the Christmas version. It's from the works and is £29.99 but you can bring it out every December to enjoy. The little touches make the game such as the Santa Sack cards, snowflake money and Christmas themed squares.
Game For Fame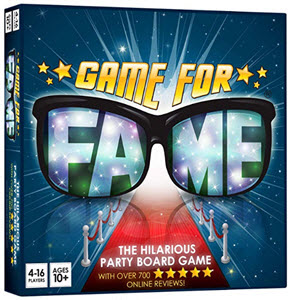 This hilarious new board game has been featured on This Morning and is taking this Christmas by storm. There are no difficult rules to get your head around all you do is get your family together and start picking cards. You'll be given challenges that are purely designed to make you laugh such as funniest self, best slow-motion running, guess the gargle and tongue twisters. There is something for everyone. Get it on Amazon where it has over 700 5 star reviews.
TOMY Pop Up Pirate Classic Children's Action Board Game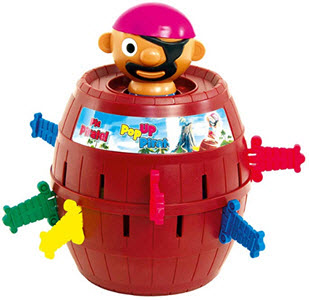 There are many version of the surprise pop up game out there, such as Buckaroo and Crocodile Dentist. We have a soft spot in our heart for Pop Up Pirate. To play you take turns slipping a sword into the barrel and if Pirate Pete pops up you're out of the game. The last one is the winner. Amazon is selling this cult classic for £9.99.
Goliath Games Escape Room Game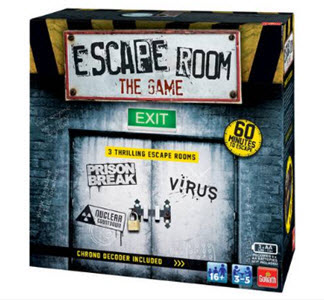 This game is based on the huge success of escape room experiences in which you enter a room and have to solve clues to escape within a time frame. That's precisely how you play this game. It's is a family game but only if the family is grown up and all over 16. Keep your mind sharp and enjoy working together to decipher the clues. Now £30 at Argos, we can't wait for the kids to go to bed so we can dive into this.
Beat the Parents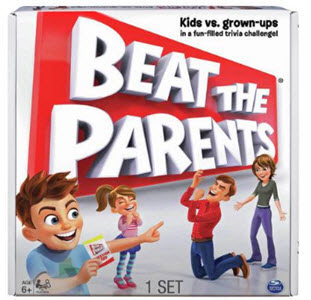 This is a trivia game with a difference and that is that it pits parent against child and often this leads to hilarious outcomes. The adults are given questions about kids stuff while the children are asked questions their parents should be able to answer. For each correct answer, you get to move across the board and the first team to make it to other side wins. It's now only a tenner at Argos so great value for money.
Speak Out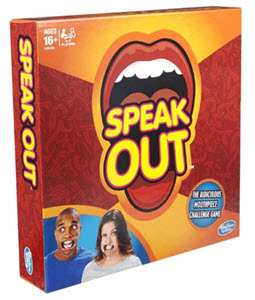 Speak Out blew up in popularity a year or two ago with families loving the laugh out loud mouth opening effects of this game. To play you slip the mouthpiece in and try and say a phase, the rest of your team must try and understand what you've said. It's a challenge as you can't close your mouth at all. It's now on sale at the Entertainer for only £3, this is such a deal that it is limited to only 4 per customer. Order now before they sell out.
Baffled Board Game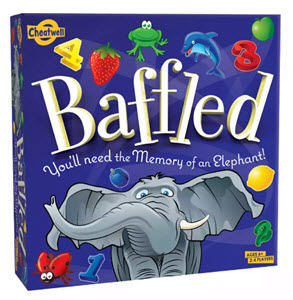 Baffled is a memory game in which you have 60 seconds to memorise the positions of 12 tiles before they start moving around the board. It's a fantastic fun way to improve your memory skills and the game even changes so kids and adults have the same chance of winning. Get your hands on a copy from Debenhams today and save over 25%.
There you go, guys, wasn't that fun? Now imagine how much fun you and your family will have playing some of these games. The Christmas holidays are always improved with a little slice of healthy competition so long as there are no sore losers.