Which iPad Should You Buy?
Choosing which iPad will best suit your needs really depends on what you need to use it for. It is undeniable that an iPad is a useful tool to be able to use for a huge number of things from work to leisure, keeping in touch via social media or working on private hobbies from home.
Understanding Apples makes and models can be a bit of a head-scratcher at times, there is a great deal of new and older tablets still available with similar or the same names. It breaks down into four types. You have the original base model simple named the iPad, the iPad Pro series which are premium tablets that work just like fully functional computers and the more streamlined iPad Air and iPad Mini.
We have had a close look at the current models available to buy and compared them in the hopes it will make it easier for you to pick which one you'd like to own. There are so many fantastic features not to mention a boatload of exciting offers going on right now that we've got to admit it was hard to decide.
iPad 10.2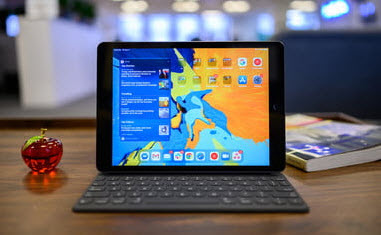 The iPad is where it all began. The latest model in this basic line is the iPad 10.2. The 10.2 refers to the size of the screen with the previous model being the iPad 9.7. The iPad 10.2 has many great features including a 10.2-inch screen, compatibility with the Apple Pencil and full-sized Smart Keyboard and front and back cameras with up to 8 megapixels. Once you have the perfect picture you're able to crop, alter, add filters and then share to social media at the touch of a button.
The battery will last you up to 10 hours and the home button which also doubles up as a touch sensor for fingerprint recognition. You can easily juggle multiple tasks like take a facetime call while updating your to-do list, making notes and responding to emails. The A10 Fusion chip allows you to play many big video games with ease. You can even connect your Xbox wireless controller or PlayStation DualShock 4 controller via Bluetooth. You have up to 128GB of memory.
It also has the benefit of being one of the most reasonably priced iPad you can buy. Buying a new one outright will set you back around £299 but you can also get contracts from places like O2. You can sign up to a 36month contract with 10GB data for only £30.82, that's with just a £20 upfront fee. Check it out here.
iPad Mini 5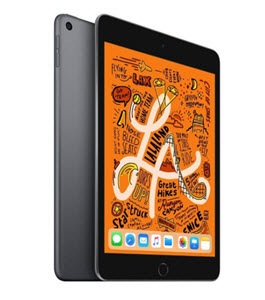 The iPad Mini 5 is essentially an oversized phone with a 7.9-inch display and sometimes that's just what you need. Like the iPad 10.2, it has a front and back facing camera with 8 megapixels and is compatible with the 1st generation Apple Pencil making the device a handy little notepad in your pocket. Unfortunately, it's not compatible with the Smart Keyboard.
The battery life is similar to all iPad devices and lasts about 10 hours and but you also get a mammoth 256GB of memory if you wish. It can do pretty much anything you'd expect an iPad to do but with a smaller size with is very pleasing. If fact it is one of the best small tablets you can find for its price point which is around £337.99. Contracts can be found from as little as £15 per month with a retailer such as Sky.
iPad Air 3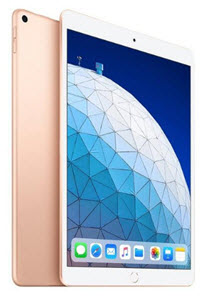 The iPad Air is now in its 3rd generation. Designed to be the sleekest iPad yet it has a 22% reduction on weight from the Ipad 2. It is lighter and easier to use and carry with an improved front-facing camera meaning facetime is crisper. You may have lost almost a quarter of the weight but you keep the 10.5 display. It also keeps the 8 megapixels rear-facing cameral and like the Mini boasts up to 256GB of storage, it also has a 10-hour battery life.
It has been suggested that this model is perfect for students who need a lightweight design with exceptional laptop like qualities. It is compatible with the 1st generation Apple Pencil and the Smart Keyboard. Buying the iPod Air third-generation new will coast you around £448 but you can find contracts from as little as £36 a month plus a £20 introduction fee with Vodafone.
iPad Pro 12.9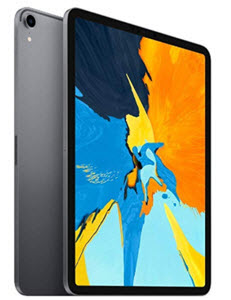 The iPad Pro 12.9 is the closest to a fully functional computer you can get in tablet form. Its release saw the introduction of face ID to the iPad range which lead to the home button being removed. It is also the largest tablet with a 12.9-inch screen. It can have up to a huge 1TB of storage and is compatible with the Apple Pencil (2nd generation) and Smart Keyboard Folio.
The camera on this modal has also had an update compared with the other iPads we've discussed. The rear-facing camera is an impressive 12 megapixels while the front-facing one has 7 megapixels. You can use the camera to record videos in 4k as well as create Memojis, which are a digital depiction of yourself. The four speaker audio allows this tablet to deliver unrivalled music quality.
Although this tablet is big it effectively does the job of so many of your other devices including phone, laptop, game console and music mixing table. At the top end, it will cost you £1369.99, that's with the TB of storage but you can get one with 64GB for £936.18. It's an investment but one you won't regret. Sky is currently offering a contract with 8GB worth of data for just £48 per month which is very reasonable.
We hope this very brief rundown of four types of iPad available has been helpful somewhat.
At a very basic level, we'd suggest the base iPad for those new to Apple, the basic modal is perfect for beginners. The iPad Mini is great for those looking for a portable notebook, whereas students will benefit from the iPad Air which is perfect for carrying around and has impressive functionality. Lastly, there are the people that are after a fully functioning computer, they really need the latest iPad Pro and shouldn't skim on the accessories.